Sun, 24 Mar 2013, 20:04 PM



Gray, Brown Win at Gators to Give DSR Wins 199, 200 on a Very Special Day



Courtesy of DSR


Photo copyright 2013 Auto Imagery, Inc.





GAINESVILLE, Fla. -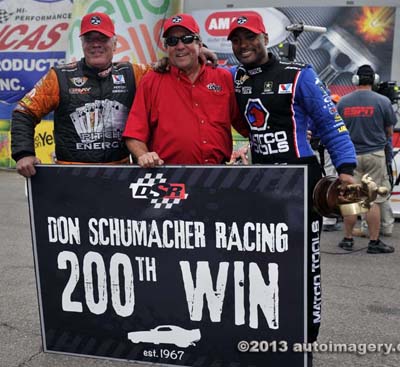 : Antron Brown, Don Schumacher and Johnny Gray.
Forty-three years after Don Schumacher won his first NHRA national event Funny Car title, Antron Brown delivered the 200th to Don Schumacher Racing after Brown won the Top Fuel title Sunday at the NHRA Gatornationals at Gainesville, Fla.
And without Johnny Gray winning the Funny Car title moments before, the drama of when DSR conquered the milestone would have continued at least to the next NHRA Mello Yello Drag Racing Series event April 5-7 at Las Vegas.
The normally stoic Schumacher was exuberant after Brown defeated Clay Millican in the Top Fuel final and was reflected in a news conference he shared with Gray and Brown.
"It's a tremendous reward," said Schumacher, who will be inducted May 2 into the International Motorsports Hall of Fame at Talladega, Ala.
"I can't say what this personally feels like. When we won both championships in November, my mother passed away the next day and I couldn't attend the banquet. I haven't had joy really since then ....," he said as his voice trailed off.
"Today brings a special meaning to all of my efforts out here for all of these years."
The accomplishment quickly was saluted.
"Everyone at NHRA applauds Don Schumacher and Don Schumacher Racing on its 200th national event victory," said NHRA president Tom Compton.
"Since his return to the sport at the 1998 NHRA U.S. Nationals, he has built a corral of race teams that are second to none and always competing for event wins and NHRA Mello Yello world championships. Along the way, he has used his business savvy to introduce NHRA Drag Racing to a number of mainstream sponsors and has played an instrumental role in the growth of the sport during the last two decades."
Schumacher started racing Chrysler products and continues to do so today with his fleet of DSR-built Dodge Charger R/T Funny Cars.
The first congratulatory message came from Pietro Gorlier, president and chief executive of Mopar, Chrysler Group LLC's service, parts and customer-care brand.
"On behalf of everyone at Mopar, I would like to extend our heartfelt congratulations to Don Schumacher and his team for reaching the 200-win milestone with victories by Johnny Gray in Funny Car and Antron Brown in Top Fuel," Gorlier said.
"Don has been a long-time loyal supporter and friend of the Mopar brand, as both a team owner and driver, making his first of many trips to the winner's circle in a 1970 Plymouth Barracuda Funny Car at the U.S. Nationals. We applaud his drive and determination that led him to this remarkable milestone and wish him many more wins in the years to come."
It also marked one of the most significant titles won by the reigning Top Fuel champion in the Matco Tools dragster led by crew chief's Brian Corradi and Mark Oswald, who won their 14th title for DSR.
"I just feel incredibly blessed to be a part of this whole organization," said Brown, who moved around DSR teammate Tony Schumacher and the U.S. Army to take the points lead in the NHRA Mello Yello Series.
"It wasn't just Johnny and me who brought Don that 200th win, it was all of us together at DSR that made it happen. It wasn't just my team and Johnny's team, it was all of us together."
For Gray, who turned 60 on Wednesday, he could not think of a better way to thank Schumacher for giving him a championship-caliber race team led by crew chief Rob Wendland.
"It was awesome. Don has been absolutely great to me," said Gray, who moved into a tie for first place with teammate Ron Capps and the NAPA AUTO PARTS team.
"It's an awesome feeling for Antron and me, but it's also an awesome feeling for everybody back down the line who contributed to the wins including Don who started it."
DSR, which has won 11 world championships and event titles in each of NHRA's four professional categories, is second in all-time titles to John Force Racing, which has won 218 in Funny Car.

The following are drivers who have won NHRA titles for DSR:
                WITH DRIVER
                 DSR TOTAL  DSR TENURE
TOP FUEL - 100
Tony Schumacher   70   70   1997-present
Antron Brown      14   21   Oct. 2009-present
Spencer Massey     8   10   2011-present
Cory McClenathan   5   34   2008-10
Melanie Troxel     2    5   2005-06

FUNNY CAR - 79
Ron Capps         25   39   2005-present
Jack Beckman      15   15   2006-present
Whit Bazemore     13   20   2001-06
Gary Scelzi       12   37   2003-08
Matt Hagan         5    5   2009-present
Don Schumacher     5    5   1970-1973
Johnny Gray        4    4   2011-present

PRO STOCK - 3
Richie Stevens     2    5   2005
Jeg Coughlin Jr.   1   52   2005

PRO STOCK MOTORCYCLE - 18
Angelle Sampey    10   41   2003-07
Antron Brown       6   16   2003-06
Craig Treble       1   14   2008, 2010
Chip Ellis         1    6   2008





NHRA: 10 Most Recent Entries [ top ]

Apr 24- CHARLOTTE 1 - Steve Torrence Enjoying Four-Wide Success Heading to NGK Spark Plugs NHRA Four-Wide Nationals
Apr 24- CHARLOTTE 1 - Fact Sheet
Apr 24- Kalitta Motorsports Welcomes NASCAR Stars to the SealMaster Track Walk in Charlotte
Apr 24- zMAX Dragway Celebrates 10th Anniversary
Apr 24- CHARLOTTE 1 - NGK Spark Plugs NHRA Four-Wide Nationals Brings 40,000 Horsepower Thrill Show to zMAX Dragway
Apr 23- HOUSTON - Lucas Oil Drag Racing Series Wrap Up The NHRA Lucas Oil Drag Racing Series Wrap Up
Apr 23- CHARLOTTE 1 - J.R. Todd Aiming for Two Four-Wide Racing Wins in 2018
Apr 23- Mid America Dragway Joins NHRA Member Track Network
Apr 23- HOUSTON - Special Awards
Apr 23- HOUSTON - Sunday Video