Sat, 23 Mar 2013, 00:58 AM



Kile, Martel, Gulitti Lead Day One of JEGS Cajun SPORTSnationals



Courtesy of NHRA Field Marketing


Photo copyright 2013 Auto Imagery, Inc.





BELLE ROSE, La. --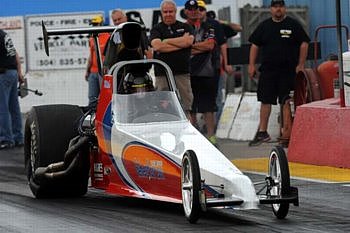 Michael Kile
Racing kicked off today for the 10th Annual JEGS NHRA Cajun SPORTSnationals and the Lucas Oil Drag Racing Series at No Problem Raceway. Louisiana racer Michael Kile took the top spot in the Sunset Racecraft Top Dragster class along with Arnie Martel and Bob Gulitti who lead their classes.
Kile, Westlake, La., recorded the quickest pass of the day at 6.211 seconds down the quarter-mile at over 219 mph for the No. 1 spot followed by Chase Murry and Coby Jones, both of Texas, in second and third.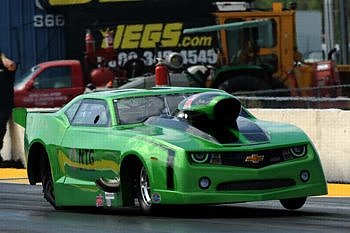 Bob Gulitti
Defending event champion Martel, Tewksbury, Mass., put his '07 GTO out front of Comp Eliminator with a pass of 7.654 and Gulitti, Tomball, Texas, went 214 mph in 6.482 in his '11 Camaro in Top Sportsman. Rodney Rosenstiel, Pace, Fla., sits No. 2 in Comp and Royce Freeman, Lindsay, Okla., is second in Top Sportsman.
Jonathan Allegrucci led more than 100 racers in Stock Eliminator driving an '11 Challenger to a 9.080 second pass while Jeff Colvert, Arkadelphia, Ark., is No. 1 in Super Stock in his '69 Mustang. Colvert is followed by Paul Candies and his '10 Challenger out of DesAllemands, La.
On tap for Saturday is the Inaugural NHRA South Central Division Moser Sportsman Shootout that pits the top two points earners from each category in a 16-car 1/8th mile eliminations. Moser Engineering has posted a $15,000 purse with the winner taking home up to $5,000. Louisiana racer Slate Cummings of Hammond, has qualified in both Super Stock and Stock for the Moser Shootout and will face his father Larry in the first round for Super Stock.
Saturday will also feature final qualifying and time trials for all classes including Comp Eliminator, Top Dragster and Top Sportsman that will qualify at 10:30 a.m. and 4 p.m. Spectator admission is $20 per day. For more information call No Problem Raceway, 866-50-RACING or visit www.noproblemraceway.com.




NHRA: 10 Most Recent Entries [ top ]

Apr 22- HOUSTON - Top Fuel Final, Round 4 Eliminations
Apr 22- HOUSTON - Funny Car Final, Round 4 Eliminations
Apr 22- HOUSTON - Pro Stock Final, Round 4 Eliminations
Apr 22- HOUSTON - Pro Modified Final, Round 4 Eliminations
Apr 22- HOUSTON - Top Fuel Harley Final, Round 3 Eliminations
Apr 22- HOUSTON - Super Gas Final, Round 6 Eliminations
Apr 22- HOUSTON - Super Comp Final, Round 6 Eliminations
Apr 22- HOUSTON - Super Stock Final, Round 6 Eliminations
Apr 22- HOUSTON - Stock Eliminator Final, Round 6 Eliminations
Apr 22- HOUSTON - Pro Modified Round 3 Eliminations