Wed, 20 Mar 2013, 12:26 PM



Connecticut Native John Hall Racing for Newtown



Courtesy of Tim Hailey



GAINESVILLE, Fla. --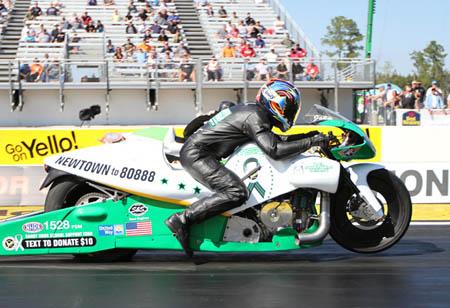 John Hall
John Hall and the Text "Newtown" to 80888 Buell qualified 6th with a 6.842 for the NHRA Amalie Oil NHRA Gatornationals at Auto Plus Raceway in Gainesville, Florida, USA. It's an outstanding accomplishment for sophomore PSM racer Hall and this fundraising effort. Hall's first season with the Matt Smith Racing team looks like it's going to be a good one, and this opening round salvo couldn't come at a better time as the Connecticut native seeks funding for the United Way's Newtown-Sandy Hook Community Foundation.
"My kids are older than the children at Sandy Hook," said Hall. "But I just couldn't imagine how awful that whole thing was for the children, teachers, and families who had kids in school there that day. That's 34 miles from my house in Hamden if you take the long way. When I saw Michael Waltrip supporting the Newtown-Sandy Hook Community Foundation in the Daytona 500, I knew right then there was something I could do to help."
"I got a call from John, and he was interested in doing a similar thing to what we did with Waltrip in Daytona with his own racing program at the Gatornationals," said Patrick Kinney, spokesperson for the United Way of Western Connecticut. "John struck me as a very sincere and conscientious guy who wanted to do the right thing. He did a lot of research on the fund before he called me, so I knew he was serious."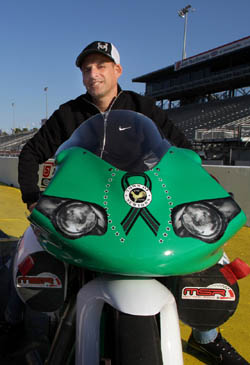 John Hall
What Hall found in that research was a credible effort to fund the needs of a community traumatized in the way that Newtown was. As the nation moves on to squabbles over gun rights and politics, the toil on families who lost their children and children who lost their friends remains. For them it is not a fleeting tragedy witnessed on TV, but a deep and unyielding wound. "This is not a victim's compensation fund," noted Kinney. "In the days after the tragedy, the United Way and the city were getting calls from-well, places like Columbine that had seen similar things. What we were told over and over was that the most important thing to do was set up a general fund for the long term needs such as mental health care that will last for decades. So this fund will service those needs of the community."
"As someone just wanting to help, it's tough to know where to place your effort," said Hall. "But the Newtown-Sandy Hook Community Foundation-part of the United Way-is legit."
The Foundation started spreading its message through racing at the request of NASCAR President Mike Helton. "The town was getting calls from celebrities and sports figures- the Giants, Patriots, Mets, and a bunch of other people," said Kinney. "Then we heard from Mike Helton. The shootings had happened during NASCAR's off-season, but now that they were starting up again, he wanted to know how they could help. He talked to Swan racing and Michael Waltrip and they put that together. We did the text to give program and raised a nice chunk of change with that effort, so when John came to us with his offer, we looked it over decided to go with it. I worked with him on the graphics to make it similar to Michael's, and he's riding the Text "Newtown" to 80888 to make a $10 contribution Buell."
And that Buell is running well! With only a couple of test passes before this weekend, Hall was able to get comfortable in the seat and Smith was able to get aggressive with the tuning quickly. The result was a good string of laps in perfect Gainesville weather.
So please, text "Newtown" to 80888 and make your $10 contribution.
Find out more about the United Way's Newtown-Sandy Hook Community Foundation at www.uwwesternct.org/sandyhook




NHRA: 10 Most Recent Entries [ top ]

Apr 20- HOUSTON - Pro Stock Qualifying, Session #1 Order
Apr 20- HOUSTON - Pro Modified Qualifying, Session #1 Order
Apr 20- HOUSTON - Pro Stock Qualifying Notes, Session #1
Apr 20- HOUSTON - Pro Modified Qualifying Notes, Session #1
Apr 20- HOUSTON - Top Fuel Harley Qualifying, Session #1 Order
Apr 20- HOUSTON - Super Comp Eliminations Ladder
Apr 20- HOUSTON - Super Comp Round 1 Winners
Apr 20- HOUSTON - Top Fuel Harley Qualifying Notes, Session #1
Apr 20- HOUSTON - Super Stock Round 1 Winners
Apr 20- HOUSTON - Super Gas Eliminations Ladder