Fri, 01 Mar 2013, 19:50 PM



Vote for Shane Gray to fill eighth spot in K&N Horsepower Challenge



Courtesy of Kelly Wade


Photo credit: Roger Richards





DENVER, N.C. --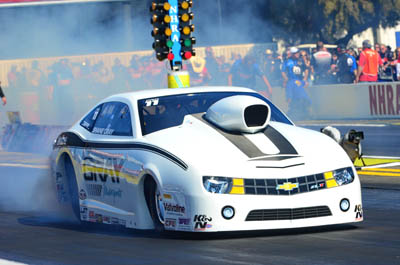 Shane Gray
Shane Gray came into this world with a fierce hunger for horsepower, and he would like nothing more than a chance to satisfy that hunger and compete for the title in the prestigious bonus race for the Pro Stock competitors, the K&N Horsepower Challenge. The motivated Pro Stock driver will only have the opportunity to race for the trophy in the special event to be held at the upcoming SummitRacing.com NHRA Nationals at The Strip at Las Vegas Motor Speedway with your help: the final spot will be filled by way of fan vote, and voting ends in one week, on March 8, 2013.
Vote for Gray Motorsports Chevy Camaro driver Shane Gray
The second-generation driver grew up accompanying his dad, current Funny Car competitor Johnny Gray, as he raced across various forms of motorsports, but straight-line racing and the intense pursuit of power resonated with the younger Gray, even as a child. With the eighth and final spot in the K&N Horsepower Challenge up for grabs, Gray could have the opportunity to showcase the power that the Gray Motorsports team is beginning to unearth with a revised engine program that includes a partnership with Elite Performance.
"This is a neat opportunity for us because we had a very trying year last year," said Gray, who totaled his brand new Chevy Camaro in a spectacular crash at the NHRA event in Charlotte last fall but rallied back to compete at the very next race in the Pontiac GXP he piloted earlier in the season. "It was rough, but I was so proud of my guys for getting me right back on track the following weekend. I think that showed a lot for our Gray Motorsports team, and it would sure be great to reward them with the chance at grabbing that trophy.
"We have a brand new Jerry Haas-built Camaro that we've had the pleasure of racing this year, and we are finally seeing incremental improvements in our engine program. I know the competition is just really, really tough, and I have a ton of respect for all of the drivers out here. I'd sure appreciate the opportunity to race with them in the K&N Horsepower Challenge."
Fans will also have the chance to win by entering the K&N Horsepower Challenge Sweepstakes. Eight fan finalists will be chosen to receive a trip for themselves and a companion to Las Vegas for the 14th annual SummitRacing.com NHRA Nationals, April 5-7.
On the day of the K&N Horsepower Challenge, each finalist will be randomly paired with one of the eight qualified drivers, and the fan finalist whose driver wins the special race will take home the 2013 K&N Horsepower Challenge special-edition Toyota Tacoma, a unique midsize pickup created by Toyota Racing Development and K&N Filters for this event with modifications including a supercharger, custom wheel and tire package, intake system, shocks, and springs.
Vote for Gray Motorsports Chevy Camaro driver Shane Gray:
Enter the K&N Horsepower Sweepstakes:




NHRA: 10 Most Recent Entries [ top ]

May 21- TOPEKA - Super Comp Round 3 Eliminations
May 21- TOPEKA - Top Sportsman presented by RacingRVs.com Round 2 Eliminations
May 21- TOPEKA - Stock Eliminator Round 3 Eliminations
May 21- TOPEKA - Super Gas Round 2 Winners
May 21- TOPEKA - Super Gas Round 2 Eliminations
May 21- TOPEKA - Super Stock Round 2 Winners
May 21- TOPEKA - Super Stock Round 2 Eliminations
May 21- TOPEKA - Super Comp Round 2 Winners
May 21- TOPEKA - Super Comp Round 2 Eliminations
May 21- TOPEKA - Stock Eliminator Round 2 Winners