Thu, 28 Feb 2013, 21:18 PM



Good Thing He Took All Those Tin Cans Off His Car!



By Bob Frey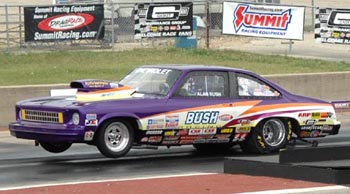 Alan Bush
Photo copyright 2013 BME Photography
Super Gas has been around for a long time. The first NHRA national champion in the 9.90 category was Steve Eckard who won the title with his Anglia. Since then there have been more different winners, men and women, in Super Gas than any other class in NHRA history and the category has developed into one of the most competitive in the sport. Think about it, you have to "cut a light and run the number." One or the other may be easy, but to do both of them successfully on the same run isn't. If you don't believe me just ask the thousands of racers who try it every year. In 2012 alone there were almost 1,000 drivers who earned points in Super Gas and the eventual national champion, Jeff Lopez, put an impressive 692 points on the board to secure his first national title. Like most of the drivers in the top ten and beyond Jeff drove a car that was "purpose-built" to be a race car, a 9.90 race car. Sure he probably runs it in other classes during the season, but for the most part his car, and almost all the others in the top ten, were built for Super Gas. But if you look down the top ten list you'll come to the tenth place driver, Alan Bush, and when you check out his car you will see that it is anything but an all out race car, or at least it didn't start that way.
Alan Bush did what most people thought was impossible in 2012 when he won the Division 3 Super Gas championship. Now I'm not taking anything away from Alan because he is obviously a good driver, but the "impossible" part was because of the car that he drives in the 9.90 category. "It's a 1977 Chevy Nova that I have had since it was almost new," he said. "It has a very long history behind it." That history includes having an "almost new car" while still in high school, driving it on dates with his future wife and racing it. "It's actually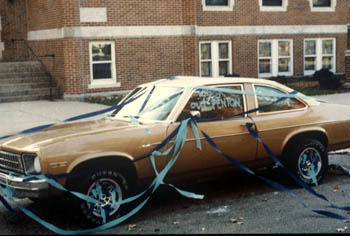 the car we took on our honeymoon," he said. "It was just one day but it was a honeymoon." And after that one day Alan drove the car back home to Erie, Illinois and, according to him, "the car never went down the highway again." Now most people don't think of a 1977 Nova with a 305 cubic inch engine as the ultimate race car and Alan didn't either, at first. "I was thinking about making it a show car," he said. "Then a friend of mine came over and said that we should make it a race car. I had already sold the small block engine and he said that he had a 396 engine that we could put in it and go racing." So out went the thoughts of a show car, in went the big block and off went the pair to the nearest drag strip.
In the beginning the pair confined their racing to the bracket categories at their local track and it was there that they came up with the name for it. "Back then everyone had a name for their car and we were looking for one," Alan said. "We were standing in line at the concession stand at Cordova Raceway and we saw a sign that said 'All Employees must wash their hands before returning to work. Priority 1.' From that moment on 'Priority 1' has been the name of the car." Alan has had the car for so long that he says people still come up and ask him if that's the same car that he ran way back when. "It sure is, I tell them."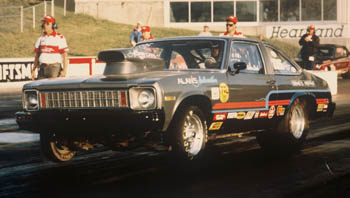 As you may imagine a 1977 Nova isn't the quintessential Super Gas car but it works for Alan and has for a long time. "Right now it has a 632 cubic inch engine in it and I need that because the car is so heavy." By "so heavy" he means that this vintage race car tips the scales at slightly more than 2,700 pounds which is well over the minimum requirement in the class, and the fact that Alan is 6'5" and weights about 260 doesn't help matters. "Yeah, most of the cars I race are about 2,100 pounds but I can still keep up with them. I run about 163 miles an hour so that means I get to do a lot of chasing in the class which is how I like it. The key to racing a car like this is to make sure that you have good equipment and take a lot of notes. I have a log book that has all my runs in it and it sure comes in handy. I guess you could say that I'm a real student of the class." The car, which Alan admits, and everyone knows, isn't the most aerodynamic car in the class and that has earned it an interesting nickname from one of the best in the 9.90 category. "Sherman Adcock calls it the 'Santa Maria' because it's so big. He even called me the night of the Division 3 banquet and said 'Congratulations to you and the Santa Maria' I think that's pretty neat" And even though he has won a pair of Division 3 championships that first national event win has eluded Alan so far. "The first time I took the car to an NHRA national event was in Topeka in 1993 and I made it to the final," he said. "I thought, wow, this isn't that hard. Well, to this day I still haven't been back to a final round so I guess I learned my lesson."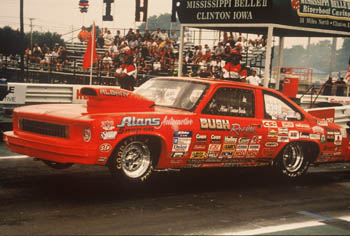 With so much history behind it the obvious question for Alan is has he thought about upgrading? "Well, I have a car that I started working on that was a 2010 Camaro and now it's going to be a 2013 Camaro. I guess I'll get it done some day." The only real sense of urgency for him is the fact that his son, Marcus, enjoys racing. "He lives about eighty miles away and when he can get to the track it's a real family day and I thoroughly enjoy it. He has driven a couple of times and I'd like to turn the Nova over to him." Alan went on to say that his other son lives in Hawaii and he doesn't get to see him that much and that's what makes race days with Marcus even more special. But between racing and running his business, Alan's Automotive Service, which he has had just about as long as the Nova, there isn't a lot of time to work on the "new" car. Still, Alan plans to do a lot of racing in 2013. "I have a Gold Card and I intend to use it. I'd like to go to about eight division races and six national events.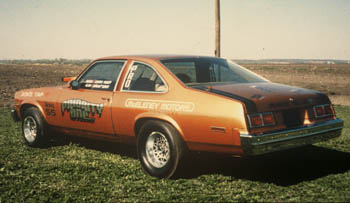 Whether you call the car "Priority 1," the "Santa Maria" or just call him "Big Al," Alan Bush and his Nova make a great and very surprising combination. "I have a lot of memories with this car and I'm very lucky. It runs well and still looks good. Carl Root, another racer in Division 3, painted it years ago and people still come up and ask if it's a new paint job. Carl does great work." And while it's had a variety of paint jobs and several engines, and while it's had everything from a small block engine in it to tins cans and ribbons tied to it, this classic Nova has only had one driver and he's a two-time Division Champion and he's done it all his way and it looks like he will for the foreseeable future.




NHRA: 10 Most Recent Entries [ top ]

Apr 24- CHARLOTTE 1 - Steve Torrence Enjoying Four-Wide Success Heading to NGK Spark Plugs NHRA Four-Wide Nationals
Apr 24- CHARLOTTE 1 - Fact Sheet
Apr 24- Kalitta Motorsports Welcomes NASCAR Stars to the SealMaster Track Walk in Charlotte
Apr 24- zMAX Dragway Celebrates 10th Anniversary
Apr 24- CHARLOTTE 1 - NGK Spark Plugs NHRA Four-Wide Nationals Brings 40,000 Horsepower Thrill Show to zMAX Dragway
Apr 23- HOUSTON - Lucas Oil Drag Racing Series Wrap Up The NHRA Lucas Oil Drag Racing Series Wrap Up
Apr 23- CHARLOTTE 1 - J.R. Todd Aiming for Two Four-Wide Racing Wins in 2018
Apr 23- Mid America Dragway Joins NHRA Member Track Network
Apr 23- HOUSTON - Special Awards
Apr 23- HOUSTON - Sunday Video