Wed, 27 Feb 2013, 16:21 PM



Two-time IHRA Funny Car Champion Peter Gallen Bringing New Look, New Attitude into 2013



Courtesy of IHRA Communications



Records, Wins and Championships aside, Gallen Feels He has More Left to Accomplish



NORWALK, Ohio --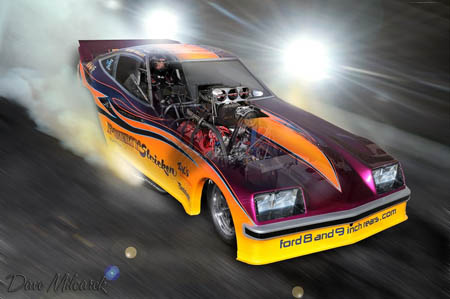 Gallen's championship winning Monza has
received a fresh coat of paint in the offseason.
If you have followed just one second of the IHRA Nitro Jam series over the past three years you are almost certain to have heard the name Peter Gallen.
The nostalgia Funny Car driver out of Broomall, Pennsylvania has been to just about every victory lane and set just about every record the IHRA has to offer, but there is still more on Gallen's to-do list. As hard as it is to believe, even with 17 wins, 27 finals, two IHRA World Records and two AMSOIL Prostalgia Funny Car titles, Gallen isn't quite done just yet.
"There is still more we want to do," Gallen said. "We are always pushing our car and our team harder, to be the best, and even with the success we have enjoyed over the last few years we aren't backing down one bit. There are still mountains out there left to climb."
Among Gallen's "mountains" is a stout lineup of Funny Cars awaiting him on the 2013 IHRA Nitro Jam schedule, a lineup that includes such famous names as "Candies & Hughes", "Chi-Town Hustler" and "Bullet Bob." Gallen will also square off with longtime foes Greg Jacobsmeyer in the "AllStar Dodge", a driver that found Gallen's number at the end of last season, Mike McIntire in the "McAttack" Camaro and Texas sensation John Hale.
While Gallen's offseason has been filled with plenty of non-racing activities including hockey practices, cheerleading competitions, honey-do lists - pretty much the kinds of stuff any man with teenage and young children would be dealing with - Gallen admits that he can't wait to get the season underway.
And that begins with getting the car right for the new season.
"Our major focus during the offseason was to figure out the balance of the chassis. Last season we struggled to keep the front end down and that resulted in most runs being 'short shifted' in order to steer," Gallen said. "To help battle the balance issue we sought advice for our clutch program from Rob and Nicky of Boninfante Friction. After several brainstorming sessions a program was developed and we are excited to see how this program will affect our performance beginning in San Antonio."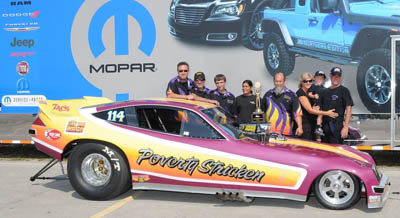 Gallen will be looking for his third straight
IHRA Nitro Jam title in 2013.
After winning eight times in 2011, Gallen won just twice last season as the team battled a few mechanical issues, issues Gallen believes the team has gotten right with the new clutch program.
In addition to addressing the issues under the hood, Gallen also gave the "Poverty Stricken" 1977 Monza a fresh coat of paint and a new look for the new season.
"We sent the car to Sano Custom Paint in New Jersey where Alcohol Funny Car owner/driver Dave Sano worked his magic and produced this awesome looking design," Gallen said. "We also added hand lettering and pin stripping by Glen Design and it was all back to us and ready to go in January."
Gallen's 2013 schedule will include seven of the nine Nitro Jam events including stops in San Antonio, Bradenton, West Palm Beach, Pittsburgh, Grand Bend, Martin and Memphis in addition to several stops with other series during the year. And Gallen admits that none of his accomplishments would be possible without a strong group of supporters helping get the "Poverty Stricken" Monza down the track.
"This season will mark our fifth year for our original block and heads. That is made possible only by the methodical attention of the crew and the lubricating capabilities of Red Line Oil," Gallen said. "We also have to thank our incredible marketing partners including Ford 8 and 9 Inch Rears, Funny Farm Fabrication, Zac's Hamburgers and new for this year Boninfante Friction.
"We also have to give a big thanks to the crew. Returning this season to defend our title will be John Benigni, Bob and Maria Rosetty, Jake and Clark Slater and an occasional guest appearance by Funny Car Steve."
Don't miss a second of the action only at www.nitrojam.com and on Facebook at www.facebook.com/nitrojam.




IHRA: 10 Most Recent Entries [ top ]

Apr 24- Racers Receive Prizes at IHRA Summit Sportsman Spectacular Opener
Apr 24- Comeaux, Hughes Make History at IHRA Summit Sportsman Spectacular
Mar 21- 2018 IHRA Summit Sportsman Spectacular Series on April 20-22
Feb 26- Weather-Related Construction Delays Postpone IHRA Xtreme Raceway Park Opener
Feb 16- IHRA Summit Sportsman Spectacular Schedule Announced
Feb 15- New York Track Finds Value for Racers with IHRA Agreement
Feb 15- IHRA Summit Sportsman Spectacular Debut Only One Month Away Now is the Time to Pre-Enter
Feb 15- Summit Texas Location is a Racers' Paradise
Feb 15- Canadian Track Makes Large Commitment to IHRA Drag Racing
Jan 27- Mid-Michigan Destination Joins IHRA Family