Sun, 10 Feb 2013, 08:29 AM



Canopies: What was Old is Now Very New!



By Steve Reyes


Photo copyright 2013 Steve Reyes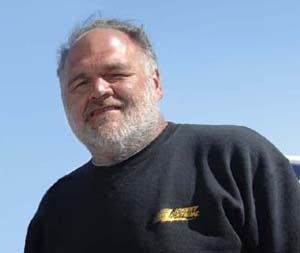 Steve Reyes
Photo by: Auto Imagery, Inc.
Change it seems is everywhere and the sport of drag racing is no exception. It has seen its fair share of changes in the last fifty years but now it is time again for showcasing a "driver under glass." A novice fan or spectator may believe that this is some sort of divine happening or new cutting edge drag racing but this is not the first time that we have seen the "driver under glass." This style of racing has been around off and on for the past fifty years. Back in 1954, Ed and Roy Cortopassi worked with Doug Butler to build a drag racing work of art named "The Glass Slipper." The dragster featured a streamlined fiberglass body, aluminum frame and of course an enclosed canopy. Believe it or not this car is still around and made runs down the Bakersfield quarter mile as recently as 1995.
So this concept of an enclosed cockpit via canopy is not really new. It was tried in the 1950's, 1960's, 1970's and as recently as the 2000's. Canopies have primarily been a mainstay on land speed or Bonneville race cars. Drag Racers such as Mickey Thompson (1955 Panarama Special), Hank Vincent (1960 Top Banana), Nye Frank (1965 The Pulsator ), Tom McEwen (1967 Super Mustang ), Darrell Gwynn (1986 Budweiser Top Fuel), Gene Snow (1986 Snowman Top Fuel ), Jocko Johnson (Invader), The Jungle 4, The Logghe Brothers, Ed Roth and of course, Don Garlits, all have featured a "driver under glass" on various stream liner style dragsters. Even LSR star Craig Breedlove debuted a Top Fuel canopy equipped dragster at the Hot Rod Magazine Championships in 1964 but with no success. It was mainly Larry Bowers in the 1970's and then Don Garlits who showed that a canopy could work on a Top Fuel dragster.
Now taking steps to improve the Garlits design is the Don Schumacher's Army Top Fuel team. With the blessing of NHRA, Schumacher introduced a slick canopied Top Fuel car in the middle of the 2012 season. Canopy or no canopy the Army Top Fuel car thunders down the track and it ended the 2012 season second in points. Is the canopy an advantage to Top Fuel racing? The 2013 season will no doubt feature other Top Fuel cars with canopies, however, for me, it isn't about the "bubble" of glass but the team and the driver that win races and championships.
If you wish to purchase prints of the photos below, they may be obtained by contacting us at blrenterprise@cox.net. Other photos may be viewed by following the link at the bottom of the page at www.reyesontour.com.
My personal first sighting of a dragster with a canopy was Jocko Johnson's Invader driven by Emery Cook
at Fremont, California in 1965. Bob "Jocko" Johnson built his stream liner and debuted it in 1959 with Jim "Jazzy" Nelson
at the controls. The sleek stream liner ran a 8.35 at Bakersfield in 1959 for an ET record. However, all was not
coming up roses for Jocko's stream liner, it was damaged during a high speed run in the mid-1960's.
Jocko parked the "hurt" car until he restarted it in 1987. It's current home is at Don Garlits Museum of Drag Racing in Ocala, Florida.
Almost sixty years ago the Sacramento, California team of Ed and Roy Cortopassi and Doug Butler debuted the beautiful
state of the art Glass Slipper dragster. The car was the first to combine streamlined fiberglass body, aluminum frame and
an enclosed canopy. This photo was taken at the California Hot Rod Reunion in 1995. The Slipper made a few passes down
the quarter mile before going to the Wally Parks/NHRA Museum for drag fans to enjoy.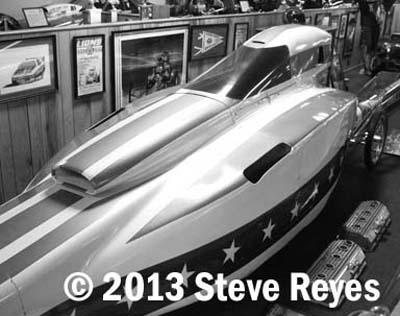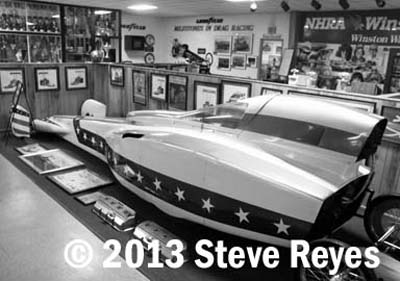 In 1964 LSR star Craig Breedlove got together with Quinn Epperly and built this space age Top Fuel dragster. The car
debuted at the Hot Rod Magazine Championships in Riverside, California, that same year. The car only ran a few times
and when it didn't have the success that Breedlove expected the car was parked. Show car King Carl Casper obtained the
car and put it on his show car circuit. From there it went to Robert Peterson's car Museum in Hollywood, California.
When the museum closed in 1983, Kalitta purchased it and donated it to his long time friend Don Garlits and there it sits in
the Don Garlits Museum of Drag Racing in Ocala, Florida.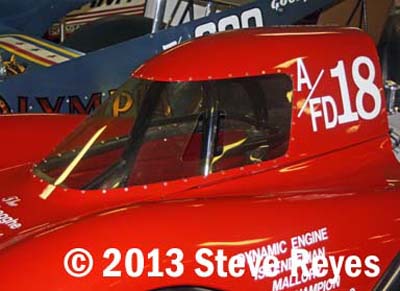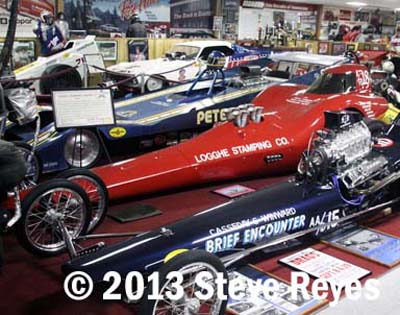 Another really slick canopied dragster debuted in 1964 owned and operated by the Logghe Brothers, Ron and Gene.
Some would consider it to be one of the best examples of a streamlined dragster. The body is fiberglass with magnesium
added to the inner body panels for strength. The body sits on a 136 inch wheel base with a nitro burning 327 injected Chevy
for power. The car weighed an amazing 990 pounds. The car had three different drivers, Jim Marsh, Roy Steffey, and
Maynard Rupp. The car proved to be very ill-handling due to the body design. It did clock 8:10 at 186 mph before it was parked.
Don Garlits purchased it from the Logghe Brothers in 1987 and restored it to race ready and it now sits in his museum.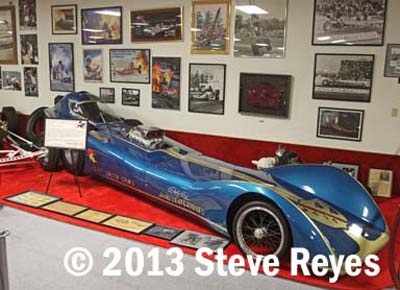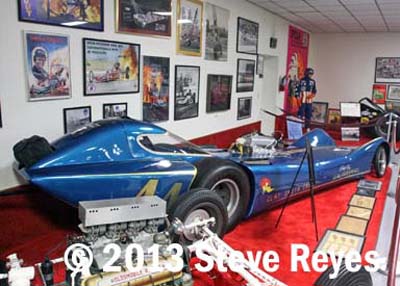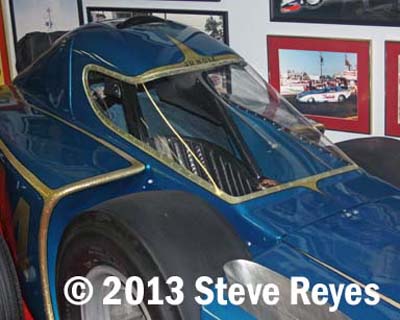 The Southern California team of Mooneyham, Jackson, Ferguson and Faust a.k.a the Jungle Four, debuted their canopied Top Fuel
car in late 1964. The Jocko Johnson body rested on a Woody Gilmore chassis with George Cerny, Jr., applying the beautiful paint.
Driver "Jungle" Larry Faust had his hands full while testing at Lions and San Fernando. The Southern California winds really affected
the handling of the car and it took out the timing lights damaging the nose of the body. The team did not have the finances to test so
the body and canopy were removed and the team returned to a conventional dragster style body.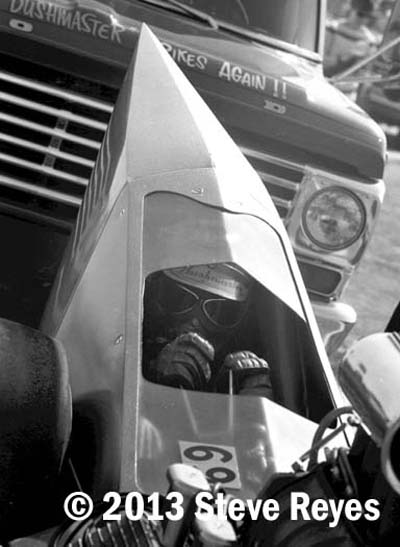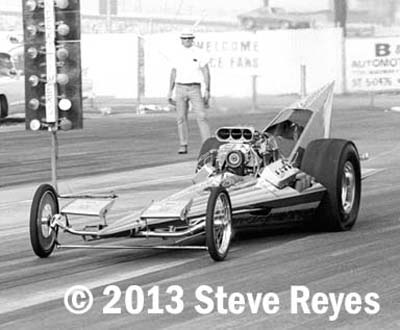 When Ed "Big Daddy" Roth went Top Fuel racing his Yellow Fang was a true show and go Top Fuel car. Roth debuted the 'Fang
in the mid-1960's with Connie Swingle at the shakedown controls. George "The Bushmaster" Schreiber took over as Roth's
permanent choice as a driver when Connie returned to Florida. The car had a fully enclosed canopied cockpit when it arrived at
the Winternationals in Pomona, California in 1967. However, Roth was told by NHRA officials he could not have a canopy so the
Bushmaster quickly got our a saw and fixed the problem so the 'Fang could compete.
In 1972 blower builder and Top Fuel racer Larry Bowers went racing with a very sleek purple canopied Top Fuel dragster.
When he wasn't blowing the clutch or engine out of his car, he ran very well in the the California Top Fuel wars of the
early 1970's. Bowers car was featured on the cover of quite a few magazines and was used by Doug Kruse to promote one
of his PDA races at OCIR.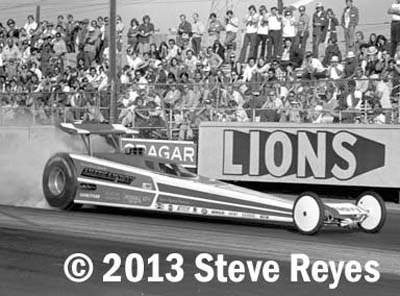 Harry and Maxine Lehman believed they had a better way with their full-bodied canopied Top Fuel dragster in 1972.
The East Coast based husband and wife team put together a one of a kind Top Fuel car called the American Way. It was a
beautiful show and go race car built around their driver "Super Jew" Al Friedman. Friedman was very small so the cockpit was
too small for any other driver. Just as the car was finished Al Friedman tragically passed away from a brain aneurysm. Now with
a driver-less car the Lehman's searched for a driver who might fit the tight driver's quarters. West Coast Fuel Altered pilot Howard
Haight tried to fill the seat and drove a few times for the East Coast couple. However, Lehman's never did find a permanent driver
and soon had to park the car.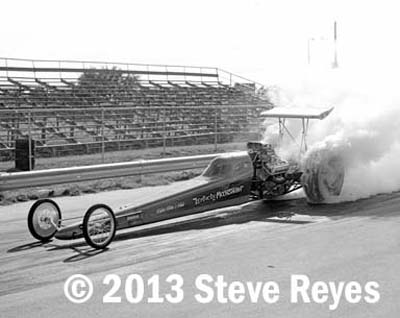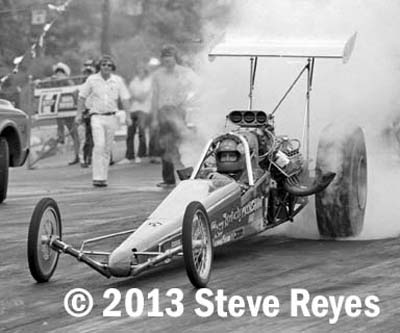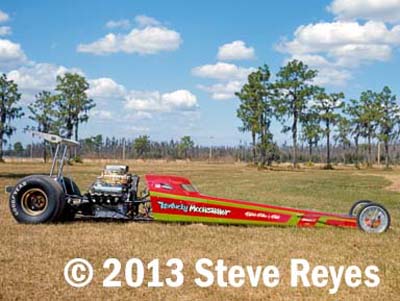 When Top Gas ended in 1971, it was time for English, Frakes and Funk to go Top Fuel racing. The Kentucky trio put one of the
coolest Top Fuel cars on the race track that following year. Their Kentucky Moonshiner Top Fuel car sported a canopy that would
cover driver Dale Funk on those quick high speed runs down the quarter mile. After a couple of runs, driver Dale Funk decided he
hated the canopy so he removed the said canopy and again had the race track air in his helmeted face.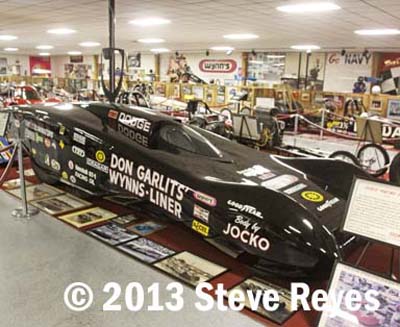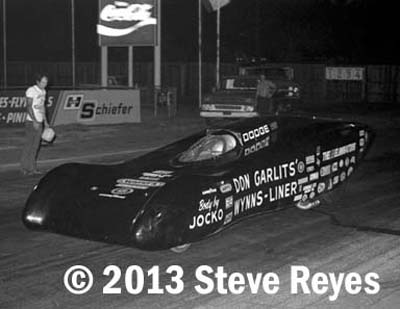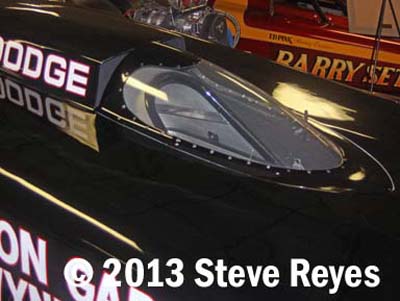 Don Garlits' first venture into the world of canopied Top Fuel cars was in 1973 with his Wynn's Liner. Garlits, Connie Swingle
and T.C. Lemons built the car and Jocko Johnson built the stream liner body. Butch Maas piloted the car on its West Coast debut
at Orange County International Raceway in 1973. Maas would record a 185 mph 7 second pass that evening but handling problems
and engine failure put the car in the trailer. Then when the car returned to Florida Garlits jumped in and drove it to a 167 mph
while the car went air borne. Garlits brought the car home in one piece and some modifications were done to help with the
handling, etc. It was then Don "Mad Dog" Cook's turn to pilot the 'liner but the car still wanted to crash. Garlits retired the evil car
and it was soon sold to rocket car driver Russell Mendez. After Mendez was killed, his partner Ramon Alvarez returned the car to Garlits.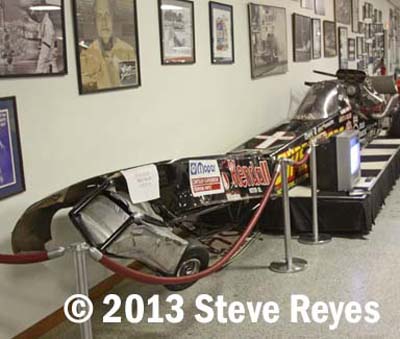 Garlits and Herb Parks built this canopied Swamp Rat 31 only to have it fly and blow over at Spokane, Washington, in
August of 1987. Garlits did run 5.51 at 215 mph, upside down, backwards, and on fire. It was low ET of the event.
This is Garlits Swamp Rat 34 which Don raced in 1993, 1994, and 1995 with Bruce Larson and Richard Langson driving.
After the 1995 season the car was parked until 2002 when it was updated and readied to race. Garlits drove his SR 34
to a best of 323.04 in 2003. Swamp Rat 34 has a canopied cockpit, extra narrow rear end and the aerodynamic "T" tail section
(mono wing). These three things make the car the most advance Top Fuel dragster to date.
While attending the Hot Rod Reunion at Beech Bend, Kentucky in 2009, I came across the canopied retro Top Fuel car of
Champion Speed Shop. The Mike Fuller owned Top Fuel car was trying something different , a canopy. Driver Adam Sorokin
complained that the canopy wouldn't clear of smoke or nitro fumes and he didn't care to drive in that fog. But hey, it looked cool!
In 1973, I came across Ben and Mary Dieher's canopied equipped A/Fuel dragster. This was the only A/Fuel dragster
I ever saw with a canopy. An old Top Fuel car? I don't really know. Then while touring England with the Blue Max funny
car in 1978, I came across the Bel-Ray Stream liner owned by Ashley and Cuss with Pat Cuss driving. The car ran alcohol
and was a very popular car at Santa Pod.




NHRA: 10 Most Recent Entries [ top ]

Apr 21- Worsham Announces Planned Hiatus from Racing
Apr 21- HOUSTON - Super Comp Round 4 Eliminations
Apr 21- HOUSTON - Stock Eliminator Round 4 Eliminations
Apr 21- HOUSTON - Super Gas Round 3 Eliminations
Apr 21- HOUSTON - Super Stock Round 3 Eliminations
Apr 21- HOUSTON - Super Comp Round 3 Eliminations
Apr 21- HOUSTON - Stock Eliminator Round 3 Eliminations
Apr 21- HOUSTON - Super Gas Round 2 Eliminations
Apr 21- HOUSTON - Super Stock Round 2 Eliminations
Apr 21- HOUSTON - Friday Pro Mod Wrap Up