Mon, 28 Jan 2013, 08:38 AM



No Wonder They Call Him "Ace"



By Bob Frey


Photo copyright 2013 Auto Imagery, Inc.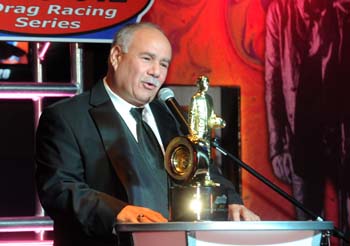 Frank Manzo
Superlatives are thrown around with unusual regularity these days. If a baseball player hits .275 they start talking about the Hall of Fame. If a golfer wins a few tournaments they start comparing him to Jack Nicklaus or Arnold Palmer. And if a football team wins the Super Bowl, just one Super Bowl, they are called "great." I don't know if it's a sign of the times or what but I think to reach greatness you have to do something and do it well over an extended period of time. In drag racing everyone knows what John Force has done for the last twenty or more years. He is the one that all other Funny Car drivers, or just about any other drivers, are compared to. And why not? With his lofty accomplishments John has set the standard very high and has given everyone else something to aim for. Very few have done or will do what he has over the course of their racing career. But there is one man who has kept pace with John. One man who is the absolute best at what he does, and one man who has actually passed John in the number of season championships that he has won. And while he will downplay his accomplishments there is no doubting the fact that Frank Manzo is among the best ever in our sport.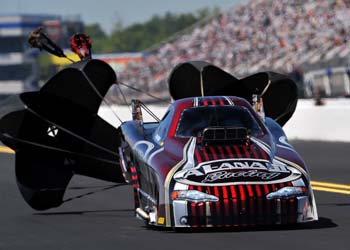 Frank Manzo
For a sixty-year old man Frank Manzo approaches life and racing with the spirit of someone half his age. "I guess the fact that I love what I do, that I love racing and really enjoy driving my car keeps me young," Frank said. He followed that up by adding that the past season, his sixteenth championship year, was full of stress and pressure. "You know I always strive to do the best I can and to make a great run every time, but that doesn't always happen and it sure didn't happen in 2012." That is a reference to the fact that it looked like Frank's reign over the Top Alcohol Funny Car class would come to an end last year. "We certainly weren't running like a championship team and it showed on the track. But then I realized that nobody else was having a banner year, either." That fact is backed up by the numbers that show eleven different Top Alcohol Funny Car drivers won NHRA national events in 2012, an unbelievable total for a sixteen race series. "There wasn't one real turning point for us," Frank said. "But after a disappointing performance at the regional race in Chicago I came home and decided that it was time to re-evaluate where we were." That process included a couple of days of thinking and talking with his best friend and personal adviser, his wife Michele. "She's the one that can really motivate me. Between her and my crew I think they may actually want to win more than I do." While that may sound good it's hard to believe that anyone is as motivated or as driven to win as the man they call the "Ace."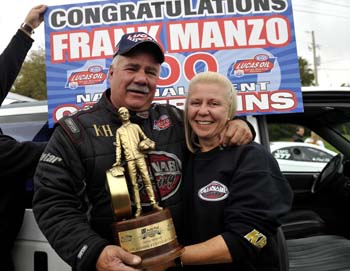 Frank and Michele Manzo
Frank admits to having made more that 3,600 runs down the track in an alcohol funny car, and that's a bunch by anyone's standards. Still, as the 2013 season approaches, he doesn't seem to have lost any of the fire that has made him such a great champion over all these years. "I have a few options going into this year. I can go out and make another run for the championship or I can just go to nine or ten national races and just have fun running my car without any pressure." When I asked what would be the determining factor in that decision he said it all depends on how he and Michele feel in a few weeks. "There were times last year when I was at the races for fourteen weeks in a row and that's a lot. And the stress that I mentioned is all self-imposed but it can wear you down after a while." Those fourteen weeks came with a combination of Frank running his own car and tuning a Pro Mod car that ran on the ADRL circuit. In fact, as I spoke to him this week Frank and Michele were in Qatar working with their driver, Alex Hossler and his Pro Mod entry. "We tested for three days and made fifteen runs and now we're getting ready for the actual race this Thursday and Friday. The car is running well but there are some good cars here so it will be a real test of how far we've come with this new car."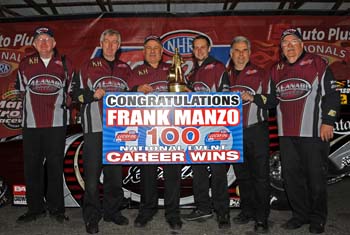 Frank and crew celebrate 100th win.
As good as Frank is, and make no mistake about it he is very good, he is the first to admit that he couldn't do it or be nearly as successful as he has been without the help of a good crew. "John Glade is my right hand man and he's been here with me for all of my wins. In fact he's over here with us right now working on the Pro Mod car. The rest of the team, including Fred (Bauer), Ed (Hofmann) and Mike (Giaffino) are the best and they bring out the best in me." Fred and Ed have been part of Frank's team for years, and just like him they are very successful but also very humble. "We don't do a lot of jumping up and down, fist pumping and stuff like that when we win," Frank added. "Believe me, when that win light comes on I scream inside the car, but when I get out I realize that the guy in the other lane worked just as hard as we did and you don't want to rub it in that you beat him. Besides, he just might come back and beat you the next time." Ok, I realize that's a good theory and I know what Frank's saying, but let's face it, not many people beat Frank Manzo, and in the final rounds nobody has beaten him since 2006. "I'm just a lucky guy. I started out wanting to win a race and then another and it just grew from there and who knows where it will end." It almost ended at Maple Grove last year, after Frank won the 100th race of his career. "I got out of the car and was a little emotional because I was thinking that I may never do this again. At that point I honestly didn't know what 2013 had in store." Now he does, well, almost. "Like I said, I'd like to just go out and see how fast my car can go this year. But if someone comes up and says 'hey, old man, it's good you're not running for the championship this year' I just might get motivated to do that." A word of advice to the other alky racers, don't say anything to Frank at Gainesville.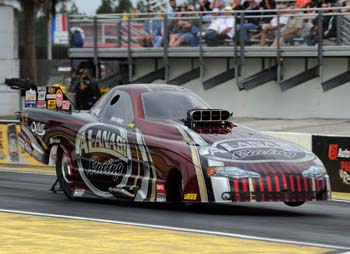 With an NHRA best sixteen national championships under his belt Frank admits that things have changed over the years. "It used to be that I would come back from a run and make four or five changes to the car. Now I can come back and not make any, or maybe just change the way I drive. I guess that comes with age." Or experience. Or both! Whatever it comes with it is usually accompanied by another trophy or another championship. "All the championships are the same, I enjoy each of them, but 2012 was different because we tried everything we could to give it away, and then in the middle of the season I realized that nobody else wanted the ball and that we did have a chance." Any time Frank Manzo is on the track he has a chance and 2013 should be no exception. After returning from Qatar in a few weeks he'll prepare for his first race of the year in Florida and everyone else will prepare to stop him from wining another championship and adding even more to his already impressive r?sum?. Good luck to everyone, because as you all know it's never easy to beat an "Ace."




NHRA: 10 Most Recent Entries [ top ]

Apr 24- CHARLOTTE 1 - Steve Torrence Enjoying Four-Wide Success Heading to NGK Spark Plugs NHRA Four-Wide Nationals
Apr 24- CHARLOTTE 1 - Fact Sheet
Apr 24- Kalitta Motorsports Welcomes NASCAR Stars to the SealMaster Track Walk in Charlotte
Apr 24- zMAX Dragway Celebrates 10th Anniversary
Apr 24- CHARLOTTE 1 - NGK Spark Plugs NHRA Four-Wide Nationals Brings 40,000 Horsepower Thrill Show to zMAX Dragway
Apr 23- HOUSTON - Lucas Oil Drag Racing Series Wrap Up The NHRA Lucas Oil Drag Racing Series Wrap Up
Apr 23- CHARLOTTE 1 - J.R. Todd Aiming for Two Four-Wide Racing Wins in 2018
Apr 23- Mid America Dragway Joins NHRA Member Track Network
Apr 23- HOUSTON - Special Awards
Apr 23- HOUSTON - Sunday Video