Mon, 19 Nov 2012, 06:40 AM



Grime Boss Hand Wipes Expands Sponsorship with Jim Dunn Racing for the 2013 NHRA Season



Courtesy of Nicole Erickson


Photo copyright 2012 Auto Imagery, Inc.





NEW YORK --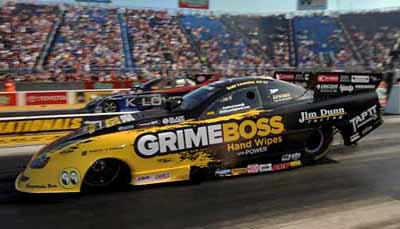 Todd Lesenko
Grime Boss Hand Wipes with Power announced its increased sponsorship program with Jim Dunn Racing for the 2013 NHRA season to include primary sponsorship on the team's Nitro Funny Car. The Grime Boss Funny Car will feature graphics for the popular hand wipe products for hands and surfaces and will reflect retailer relationships throughout the U.S. and Canada. Selected races during the season will also feature special graphics highlighting additional team partners.
"Nice-Pak is proud to partner with Jim Dunn Racing and we are excited about capitalizing on the grass-roots success we have seen with the team," said Keith McQuaid, Vice President overseeing Grime Boss strategy and business development. "We believe that the NHRA fan base is a core audience to help influence trial and ultimately brand advocacy. Grime Boss is the premier heavy duty hand wipe that will clean all of your toughest messes on either hands or surfaces, yet they are skin safe with aloe and Vitamin E. This is the essential cleaning tool for on-the go, at your home, or under the hood."
Grime Boss hand wipes are designed for automotive, industrial, and outdoor enthusiasts, by parent company Nice-Pak industries, the leading manufacturer of wet wipes in North America. Working with the race team and its agency (Forward Sports Marketing), Grime Boss will focus the 2013 program toward growing distribution and enhancing existing retailer relationships via in-store and at-track activation to build brand awareness and consumer demand.
Jim Dunn Racing Team Manager, Jon Dunn, reflected on the team's exclusive commitment and expanded presence with Grime Boss for the 2013 season. "Promoting a great product like Grime Boss hand wipes this past season was exciting, and we are looking forward to the increased program in the upcoming season. We are thankful for the sponsor relationship and enjoy spreading the word about Grime Boss hand wipes because it is a superior product that we believe in and have introduced to many other race teams and fans for use at the track and in the shop."
Grime Boss Funny Car driver, Todd Lesenko, along with the Grime Boss transporter and Funny Car will roll into the Pomona Fairplex in three short months to compete at the first race of the new season, the NHRA Winternationals, February 14-17, 2013. For more information on Grime Boss, visit www.GrimeBoss.com




NHRA: 10 Most Recent Entries [ top ]

Apr 23- HOUSTON - Sunday Video
Apr 22- HOUSTON - Sunday Pro Mod Wrap Up