Wed, 14 Nov 2012, 18:30 PM



Congrats To The Champs



By Bob Frey


Photo copyright 2012 Auto Imagery, Inc.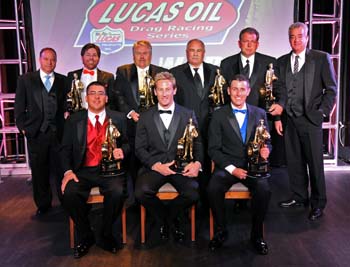 The Champs
On Monday we officially crowned the 2012 Lucas Oil Champions. These seven drivers fought their way through a series of national, regional and divisional races to stand a cut above the rest. Winning a Lucas Oil championship is never easy as I'm sure these drivers will agree. The quest began in February and this year it didn't end until the final day of the racing season in Pomona. There are three first time winners this year along with four repeat champions and all are deserving of the title "Lucas Oil World Champion."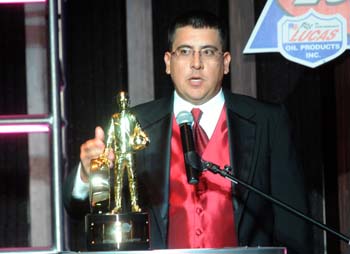 Jeff Lopez
Jeff Lopez put a lot of points on the board early and made them stand up for the Lucas Oil Championship, and by "a lot" I mean that he had almost 300 points by the middle of May and that made it tough for anyone to catch him. We first saw signs of greatness from Jeff in 2010 when he pulled off the feat of winning two classes at the same division race in Oklahoma. Fast forward to 2012 and he went to a lot of final rounds, including the division races in Houston, Tulsa, Noble, Oklahoma and Great Bend, Kansas, and he almost doubled again when he made the finals in Super Gas and Super Comp in Houston. When you add in the points that he earned by going to the final round at the national events in Houston and Topeka it's easy to see why he is the champion.
Everyone knows that it's tough to win in the 9.90 category, after all, you have to be good on the starting line, have a good car on the track and be good at the finish line, and in 2012 Jeff was good everywhere. All you have to do is look at how good all the drivers are in this class and it makes you appreciate even more what Jeff did in 2012. There were 1,003 different drivers who earned points in Super Gas this year, but none of them earned as many as he did, and just for good measure Jeff also finished in the top ten in the rugged Super Comp category in 2012.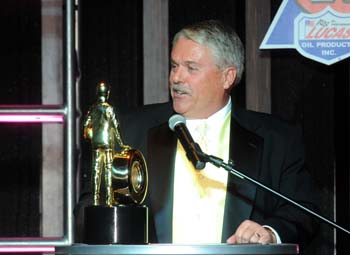 Al Kenny
Every year there is at least one championship that goes down to the final day of competition, and this year it was Super Comp. If anyone knows what Antron Brown was going through on Sunday in Pomona it's Al Kenny. After giving it his best shot and running his total to an impressive 612 points, all Al could do on Sunday was sit and watch his closest competitor try to catch and pass him for the title.
There are a lot families who have had a parent and a child win races, but not many have had a parent and two children win, but the Kenny family has. After Al lost at the last points race of the year in Las Vegas his son, Jason, helped him out by taking out his nearest competitor and that may have saved the championship for the senior member of the Kenny family. Al had a very good year on both the divisional and national level, and he went to the final round in Reading and Lebanon Valley at the D-1 races and he won the Norwalk national event. And to show you how good his family is he beat his son in the final round of Super Gas at the Maple Grove national event. There are a lot of racers who have been at this a long time, but not many can say that they went to their first national event final round in Sanair in 1977 in an alcohol dragster and then won their first championship thirty five years later in a Super Comp car. To further show you what a good racing family this is, I already mentioned that his son went to final rounds this year and his daughter, herself a former national event winner, went five rounds in Super Comp at the final race of the year in Pomona to prove that racing truly is passed from one generation to the next.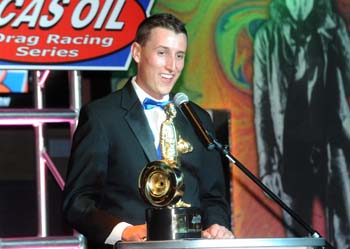 Brad Burton
There were a lot of talented drivers gunning for the Stock Eliminator championship, and maybe it was Brad Burton's experience that put him over the top. After all, he won the championship in 2010 and came back even stronger this year to win it again. His 712 points are the second most in the class in about fifteen years, and his 97 point win was the biggest in any Lucas Oil class this year. Now that's domination! When he won in 2010 he said that he was moving to the great Northwest and he didn't know how much racing he would get in. Well, based on what he did this year the other Stock Eliminator drivers wish he kept going north, far north. He traded tracks like Great Bend, Bandimere and Brainerd for places like Boise, Woodburn and Mission Raceway, and even though the scenery changed the results didn't, and just like he did back in Division 5, he won in Division 6. He won five races this year, three on the division level and two at the national races in Pomona and Las Vegas. And in keeping with our family theme, at the Vegas race he beat his father in the final round. It must be nice to jump out to a big lead and let the others start running for second place, and as much as he will probably down play it, that's exactly what happened this year. With two national event wins before a lot of drivers even thawed out their cars, we knew early on that he was the man to beat, and in the end, nobody could beat him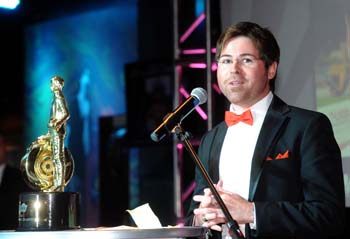 Jimmy DeFrank
Here we go again with that family theme. The 2012 Super Stock World Champion, Jimmy DeFrank, comes from one of the great Southern California drag racing families, and when I say that everyone in his family races and wins I really mean it. Jimmy had what could only be called a great weekend in Las Vegas at the end of the year, and as far as I know he never even set foot in a casino. When you consider the fact that he won enough rounds to claim the divisional championship, that alone would make it a good weekend. When you consider the fact that he won enough rounds to win the world championship, that would make it an even better weekend, and just for fun he also won the race and that made it a great weekend. Earlier this year Jimmy won the first national event in Las Vegas, so it looks like very few people had a better year in Vegas than he did. In addition to the Vegas experience he also went to a couple of other divisional final rounds this year to bring his final points total to 625, and to wrap up a couple of good weeks at the end of the year he also went to the final round in Pomona.
Winning is nothing new to this young man, after all, he has been doing just that since 1995 when he won his first national event, and since then he has been as good as anyone in the sport. He has great looking cars, he drives well and has a very supportive family, in fact, very few are as quick to thank their family for all of their help, love and support as he is, and it's young men like him who make this a great sport. We first saw signs of his talents in 1997 when he won his first Lucas Oil championship. Two years later he proved that he was not a one hit wonder when he won again, and in 2009 he made it a three-peat when he captured his third World Championship. Now, with his fourth title in hand, he joins a very select group of racers who have accomplished that. The DeFrank name was synonymous with winning long before Jimmy started racing, and the DeFrank name has been on some of the most iconic cars in the sport. From big honkin' hemis to the latest state of the art Super Stock cars, if it says DeFrank on the side it's probably going rounds on Sunday, and now the DeFrank name is on something else, another Lucas Oil World Championship trophy.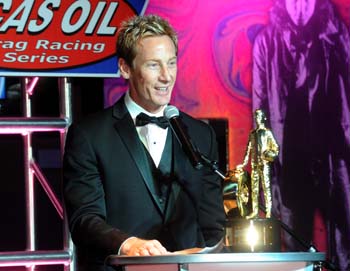 Bruno Massel
It's hard to get away from the family theme, especially when NHRA was promoting the Nitro Generation, a salute to families who have more than one generation of drag racing fans. I don't know if the Massel family ever played with nitro but the Competition Eliminator World Champion does come from a real racing family. His father set the standard for him with his example both on and off the track, and it comes as no surprise that Bruno followed in his father's footsteps. As we all know Comp is not an easy class, in fact, it has the biggest diversity of cars and engines of any class in our sport. I find it ironic that in a sport that was founded with big, honkin' V8 engines, Bruno Massel won his second Lucas Oil Championship with a car that has an engine that's smaller than some of those in my grandson's toys. Well, not quite, but at a little more than 100 cubic inches it's amazing how quick and fast this little car can go.
To win one Comp title is special, to win two is amazing, and so are this driver, his car and his accomplishments. To win this year he won three national events, and in the process he beat David Rampy twice and Al Ackerman once, and when you figure those two are both former world champs it shows you how good Bruno was in 2012. In addition to those national events he also won divisional races in Brainerd, Minnesota and Stanton, Michigan and he continued to amaze with the performance he got out of his car. And just to show you that, like every good drag racer, including those in his father's generation, he is never content to leave things alone, in the midst of the point's battle this year he switched from his Cobalt to a dragster and that ran just as well. For my money it's hard to beat a good field of Competition Eliminator cars for pure excitement, and this year it was almost impossible to beat this man and that's why he is a two-time Lucas Oil World Champion.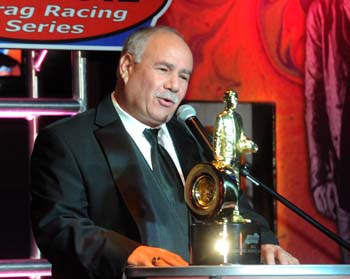 Frank Manzo
It's hard to believe that Frank Manzo won the championship this year. Ok, so I'm only kidding, because it's never hard to believe that he won the championship, after all, he's been doing it for so long now. Early in the year it looked like he might be vulnerable, but early in the year it looked like President Obama was vulnerable too and we all know how that turned out. As almost everyone knows this man is one of the best in the sport and he is the gold standard in Top Alcohol Funny Car, or almost any class for that matter. Just when you think he can't do much more, he does. In 2012 he won four national events in four final round appearances, and that means that he has now won a staggering 39 consecutive final rounds, and that alone should qualify him for the drag racing Hall of Fame, or any racing hall of fame for that matter. His fourth win this year gave him a grand total of 100 for his career and that makes him only the second drag racer to ever do that, and his championship this year is his 16th and he's the only drag racer to ever do that. In addition to being a great racer he is a great husband, and his wife, Michelle, has been with him and supported him throughout his entire career. He also has a very loyal and talented crew that has been there, too, and that's one of the reasons why he is the champ. But the main reason is that he has a desire to win that is unmatched in our sport. No one likes to win more than he does, or hates to lose more than he does. Of course that's only a problem if you do lose which doesn't happen to Frank very often. After his acceptance speech at the Lucas Oil award's ceremony on Monday he told me, "I'm coming back, better than ever next year." That's good news for drag racing fans and bad news for the other TAFC teams.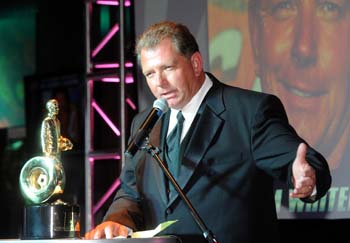 Jim Whiteley
Jim Whiteley won his first Top Alcohol Dragster championship this year and he did it in dominating fashion. Even though the battle for the championship wasn't decided until late in the year, he had a car that was, to use an overused word, awesome all year long. Numbers alone don't tell the story, but they help. In 2012 he went to eleven national races and made the final round at eight of them. At those races he never qualified lower than second and he posted an amazing 34 - 5 record. When you add in the four regional races where he went to the final round it's easy to see why he is the 2012 World Champion. Even though this is his first championship he has been right in the thick of things for the past five years, and in that time he has never finished lower than fourth in the national points. And just to show you how good he has been over that time he has posted an amazing record of 124 - 37, in other words, he wins almost 80% of the time that he goes to the starting line. And in keeping with the family theme, we should congratulate his wife, Annie, who won the regional championship this year and she did it in the Top Alcohol Funny Car class.
It's been a real pleasure to watch Jim race over the past few years and those of us who follow the class regularly knew that it was only a matter of time before he won the championship. He drives the first supercharged car to win the dragster championship in a decade, and while he made our life better because we got to watch him race, he made life miserable for those injected cars this year, especially with runs like the 5.17 - 277 mph blast that he made in Pomona, a run that, in my humble opinion, is the run of the year. Jim Whiteley, like Frank, will be back to defend his championship next year and with the things he learned late in the season there's no telling how quick and fast he could go in 2013.
We'll have individual stories on each of the Lucas Oil champs as well as the four Summit Racing ET Champions in the coming weeks. Stay tuned!




NHRA: 10 Most Recent Entries [ top ]

Apr 24- CHARLOTTE 1 - Steve Torrence Enjoying Four-Wide Success Heading to NGK Spark Plugs NHRA Four-Wide Nationals
Apr 24- CHARLOTTE 1 - Fact Sheet
Apr 24- Kalitta Motorsports Welcomes NASCAR Stars to the SealMaster Track Walk in Charlotte
Apr 24- zMAX Dragway Celebrates 10th Anniversary
Apr 24- CHARLOTTE 1 - NGK Spark Plugs NHRA Four-Wide Nationals Brings 40,000 Horsepower Thrill Show to zMAX Dragway
Apr 23- HOUSTON - Lucas Oil Drag Racing Series Wrap Up The NHRA Lucas Oil Drag Racing Series Wrap Up
Apr 23- CHARLOTTE 1 - J.R. Todd Aiming for Two Four-Wide Racing Wins in 2018
Apr 23- Mid America Dragway Joins NHRA Member Track Network
Apr 23- HOUSTON - Special Awards
Apr 23- HOUSTON - Sunday Video