Tue, 06 Nov 2012, 13:10 PM



Halloween Classic @ San Antonio Raceway- Sunday 10/28



By JM Hallas



MARION, Texas --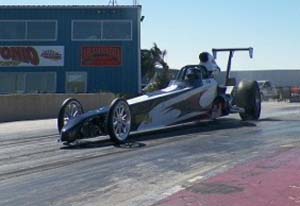 Scott Ball doing burnout.
A near perfect fall day greeted racers, crews and fans as the final day of San Antonio Raceway's Halloween Classic kicked off on the 1/8 mile. The sun quickly warmed track temperatures to the 70's as time trials began prior to eliminations on the final day of the event.
Forty-eight Electronics cars, twenty-six Foot Brake and a handful of Jr. Dragsters took laps to get ready for the run offs in each class. As the first round fired off just short of noon, the track was continuing to warm, with it now approaching 100 degrees. An afternoon breeze would kick up during the midday and keep conditions just right.
Ball/Zampese Split Electronics Final
With no points on the line, one of last night's winners, Scott Ball(San Antonio) and Brett Zampese(San Antonio) opted to split the cash, without ever running the final round. Ball made his way to the finals beating another of last night's victors, Rusty Head in the semi's while Zampese had a bye run.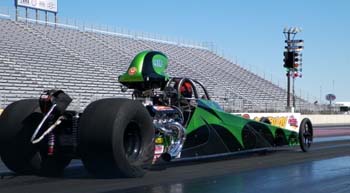 Brett Zampese taking green.
Zampese had consistent runs in eliminations of 4.68 with two wins coming on break outs. Ball running numbers at 4.90 got a bye and two break outs by his opponents.
Scott Ball and Brett Zampese split finals.
Robinson Races Home with Foot Brake Cash
Santa Fe's, Jay Robinson took the money back to the coast grabbing the win over local driver, Aaron Tschoepe. Robinson, doing double duty in Electronics as well, was first to the line in his '68 Plymouth Barracuda to beat Tschoepe's '81 Chevy Malibu.
Robinson got a double break out win and bye before turning in three rounds of 6.90's. Tschoepe had to buy back in after a round 1 loss, then got three red light wins and a bye.
Jay Robinson, 6.945 @ 95.95 defeats Aaron Tschoepe, 8.013 @ 84.32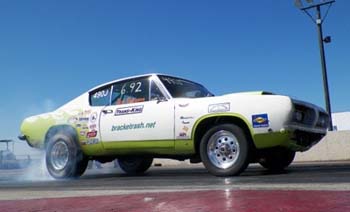 Jay Robinson doing burnout.
Peterson Picks up Jr. Dragster Payday
Recovering from a serious crash in a full Dragster during Friday time trials, Ashley Peterson(Montgomery) took home the victory against Caden Meuth(Boerne) in the Jr. Dragster finals. Peterson, in a 2004 Hardens Chassis, used a better light to catch Meuth's, 2001 Jon Green Chassis, at the finish line.
Peterson faced and beat L. Turner twice to make it to the finals, while Meuth bested A. Frazier in a pair of runs.
Ashley Peterson, 7.956 @ 76.71 defeats Caden Meuth, 13.228 @ 45.47




Drag News: 10 Most Recent Entries [ top ]

May 24- Holley National Hot Rod Reunion presented by AAA Celebrates Car Culture Over Three Memorable Days
May 24- Biehle is Ready for Pro Mod Racing at The Night of Thunder
May 16- Winners Crowned at .90 Series Opener
May 16- 32 Members of the International Drag Racing Hall of Fame will be at be at Spring Classic Nitro Revival May 18-20
May 16- 18th Annual NMRA Ford Motorsport Nationals Final Results
May 16- PDRA Reemphasizes Commitment to Pro Extreme
May 16- For Better or Worse
May 16- Musi Racing Engines and Buck Racing Engines Take Early Lead in Flatout Gaskets Nitrous Wars
May 16- St. Louis Nostalgia Rendezvous this Weekend at Gateway Motorsports Park
May 16- Reichardt Wins Second Round of Sharks of the Strip