Mon, 29 Oct 2012, 01:46 AM



Capps Victorious at Big O Tires NHRA Nationals



Courtesy of NHRA Communications


Photo copyright 2012 Auto Imagery, Inc.





Vandergriff, Johnson, Krawiec also Winners at The Strip at Las Vegas Motor Speedway



LAS VEGAS --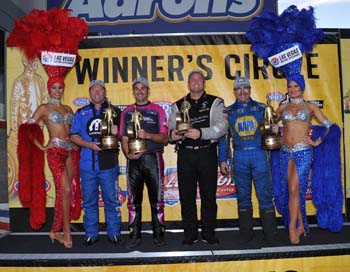 Johnson, Krawiec, Vandergriff and Capps
Ron Capps raced to his fifth Funny Car victory of the season Sunday at the Big O Tires NHRA Nationals and cut Jack Beckman's series lead to four points with one race remaining in the season.
Bob Vandergriff Jr. (Top Fuel), Allen Johnson (Pro Stock) and Eddie Krawiec (Pro Stock Motorcycle) also were winners in their respective categories at the penultimate race in the NHRA Full Throttle Countdown to the Championship at The Strip at Las Vegas Motor Speedway.
Capps powered his NAPA Auto Parts Dodge Charger to a performance of 4.070 seconds at 315.12 mph to hold off Beckman's Schumacher Electric Charger in a dramatic final round. Capps also defeated Tony Pedregon, top qualifier Cruz Pedregon and Johnny Gray in earlier rounds to claim his 38th career victory and move ever closer to earning that elusive first world championship title. The veteran driver has finished second three times in his career.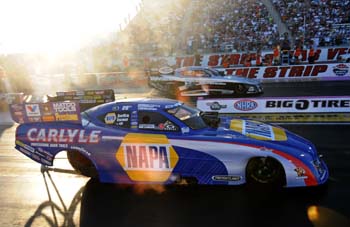 Capps defeated Beckman
"Qualifying was tough," Capps said. "Rahn Tobler, our crew chief, was like, 'OK, we're alright. We're alright. We're sneaking up on it. We're just trying to get down the track,' until today. Oh man, he unleashed that 4.09 in one of the biggest rounds of the year because we didn't have lane choice - Cruz Pedregon went 4.06 first round. We were taking a pistol to a gunfight. I don't think we were very comfortable that we could go up there and run that in that right lane. To throw down that 4.09 like he did was unbelievable, and then we come back with a 4.08 and 4.07. It's a fun car to go to Pomona with and actually have a shot at a championship."
Vandergriff Jr. earned his second career Top Fuel victory with a run of 3.832 at 324.75 in his C& J Energy Services dragster, defeating seven-time world champion Tony Schumacher in the final round.
"We've had a great race car all weekend," Vandergriff said. "It's been a year since my last win, and we certainly didn't think it would take that long to win again," Vandergriff Jr. said. "Everybody said this next one comes easy. Well, I think they're full of it because they don't come easy. That's just a great job by the guys. We had a great car all weekend. It ran good. We made four great runs today. First round was a little tough. It got hot out there, but other than that, our car was pretty flawless."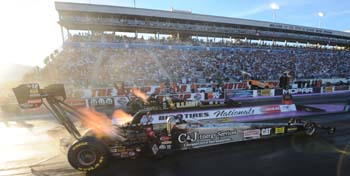 Vandergriff defeated Schumacher
The Top Fuel championship landscape changed a bit when series points leader Antron Brown lost to Al-Anabi Racing's Khalid alBalooshi in round one after his Matco Tools dragster encountered engine issues midway down the track. FRAM/Prestone dragster driver Spencer Massey, who is currently third in points, was defeated by Vandergriff in the quarterfinals. With the runner-up finish Schumacher moved to second overall, 65 points back of leader Brown.
In Pro Stock, Johnson continued his domination, winning his sixth event of the season and 15th of his career with a performance of 6.637 at 208.17 in his Team Mopar Dodge Avenger to outrun Vincent Nobile in the final round. With the win, he increased his Countdown to the Championship points lead to 126 over defending champ Jason Line.
"The Mopar Dodge Avenger has just been so consistent," Johnson said. "Consistency is what we've preached all year, and today, how was that for consistency with four 6.63s in the heat of the day? The crew is doing an awesome job, and to cushion that point lead there to where we feel a little bit more comfortable at Pomona is great."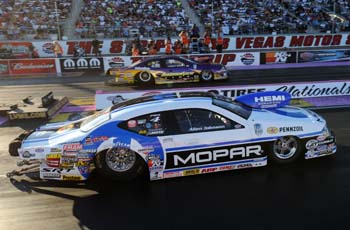 Johnson defeated Nobile
GK Motorsports driver Erica Enders was defeated in round two by eventual runner-up Nobile and his Mountain View Tire team. With the loss, she is mathematically out of title contention.
In Pro Stock Motorcycle, Screamin' Eagle/Vance & Hines Harley-Davidson rider Krawiec earned his ninth win of the 2012 season after defeating Matt Smith with a performance of 6.959 at 194.10.
"I'm just really excited, really happy, and very proud to be part of the Harley-Davidson team," Krawiec said. "You know these guys support me 100 percent and give me awesome equipment to make sure I get up and down the track. You know, I have to do my job, and I tried that this weekend. I knew I was going to have a tough round and a tough opponent against Matt Smith in the final. I really had to step up my game and I didn't want to leave a whole lot of leeway."
Krawiec defeated Smith
With the victory, Krawiec increased his series lead to 111 over Andrew Hines, who lost in the second round.
The NHRA Full Throttle Countdown to the Championship season-finale, the Auto Club NHRA Finals at historic Auto Club Raceway at Pomona, will be held Nov. 8-11 in Southern California.
Sunday's final results from the 12th annual Big O Tires NHRA Nationals at The Strip at Las Vegas Motor Speedway. The race is the 22nd of 23 in the NHRA Full Throttle Drag Racing Series-
Top Fuel - Bob Vandergriff, 3.832 seconds, 324.75 mph def. Tony Schumacher, 5.543 seconds, 124.25 mph.
Funny Car - Ron Capps, Dodge Charger, 4.070, 315.12 def. Jack Beckman, Charger, 8.455, 74.33.
Pro Stock - Allen Johnson, Dodge Avenger, 6.637, 208.17 def. Vincent Nobile, Avenger, 6.670, 204.39.
Pro Stock Motorcycle - Eddie Krawiec, Harley-Davidson, 6.959, 194.10 def. Matt Smith, Buell, 6.967, 192.28.
Top Alcohol Dragster - Jim Whiteley, 5.340, 270.70 def. Joey Severance, 5.363, 266.21.
Top Alcohol Funny Car - Tony Bartone, Ford Mustang, 5.546, 261.78 def. Annie Whiteley, Mustang, 5.576, 259.26.
Competition Eliminator - Bo Butner, Chevy Cobalt, 8.540, 158.39 def. Lou Ficco, Pontiac GXP, 7.010, 196.22.
Super Stock - Dan Fletcher, Chevy Camaro, 10.476, 122.98 def. Larry Stewart, Dodge Challenger, 10.224, 125.92.
Stock Eliminator - Bo Butner, Ford Mustang, 9.212, 146.97 def. Jeff Teuton, Dodge Challenger, 11.133, 120.19.
Super Comp - Luke Bogacki, Dragster, 9.081, 174.41 def. Greg Boutte, Dragster, 9.087, 177.42.
Super Gas - Steve Apted, Chevy Corvette, 10.052, 164.63 def. Steve Williams, Corvette, 10.047, 165.50.




NHRA: 10 Most Recent Entries [ top ]

May 21- TOPEKA - Pro Mod Championship Points
May 21- TOPEKA - Monday Video
May 21- TOPEKA - Monday Pro Mod Wrap Up
May 21- TOPEKA - Monday Wrap Up
May 21- TOPEKA - Championship Points
May 21- TOPEKA - Summary of Eliminations in Top Fuel
May 21- TOPEKA - Summary of Eliminations in Funny Car
May 21- TOPEKA - Summary of Eliminations in Pro Stock
May 21- TOPEKA - Summary of Eliminations in Pro Modified
May 21- TOPEKA - Summary of Eliminations in Top Alcohol Funny Car