Fri, 19 Oct 2012, 12:43 PM



Marshall Claims Southwest Junior Fuel Association Championship



By Chris Graves


Photo copyright 2012 Max Cackle Photography





Coker & Brady Rained Out In Final of Fall Nostalgia Nationals



DENTON, Texas --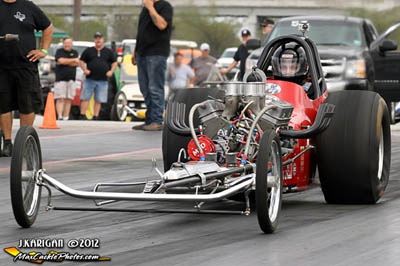 Mike Buchanan
The Southwest Junior Fuel Association rolled into North Star Dragway's First Annual Fall Nostalgia Nationals with twelve cars ready to strut their stuff in the final points event of the 2012 S.W.J.F.A. season. Ricky Marshall entered the event 44 points ahead of second place Ron Muncy in the chase for the Championship. Richard Brady came in holding down the number three spot just four points behind Muncy so the battle for second place was at hand with Marshall in a basic lock-up for the 2012 Championship. For Marshall to lose his points lead he would have to break in qualifying and Richard Brady would have to win the event.
Despite heavy rain chances a strong field of junior fuelers in addition to the Outlaw Fuel Altered and Texas Blown Fuel Associations came to entertain the crowd at North Star Dragway and the call went out shortly after noon to bring em' to the lanes. The first pair out featured the cars of George DeLaMatyr and Gary Isom in a special tribute pass to both men who passed away earlier this year. Jeff Jones wheeled the "Off-Shore Flash" of DeLaMatyr alongside Kent Birkes who honorably piloted Isom's "War Horse" as both blasted side by side down the track after a tribute was read aloud over the intercom.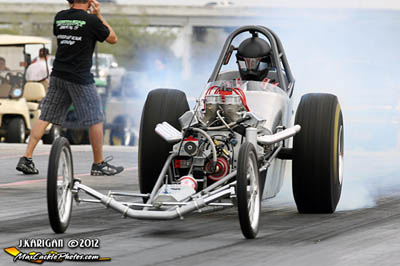 Brian Briggs
Ken Hawkins click off a 4.81 at 142 mph in his opening qualifying effort as did Mike Millsap in the "Sachse Rod Shop" dragster. Tera Wendland subbed in for Brandon Lewis in the Charlie Smith owned and tuned "Whiz Kids Racing" junior fueler and posted a 4.78 at 143 mph in her first qualifier. Richard Brady tripped the clocks with a clean 4.67 at 148 mph and Ricky Marshall clocked a 4.66 at 149 mph, both claiming positions in the top half of the field early. Odie Coker posted the quickest time of the round in the Ron Ussery owned and tuned Hemi powered dragster with a 4.63 at 148 mph as the teams headed to the pits to prepare for the final qualifying session.
In the final session, Michael Renaker claimed the number twelve spot with a 5.21 and Ron Muncy found himself in the number eleven spot with a 4.93 at 136 mph. Brian Briggs stepped up to a 4.89 at 140 mph to secure the tenth position while Kent Birkes' 4.91 was good for the number nine spot. Mike Buchanan and Jeff Jones posted 4.87 elapsed times in qualifying and respectfully qualified seventh and eighth. Richard Brady used a strong 4.60 at 150 mph to claim the number one qualifying position for the first time this season.

 Final Qualifying Order: 
1) Richard Brady (Ft. Worth, Texas) - 4.60 @ 150
2) Odie Coker (Dallas, Texas - 4.63 @ 148
3) Ricky Marshall (Burleson, Texas) - 4.64 @ 147
4) Tera Wendland (Commerce, Texas) - 4.72 @ 144
5) Mike Millsap (Sachse, Texas) - 4.814 @ 142
6) Ken Hawkins (Pooleville, Texas) - 4.815 @ 142
7) Jeff Jones (Sachse, Texas) - 4.873 @ 138
8) Mike Buchanan (Wichita, Kansas) - 4.879 @ 141
9) Brian Briggs (Lake Charles, Louisiana) - 4.89 @ 140
10) Kent Birkes (Alvarado, Texas) - 4.91 @ 138
11) Ron Muncy (Weatherford, Texas) - 4.93 @ 136
12) Michael Renaker (Arlington, Texas) - 5.21 @ 129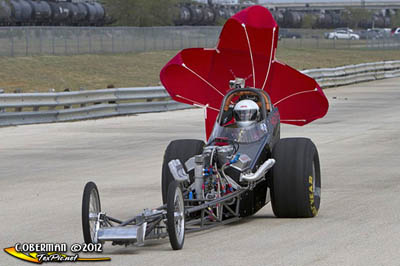 Ken Hawkins
Opening the first round of eliminations, Ken Hawkins lined up with Michael Renaker. Hawkins had this one from start to finish with a 4.83 at 142 mph to Renaker's 5.39 at 125 mph. Tera Wendland was out next facing off with Kent Birkes. Wendland took the advantage off the line and never trailed posting a 4.76 at 143 mph to advance over Birkes' 4.90 at 139 mph.
Richard Brady and Ricky Marshall squared off in the biggest match-up of the round, although Marshall had the Championship locked up by this point, this pairing would put either the top qualifier or the Champion on the trailer in round one. Brady took the lead at the starting line and never trailed with a 4.63 at 150 winning lap over Marshall's 4.66 at 147 mph.
Brian Briggs and Jeff Jones were up next as Briggs advanced with a 4.92 at 140 mph over Jones' close 4.94 at 137 mph. Odie Coker and Ron Muncy crept into the beams as eliminations continued. Coker dominated this pairing leaving first and posting a 4.65 at 147 mph to Muncy's 4.93 at 136 mph. Mike Millsap and Mike Buchanan closed the round as Millsap clicked off a 4.81 at 143 mph to knock out the Buchanan's 4.94 at 139 mph.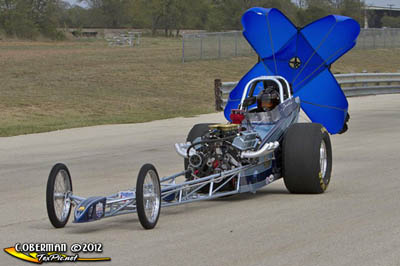 Tera Wendland
First Round Results:
(W) Ken Hawkins (.026 rt) 4.83 @ 142 mph vs. (L) Michael Renaker (.117 rt) 5.39 @ 125 mph
(W) Tera Wendland (.028 rt) 4.76 @ 143 mph vs. (L) Kent Birkes (.111 rt) 4.90 @ 139 mph
(W) Richard Brady (.012 rt) 4.63 @ 150 mph vs. (L) Ricky Marshall (.051 rt) 4.66 @ 147 mph
(W) Brian Briggs (.026 rt) 4.92 @ 140 mph vs. (L) Jeff Jones (.162 rt) 4.94 @ 137 mph
(W) Odie Coker (.077 rt) 4.65 @ 147 mph vs. (L) Ron Muncy (.095 rt) 4.93 @ 136 mph
(W) Mike Millsap (.002 rt) 4.81 @ 143 mph vs. (L) Mike Buchanan (.165 rt) 4.94 @ 139 mph
In the second round, Richard Brady and Brian Briggs got things started in a good race. Brady was ..008 on the tree and posted a 4.88 at 145 mph to take the nod over Briggs' 4.92 at 139 mph. Ken Hawkins used a reaction time advantage and 4.84 at 141 mph pass to take out the quicker but loosing Mike Millsap who went 4.80 at 142 mph but was denied the win light. In the final pair of the round, Odie Coker faced off with Tera Wendland. Wendland pushed the tree just a little too far going -.012 red then had her hands full and lifted while Coker clicked off a solid 4.66 at 147 mph to advance to the semi-finals.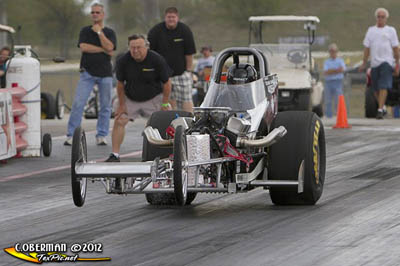 Richard Brady
Second Round Results:
(W) Richard Brady (.008 rt) 4.88 @ 145 mph vs. (L) Brian Briggs (.092 rt) 4.92 @ 139 mph
(W) Ken Hawkins (.044 rt) 4.84 @ 141 mph vs. (L) Mike Millsap (.085 rt) 4.80 @ 142 mph
(W) Odie Coker (.112 rt) 4.66 @ 147 mph vs. (L) Tera Wendland (-.012 rt) 6.05 @ 70 mph
In the semi-finals, Richard Brady drew the lucky competition bye run and clicked off a 4.68 at 150 mph to solo into the final round to run the winner of the next pairing featuring Odie Coker and Ken Hawkins. Hawkins, like many others this season, pushed the tree a little too far hoping to get an advantage on Coker and went red by -.016 as Coker clicked off a 4.61 to advance to the finals against Brady.
Semi-Final Round Results:
(W) Richard Brady (.032 rt) 4.68 @ 150 mph vs. (L) Competition Bye Run
(W) Odie Coker (.035 rt) 4.61 @ 148 mph vs. (L) Ken Hawkins (-.016 rt) 4.78 @ 143 mph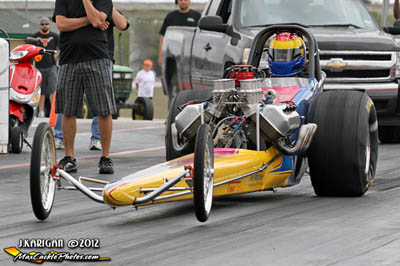 Odie Coker
As the teams pulled out to tow to the staging lanes the weather threats that were lingering all day finally showed up and washed out the final round of the North Star Dragway Fall Nostalgia Nationals. The points were split between Coker and Brady and the final will be run in the first event of the 2013 season to decide an event winner.
Ricky Marshall claimed his first Southwest Junior Fuel Association Championship, a well-earned title from a dedicated racer who collected four top qualifying efforts and went to four final rounds earning three series wins in the seven completed events this season.
"I'd like to first thank the people who made this Championship possible which is my crew, family and my engine builder. Without that Bob McKray horsepower we wouldn't have been able to go as many rounds as we did this season and it's nice to see all our hard work pay off finally with a Championship in the Southwest Junior Fuel. Thanks again to everyone who helped us achieve this goal and we look forward to defending our title next season," said Marshall.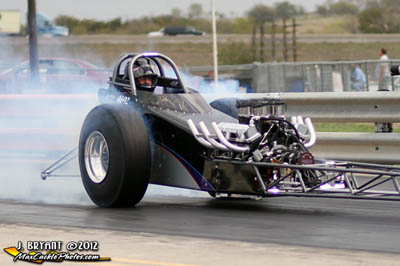 Ricky Marshall
The 2012 S.W.J.F.A. series would like to congratulate Ricky Marshall on his Championship and give thanks to the following sponsors who supported the series in the 2012 racing season: Smiley's Racing Products, Competition Sales of Dallas, Champion Spark Plugs, Hayden Enterprises and Sachse Rod Shop. The sixth consecutive season for the S.W.J.F.A. series is in the books, we look forward to the seventh and will have news regarding next season posted at www.swjfa.com soon! Thank you to all the teams, tracks, crew members and fans who supported our sixth season. See you next year.




Drag News: 10 Most Recent Entries [ top ]

Apr 24- NHRA Heritage Series Heads To Wild Horse Pass
Apr 22- K&N Spring Fling Million Final Day Results
Apr 21- K&N Spring Fling Million Friday Results
Apr 20- K&N Spring Fling Million– Thursday Results
Apr 19- K&N Spring Fling Million- Wednesday Results
Apr 18- Buckeye S/SS @ National Trail April 28th
Apr 18- Don "the Snake" Prudhomme Returns To Baja Competition After 50 Years
Apr 18- K&N Spring Fling Million Tuesday Results
Apr 17- K&N Spring Fling Million Pre-Race
Apr 12- Summit Racing Equipment is Newest Sponsor of Midwest Junior Super Series