Wed, 17 Oct 2012, 12:17 PM



Brady Wins Nitro Nationals in Tulsa



Courtesy of Chris Graves



TULSA, Okla. --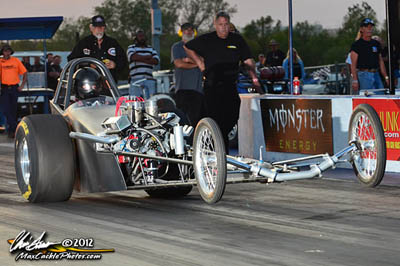 Brian Briggs
The Southwest Junior Fuel Association made the trip to Tulsa Raceway Park in Tulsa, Oklahoma to co-headline the Nitro Nationals with the D.R.O. Nitro Funny Car Series and Texas Blown Fuel Association on Saturday, September 22nd. Tulsa Raceway Park is one of the premier facilities in the region and again this year Todd Martin and company packed the house with nitro burning funny cars, blown and injected dragsters, altereds and much more. The staff and management at TRP held a flawless event and the track was in supreme condition resulting in some outstanding performances in all the classes during qualifying.
The S.W.J.F.A. teams were on their game in the opening qualifying session with several teams posting big numbers right off the trailer. Mike Millsap posted a 7.59 at 170 mph in the "Sachse Rod Shop" dragster to qualifying in the top half of the field in the first session. Ken Hawkins clocked a 5.57 at 171 mph and Brandon Lewis wheeled Charlie Smith's dragster to a nice 7.52 at 170 mph at his hometown race. Richard Brady clicked off a stellar career best 7.31 at 174 mph in the Mallory & Brady machine. Points leader Ricky Marshall posted an impressive 7.24 at 178 mph in his Bob McKray powered dragster but Odie Coker stole the headlines during qualifying with a series record 7.19 at 183 mph to qualifying in the top spot after the first session.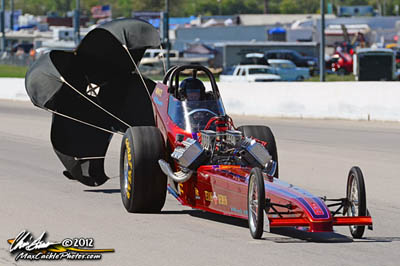 Jimmy Scott
In the final qualifying session, former NHRA Champion and veteran driver Jimmy Scott drove the Buster Johnson owned slingshot to a 7.92 at 166 mph to qualify number eleven. Number two in points, Ron Muncy, came into Tulsa less than 10 points behind Ricky Marshall and had a chance to run for the Championship. Muncy posted a 7.78 at 162 mph in the "Foolish Pleasure III" dragster to qualify tenth. Ross Laird posted a 7.74 at 147 mph in the "Rain Maker" machine good for the number nine. Mike Buchanan used a career best 7.68 at 171 mph in his Kansas based "Lou Anne" dragster to earn the number eight position and Brian Briggs clocked a 7.63 at 173 mph good for the number seven position. Tera Wendland ran into engine troubles in the opening qualifying session which ended her outing early along with Ken Hawkins who was also sidelined early in Tulsa. Odie Coker's 7.19 at 183 held up for the top spot as the ten remaining teams returned to the pits to prepare for eliminations.

Final Qualifying Order:
1) Odie Coker (Dallas, Texas) - 7.19 @ 183 mph
2) Ricky Marshall (Burleson, Texas) - 7.24 @ 178 mph
3) Richard Brady (Ft. Worth, Texas) - 7.31 @ 174 mph
4) Brandon Lewis (Tulsa, Oklahoma) - 7.50 @ 171 mph
5) Ken Hawkins (Pooleville, Texas) - 7.57 @ 171 mph
6) Mike Millsap (Sachse, Texas) - 7.59 @ 171 mph
7) Brian Briggs (Lake Charles, Louisiana) - 7.63 @ 173 mph
8) Mike Buchanan (Wichita, Kansas) - 7.68 @ 171 mph
9) Ross Laird (Ardmore, Oklahoma) - 7.74 @ 147 mph
10) Ron Muncy (Weatherford, Texas) - 7.78 @ 163 mph
11) Jimmy Scott (Los Angeles, California) - 7.92 @ 166 mph
12) Tera Wendland (Commerce, Texas)  - 7.94 @ 159 mph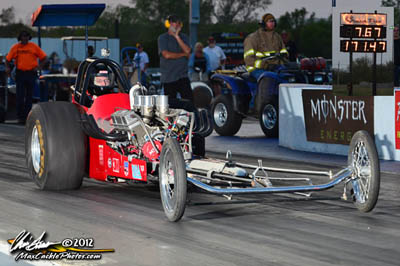 Mike Buchanan
The number one qualifier Odie Coker drew the competition bye run in the first round and opened the action on a single, posting a 7.23 at 181 mph to advance.
Richard Brady was looking good after qualifying and rolled out next along side Ross Laird. Laird had a stellar .006 reaction time but his 7.82 at 147 mph wasn't enough for Brady's 7.35 at 170 mph as Brady took the win.
Mike Millsap made a solo pass when his opposition Ken Hawkins was unable to make the call. Millsap clicked off a 7.61 at 170 mph to head into the second round.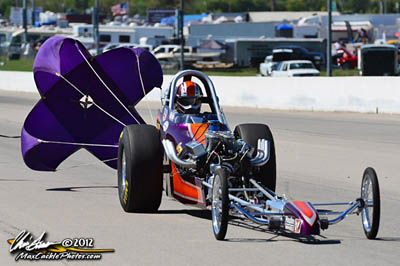 Mike Millsap
Mike Buchanan and Ron Muncy were next out in a very important race for Muncy. Buchanan had been running career best numbers in qualifying and had the advantage on paper. Muncy was in a must win situation if he hoped to keep pace with Ricky Marshall and battle for the 2012 S.W.J.F.A. Championship. Muncy took a slight starting line advantage but by half track Buchanan had closed the gap and pulled ahead at the stripe to take the win with a 7.71 at 171 mph to Muncy's 7.80 at 167 mph.
Brian Briggs and Jimmy Scott were the next pair through the water, Scott wheeling Buster Johnson's entry in their first race with the series this season. Briggs had this one from start to finish, coupling a starting line advantage with a 7.70 at 172 mph to take out Scott's 7.93 at 164 mph.
In the final pair, Ricky Marshall squared off with hometown race Brandon Lewis. The Lewis machine was hopped up and ready to take out the points leader and off the line Lewis had his hands full as the car made a big move to the wall with the front wheels in the air. Marshall blasted right down the quarter mile to a 7.30 at 176 mph to take the win.

First Round Results:
(W) Odie Coker (.080 rt) 7.23 at 181 mph vs. (L) Competition Bye Run
(W) Richard Brady (.038 rt) 7.35 @ 170 mph vs. (L) Ross Laird (.006 rt) 7.82 @ 147 mph
(W) Mike Millsap (.344 rt) 7.61 @ 170 mph vs. (L) Bye Run (Hawkins Broke)
(W) Mike Buchanan (.043 rt) 7.71 @ 171 mph vs. (L) Ron Muncy (.024 rt) 7.80 @ 167 mph
(W) Brian Briggs (.007 rt) 7.70 @ 172 mph vs. (L) Jimmy Scott (.073 rt) 7.93 @ 164 mph
(W) Ricky Marshall (.080 rt) 7.30 @ 176 mph vs. (L) Brandon Lewis (.116 rt) 10.95 @ 116 mph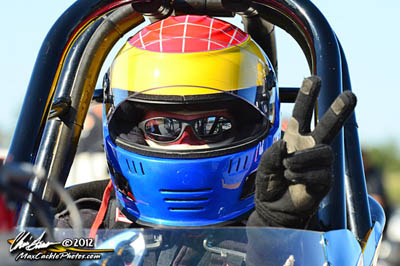 Odie Coker
Odie Coker and Brian Briggs were the first pair of the second round, Coker with a huge advtange on paper being the only car in the teens throughout the event. Briggs did his best earning a slight starting line advantage but his 7.67 at 172 mph was no match as Coker re-set the series elapsed time record with a blistering 7.18 at 180 mph to take the win.
Richard Brady and Mike Millsap rolled out as the second round continued. Both drivers were sleepy off the starting line and despite a career best 7.53 at 172 mph for Millsap, he lost to Brady's career best 7.28 at 179 mph as Brady advanced to the semis.
In the final pair, Ricky Marshall squared off with the upset minded Mike Buchanan. Buchanan knew he had to earn a reaction time advantage and pushed it too close, going red by -.022. Despite the loss, Buchanan clicked off a career best 7.67 at 171 mph so it was all smiles in their pits as Marshall posted a strong 7.25 at 179 mph to take the nod.

Second Round Results:
(W) Odie Coker (.042 rt) 7.18 @ 180 mph vs. (L) Brian Briggs (.032 rt) 7.67 @ 172 mph
(W) Richard Brady (.233 rt) 7.28 @ 174 mph vs. (L) Mike Millsap (.455 rt) 7.53 @ 172 mph
(W) Ricky Marshall (.095 rt) 7.25 @ 179 mph vs. (L) Mike Buchanan (-.022 rt) 7.67 @ 171 mph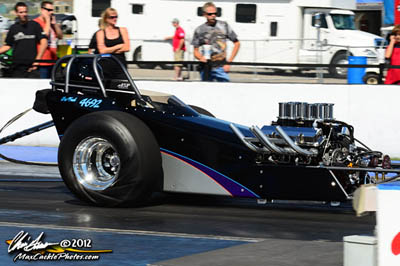 Ricky Marshall
Richard Brady opened the semi-final round action with a competition bye run and improved on his career best to a 7.25 at 177 mph and head to the final looking strong.
Odie Coker and Ricky Marshall were out next in a pairing that had everyone's attention. Coker had the performance advantage but Marshall eliminated that on the starting line with a .018 reaction time. Coker had to quickly pedal his car and that was enough to allow Marshall to pull ahead and take the win at the stripe with a 7.32 at 176 mph to Coker's 7.57 at 148 mph.

Semi-Final Round Results:
(W) Richard Brady (.007 rt) 7.25 @ 177 mph vs. (L) Competition Bye Run
(W) Odie Coker (.132 rt) 7.57 @ 148 mph vs. (L) Ricky Marshall (.018 rt) 7.32 @ 176 mph

The final round was a showdown of two of the hottest cars on the track in Tulsa. Richard Brady coming in running career best numbers round after round while Marshall was steadily clicking off 7.20 zone passes. The teams had done everything they could do, it was all up to the drivers now as the cars crept into the beams to decide a winner under the lights at Tulsa Raceway Park. The ambers flashed and the cars were off the line almost dead even both with great reaction times. At half track the cars were side by side and as they neared the stripe Brady started to pull ahead and lit the win light with a 7.41 at 161 mph to Marshall's close 7.48 at 176 mph.
Final Round Results:
(W) Richard Brady (.015) 7.41 @ 161 mph
(L) Ricky Marshall (.018 rt) 7.48 @ 176 mph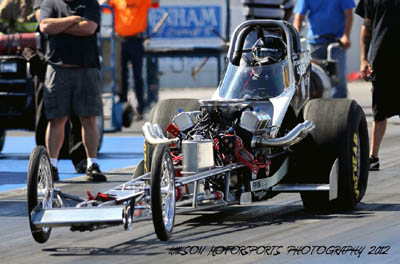 Richard Brady
Richard Brady defended his 2011 win here in Tulsa by winning again in 2012 and became the first driver to defeat Ricky Marshall in the 2012 racing season. It was quite an event for the Mallory & Brady team who performed at the top of their game and got the job done in the final round to claim their first win of the S.W.J.F.A. season.
"We finally got it done! There are many people who Al and I would like to recognize for their help in earning this win. We would like to thank Chris Frank at Frankenstein Racing Heads, my engine builder Ray Little, Eathan and Blake Mallory at Mallory Prints, Charlie Stewart Racing, Mike Garvie, Mike Newman, Ronnie Peterson. I'd also like to thank Steve Gassch for driving down from Arkansas to help out this weekend. Without hard work and dedication from these folks our racing program would not be possible. Thank you! " said Brady.
Ricky Marshall made a great effort with a runner-up finish at Tulsa and has a 44 point lead over Ron Muncy. There is still a chance for Muncy to claim the Championship in the end in the highly unlikely event Ricky Marshall has troubles in Denton. Make your plans to attend the First Annual North Star Dragway Fall Nostalgia Nationals on October 13th in Denton, Texas to see it all unfold in person.




Drag News: 10 Most Recent Entries [ top ]

Apr 24- NHRA Heritage Series Heads To Wild Horse Pass
Apr 22- K&N Spring Fling Million Final Day Results
Apr 21- K&N Spring Fling Million Friday Results
Apr 20- K&N Spring Fling Million– Thursday Results
Apr 19- K&N Spring Fling Million- Wednesday Results
Apr 18- Buckeye S/SS @ National Trail April 28th
Apr 18- Don "the Snake" Prudhomme Returns To Baja Competition After 50 Years
Apr 18- K&N Spring Fling Million Tuesday Results
Apr 17- K&N Spring Fling Million Pre-Race
Apr 12- Summit Racing Equipment is Newest Sponsor of Midwest Junior Super Series