Fri, 18 May 2012, 09:37 AM



The Sixth Time is the Charm



By Bob Frey


Photo copyright 2012 Auto Imagery, Inc.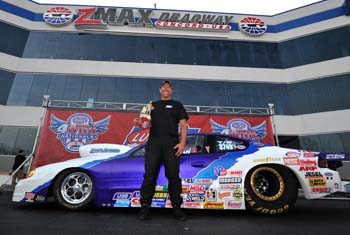 Tim Molnar celebrates 4-Wide Nationals win.
Drag racing is and always has been an ever changing sport. From the length of the track to the classification of the cars, it seems that things are constantly in a state of flux in our sport. I mention the length of the track because there were times when drag racers competed on a mile track. Ok, so it was rare and long ago, but the length of the track wasn't always a constant. The classes, too, are always changing. Gone are the days of twin-engine Top Gas cars and Factory Experimental cars. Middle and Little Eliminator are gone, too, and so are a lot of the individual classes that used to be common at every race. Some, like Top Stock, seem to come and go. A look at some of the early results will find Top Stock listed among the overall eliminator winners. It vanished from the scene years ago, but with the barrage of new cars from the manufacturers, I wouldn't be surprised to see it get resurrected. And as hard as it may be for some to believe, Super Comp and Super Gas are relatively new when you look at the overall age of the sport. Recently there have been two new categories added, and I, for one, think they have made the racing experience a whole lot better. Top Dragster and Top Sportsman are gradually working their way into more and more national events and they bring a new dimension of speed and excitement to the events. But no matter how much things change, one thing remains constant, and that is drivers are always striving to get that first national event win, and for some, it just seems to take a little longer than it does for others.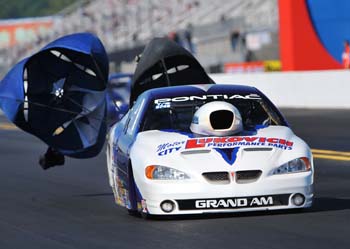 Tim Molnar
Tim Molnar won the 4-Wide Nationals in Charlotte last month and he did it in the exciting Top Sportsman class. For the record, this was Tim's first national event win but certainly not his first national event final round. "This was my sixth final," he said. "It was the second at an NHRA national event and that goes along with four finals at IHRA races." One of those finals, the one in Stanton, Michigan a few years ago, was eerily similar to the one Tim had in Charlotte. "Yeah, at that one I broke before the final and wasn't able to make the run. It hurt, and to add insult to injury, I had to watch myself on ESPN as I sat there while my opponent made a solo for the win." Well, as the old expression goes, what goes around comes around, and Tim was the recipient of a solo run in Charlotte. "I knew that he (Alan Prusiensky) was having trouble in the pits, but I didn't want to take anything for granted. I came to the line ready to run and ready to hit the tree as good as I could." When Alan's car was shut off the starter came over and signaled to Tim that he had the solo run. "He came over and put one finger up, and I really didn't know if it meant I had a single or that I had to wait a minute," he said. "So I got on the radio to my dad and he told me that Alan was being shut off." At that point Tim just staged and took a leisurely trip down the quarter-mile for the win. "All the way down the track I was thinking of my dad and how cool this was to get a win for him. He has been at this for a while and this was our first major win." Tim went on to say that as nice as the money is, it was that trophy that made it all worth-while. "The money's nice, but to be able to hold that trophy in your hand is really special."
Molnar celebrates win with family.
Tim is a forty-five year old man who owns and runs his own business. "We have a company that makes attachments for vehicles in the heavy equipment industry," he said. "I've been in the business all my life and I bought this company in August of last year." With a very good, well trained staff of over twenty employees, Tim said that getting away for the races isn't that hard. "The people who work for us all do their jobs very well and all care about the company. Dad works with me in the shop, but when we go racing we're confident that the others can take care of the business." And business has been very good, according to Tim, and that makes racing a little easier. "It does take a lot to race at this level, but we've been very fortunate," he added. And he went on to say that he is also very fortunate to be able to work with and race with his dad. "I grew up at the track watching him race. We went to Dragway 42, Norwalk and other tracks in and around Ohio. Dad had a series of cars and had other guys drive for him and it was a real education." Today, his father is seventy years old and still going strong. "We both really love it and I'm glad we get to do it together."
Like so many racers Tim didn't start out in the class that he is currently in. "Dad was always a Mopar guy and it took me a while to get him to come around to race a Chevy." Those Mopars that the elder Molnar raced included a 1963 Plymouth and a 1965 Dodge. "One of his cars used to belong to Arlen Vanke," Tim said. "It was a really good car." The transition to a GM car came slowly and it included one of the first cars that Tim raced. "It was a 1994 Corvette with a Mopar engine," he said. Let's see, that would make that car one of, oh yeah, one!! "Yes, it was different, but it was a very good car," he added.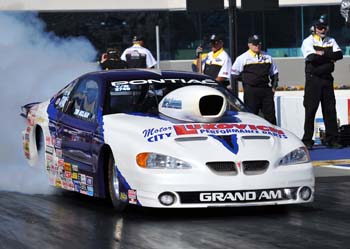 One look at the car that Tim took to the championship in Charlotte and any real race fan will recognize it as a former Pro Stock car. "It was the Split Fire Pontiac that Jim Yates had. It didn't have many runs on it and we got a good deal so we bought it." They then stuffed a 632 cubic inch Chevy engine in it and away they went. But as good as the car runs and as strong as the engine is, Tim says that it's just not enough. "We're in the market for a bigger engine, one in the 780 cubic inch range," he said. Seems that 632 inches just isn't enough to get the job done these days. "We run a lot of quick eight and quick sixteen races, and as hard as it may be to believe, ours is one of the smaller engines in the field. Sometimes it's tough just to qualify for a race."
Qualifying is one reason that Tim loves the Top Sportsman class. "It's a kick. Going fast, making the field and then bracket racing at these speeds is a lot of fun. To be looking over at the guy in the other lane when you're going 190 miles per hour is just unbelievable. And, to be honest, I just love going fast." He also doesn't mind getting a break every now and then. "In the first round at Charlotte I was dead late on the line. Fortunately for me, my opponent (Michael Kaufman) couldn't get his car to shift and I got the win. When I got back to the pits my dad said 'That was your lucky round and you better take advantage of it.' And I guess I did." He took advantage of it by posting reaction times of .014, .001 and .011 in the next three rounds before getting the easy run in the finals.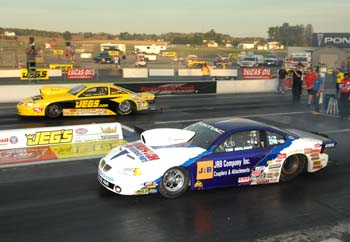 Molnar lost to Mike Coughlin
in his first National event final.
Tim will be back in his father's old stomping grounds when he goes to the Division 3 race at Summit Racing Equipment Motorsports Park this weekend. "It's a great track and two years ago they had to close the gates because they couldn't put any more people in the place. You love racing at events and tracks like that." And when the weekend is over he and his father will go back to work, both at the company Tim owns and at the garage where they work on the car. "We'd like to run some ADRL races this year and all the Division 3 events along with some of those quick bracket races." And while winning may be new to Tim, racing isn't, and you can be sure that he won't have to wait so long to get his next national event win. "Once you do it you can't wait to do it again."




NHRA: 10 Most Recent Entries [ top ]

Apr 23- HOUSTON - Lucas Oil Drag Racing Series Wrap Up The NHRA Lucas Oil Drag Racing Series Wrap Up
Apr 23- CHARLOTTE 1 - J.R. Todd Aiming for Two Four-Wide Racing Wins in 2018
Apr 23- Mid America Dragway Joins NHRA Member Track Network
Apr 23- HOUSTON - Special Awards
Apr 23- HOUSTON - Sunday Video
Apr 22- HOUSTON - Sunday Pro Mod Wrap Up