Tue, 15 May 2012, 12:51 PM



Felling No Pressure



By Todd Veney


Photo copyright 2012 Bob Johnson Photography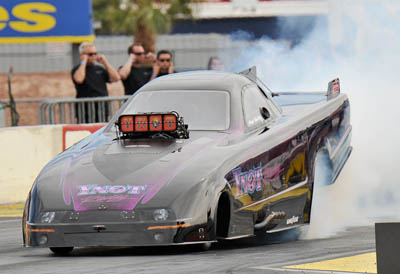 Annie Whiteley
People think they'd love to be in Annie Whiteley's position, but would they really? Do they really want the pressure that comes with climbing into one of the top five Alcohol Funny Cars in the country, or the inevitable comparisons to Roger Bateman, the driver she's replacing, or to husband Jim Whiteley, one of the leading Alcohol Dragster drivers of this century?
"Call me weird, but I really don't feel any pressure," she says. "Others might hold themselves to a higher standard, but I don't let what Jim or Roger have accomplished affect what I'm doing. I'm just not going to do that to myself."
Bateman, probably the best Alcohol Funny Car driver never to win a national event, reached his seventh career final last year and won three divisional events and the Division 5 championship. Whiteley prepared herself for this season by testing the car the day before divisional events and the day after national events all last year.
"I told Jim that I wanted to make a lot of runs before I ever entered an event," Whiteley says. "I didn't want to just get my license and go race people - that's not enough experience, and I'd never want to jeopardize the driver in the other lane. When we first started talking about me driving an Alcohol Funny Car four years ago, Jim thought I'd really enjoy it, and I said I'd try it under one condition: If I didn't like it, I could back out."
She likes it. "It feels really, really fast when you're getting started - your brain has to compute so much, so fast - but now I can see every cone going by the whole way down the track," she says. "It doesn't feel like I'm going 250 mph."
The closest Whiteley had been to an Alcohol Funny Car before last year was the six-second altered she still sometimes races in Top Dragster. "It has the same short wheelbase," she says. "It isn't as fast as a Funny Car, but it's similar because it shakes the tires and moves around a lot as you go down the track. It's not the same, though. When a Funny Car shakes, it does it a lot harder; there's no doubt what's happening. You finesse a dragster, but this thing, you really have to steer. I was a little surprised. For it to respond to what you're doing, you really have to turn the wheel. The hardest part is staging - that and leaving on time. It's a lot different from letting your finger off a button in a Top Dragster, but Roger has been a great mentor to me. That's something I really wanted: someone to talk to after every run, someone to tell me, 'This is what happened, and this is what to do next time.' "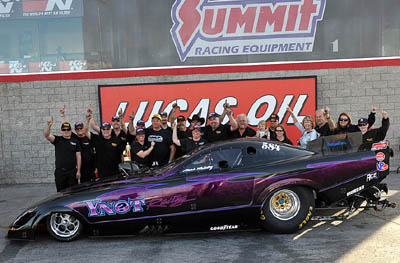 Whiteley celebrates Las Vegas Regional win with team.
Armed with about 35 runs of experience, Whiteley made her debut last November at the Lucas Oil Series divisional event in Las Vegas. All she did was qualify No. 1 on her first run, half a tenth ahead of a field that included six national event winners. She eventually landed in the fifth spot and lost to eventual winner John Lombardo in the opening round.
Until that weekend, she'd never driven a Funny Car with someone beside her. "We tested there the day before the event, and Clint Thompson said he'd run beside me," she says. "I kind of roll up to my stage rpm, and I didn't want to make anybody wait too long or burn anybody down. Shane Westerfield and Clint and Lombardo told me they'd they 'bark' their motor to let me know they were ready, and everything worked out."
In her national event debut at the Winternationals, Whiteley qualified a solid fourth with a career-best 5.61 but again drew the eventual winner (Daniel Oliver) in round one. She was on an even better run, her first 5.50-something, but when the car drifted toward the centerline, she wisely shut off. "We found out that the rollout between the right tire and the left was off by three-fourths of an inch," Whiteley says. "Once it shakes the tires and I lose vision, I'm done. I told the crew that I don't want to lose rounds for you, but before I get in trouble, I'm going to lift. I'll probably never be a real aggressive driver."
That remains to be seen, but her goals are aggressive. "Jim never puts any pressure on me, and neither does anybody else, but my goals for this year are to win a national event. She accomplished one goal by winning the Las Vegas regional event. My crew doesn't think that's high enough. They're like, 'That's it?' But I think it's a lot. Look at Alexis DeJoria. It took her years to win a national event. Most people never win one, but that's what we're shooting for."




LODRS: 10 Most Recent Entries [ top ]

Apr 23- LODRS 1-1 - Event Wrap Up
Apr 22- LODRS 1-1 - MXI/Magnaflux Top Dragster presented by Select Performance Final, Round 5 Eliminations
Apr 22- LODRS 1-1 - MXI/Magnaflux Top Sportsman presented by Select Performance Final, Round 5 Eliminations
Apr 22- LODRS 1-1 - Stock Eliminator presented by ATI Final, Round 7 Eliminations
Apr 22- LODRS 1-1 - Super Stock presented by ATI Final, Round 7 Eliminations
Apr 22- LODRS 1-1 - Super Street Final, Round 5 Eliminations
Apr 22- LODRS 1-1 - Competition Eliminator Final, Round 5 Eliminations
Apr 22- LODRS 1-1 - Super Comp Final, Round 6 Eliminations Results of final, round 6 eliminations in Super Comp at the NHRA Lucas Oil
Apr 22- LODRS 1-1 - Super Gas Final, Round 6 Eliminations
Apr 22- LODRS 1-1 - Super Comp Final, Round 6 Eliminations