Sat, 12 May 2012, 10:47 AM



Back in Win Column, PXM's McKinney Ready for Championship Hunt



Courtesy of ADRL Communications


Photo copyright 2012 Roger Richards





O'FALLON, Mo. --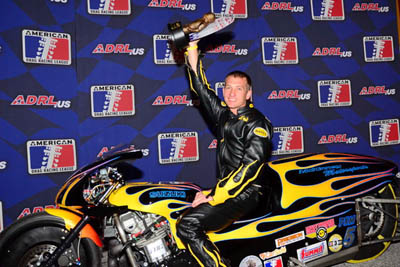 Eric McKinney celebrates win.
For nearly three years after his first ADRL win in Pro Extreme Motorcycle, Eric McKinney came incredibly close to a second, racking up impressive runs and outstanding reaction times only to come up just short on a number of occasions.
When McKinney finally returned to the winner's circle last weekend at Maple Grove Raceway, that time away simply made the second victory that much sweeter.
McKinney claimed it at the Northeast Drags II presented by Penske, going 4.099 at 173.96 mph to beat Ronald Procopio in the finals, and leading to plenty of smiles from the Ohio-based team.
"I'm just on cloud nine right now. This is awesome and I'm just having a blast," McKinney said. "I'm tickled to death to do this, ride a bike like this and have a team like this. Without all the guys, there's no way I would be in this position."
His team has made a talented rider even better.
Included in the group is McKinney's father, Scott, his uncle, Steve, and the newest addition to the team, Ashley Owens.
Of course, anyone familiar with PXM and the ADRL knows that team, as Owens spent the better part of the last two years re-writing the ADRL record book.
He won the 2011 championship and his 13 wins are tied with Billy Glidden for the most in ADRL history.
Now, he's a major cog in McKinney's team, which is hoping Owens' addition is another piece to the puzzle for their championship hunt. After the win at Maple Grove,
McKinney jumped ahead of Casey Stemper for the top spot in the points standings, but, with seven races remaining in an ultra-competitive class, McKinney said nobody can be considered the favorite right now.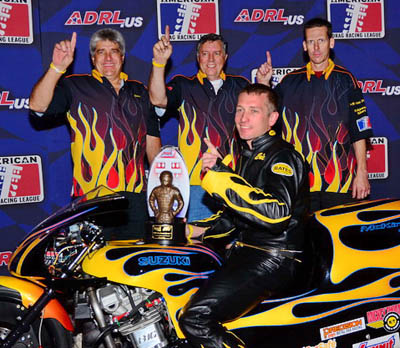 McKinney and crew celebrate win.
"We definitely hope we're in the championship hunt, but there's a lot of good teams out there. It's going to be tight the entire year," McKinney said. "There's a lot that goes into winning races and championships.
"It's the luck of the draw, being consistent and then having good people around you. With my dad, Ashley and everyone else, there's a lot of great people on this team helping make things happen."
After losing in the finals to Stemper in Houston to start 2012 and advancing to the semifinals in Bristol, McKinney put it all together in Maple Grove, snapping a dry spell that dated back to 2009.
At Maple Grove, though, McKinney was a standout in every respect. He cut his usual strong lights, exemplified by his .011 reaction time in the finals, and had the low E.T. in each round.
McKinney also had a little luck come his way.
McKinney was involved in a wild semifinal race against Scott Gray, who went 4.091 and appeared to win on a holeshot against McKinney's 4.089. But Gray's bike hit the center cone to disqualify him, sending McKinney to the finals.
"I knew he had beat me but then I heard on the radio that I had won," McKinney said. "That round win was all luck, but I'll take it."
Like many in the PXM class, McKinney is a fan of the new weight rule that went into effect for the 2012 season.
It's tightened a close class that made tremendous strides the last half of 2011, which has made for tremendous racing through the first three ADRL events of 2012.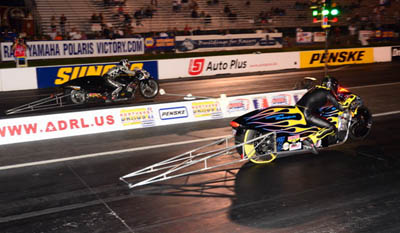 McKinney vs. Ronald Procopio in final at Reading.
McKinney expects more the same when the ADRL and the PXM class heads to St. Louis on June 1-2 for the Gateway Drags IV presented by CarSafe at Gateway Motorsports Park.
"I think the weight rule has just tightened everyone up in this class even more,"
McKinney said. "It's just some incredible racing in this class. There are a lot of good riders in this class and there's been a lot of awesome passes already. It's so satisfying to get a win when the competition is this tight."