Sat, 07 Apr 2012, 13:05 PM



Stemper Takes First Minute Man of the Year in PXM



Courtesy of Lisa Collier


Photo copyright 2012 Roger Richards





BATROWN, Texas --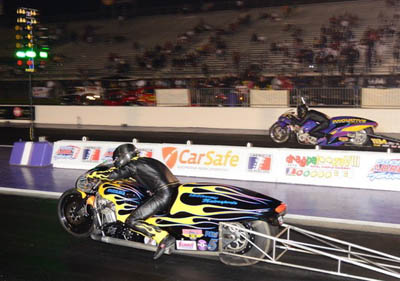 Eric McKinney vs. Stemper
in the final.
Casey Stemper may be one of the youngest racers in the ADRL, but he quickly earned his place as a valid contender in the Pro Extreme Motorcycle ranks in a short amount of time. At the ADRL season opener Stemper put any questions as to his abilities to rest with the triumphant capture of his first Minute Man.
"We were really looking forward to the 2012 ADRL season," told Stemper, "and to start the year off this way just adds to our excitement. We are shooting for the Championship, and having the ADRL season opener win under our belt will certainly help us achieve that goal."
Stemper was one of the frontrunners throughout the weekend, qualifying second with a 4.123, and then dominating on both ends of the track on race day. In round one Stemper took out Curtis Nichols with a .035 light and a 4.127. In round two, Dave Vantine matched Stemper's .020 light, but couldn't stand up to Stemper's 4.109 elapsed time. The semis brought Stemper one of the toughest competitors in PXM in Billy Vose. Vose slowed on top end and Stemper found his way into the money round with a 4.086. The final round matchup was another good one as Stemper lined up against Eric McKinney. Both entries had posted impressive numbers all day long. However, Stemper made his first win look easy as he left first and never looked back to pick up his first ADRL victory [.026, 4.084 at 171.88]
"This win means so much to us," said the elated victor. "Since the later part of the 2011 season our tune up has been coming along after a hard year of research and development. In the last few races of the 2011 season with the ADRL we were in the finals twice, which was an amazing task to say the least. Our last race of the season was the World finals, and to get to the final round there took a lot of hard work and dedication from the entire race team. It's nice to pick up where we left off and get the victory out of this final. My dad, Terry, our team owner and William Cavallo are constantly collaborating with each other to develop a better tune up and combination for our Pro Mod Dragbike. We really appreciate William's help and expertise, as well as John Montecalvo for sharing him with us. William pulls double duty, helping us but also working on John's team. We couldn't have pulled off this win without him. He's a huge asset to our race program. We have one of the smallest engine combinations in the field with only a 1640cc non stroked crank setup. So tuning our bike to achieve the E.T.'s and MPH that we have had is that much harder. My dad Terry and William are an amazing pair of tuners, and the credit for this win goes to them. We also have had great support from numerous companies including Paul from Fast by Gast who has never let us down when we've needed something in a hurry. We also want to thank Eric at MTC for his help in implementing our research and development ideas, and Jan at Precision Machine for all of his hard work and help with development. Without these guys our job would be tough.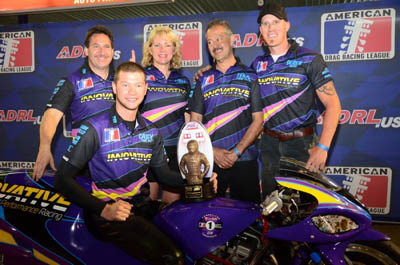 Stemper celebrates win with team.
"Not only are we able to go fast thanks to help from all these folks, but thanks to John Crane, we're able to look good doing it. He arranged for our new beautiful wrap from 1320 Wraps."
"We're very excited about this first win," added father, Terry. "Casey did a fantastic job all day long and words cannot express what it was like to see that win light come on for him. His mother [Karne Stemper] and I are very proud of his accomplishments on the track and what we've accomplished together as a team."
The Stemper family is quick to give credit where credit is due, but much of their success comes from within their own shop where their chassis and engine innovation is a large part of their success. With their Innovative Performance Racing Chassis company, they became the first chassis builder to implement the 82" long chassis, which have posted the quickest recorded 60 foot times, at sub one second.
"We are one of the only all-inclusive race teams in the ADRL," Karne Stemper elaborated. "We build our own chassis and engines. We do most of our machining in house and all of our own tuning and research and development and of course our son Casey rides our Pro Mod machine, always giving his best with amazing reaction times. We have a fantastic team, all working together on the bike. I and our close family friend Derek Carter service the bike between rounds, while our tuning gurus Terry, William and Casey all collaborate over the computer graphs for the last run to determine what changes will be made to improve our next pass."
It's clear that the Stemper operation is a family affair and that each member is a key player in the team's success. In a world where money talks, and drivers, crew chiefs and crew members are often bought and traded, the Stemper family stands out from the crowd.
"We are looking forward to the next race with the ADRL in Bristol, TN," told Casey. "We have a lot more in our bike and can't wait to get back on the race track. Who knows, maybe that three second pass will be possible with the new 625 lb weight rule. We'll just have to wait and see."