Sun, 01 Apr 2012, 14:01 PM



First-Time Champs Dominate Winner's Circle At CarSafe Dragpalooza VIII



Courtesy of ADRL Communications


Photo copyright 2012 Roger Richards





BAYTOWN, Texas --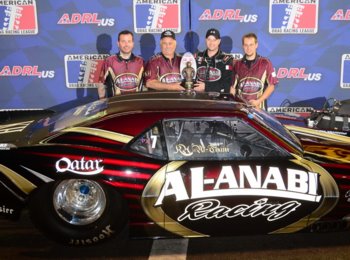 Alex Hossler Winner's Circle
(March 31, 2012) - At the first event of the 2012 American Drag Racing League (ADRL) season, it only proved fitting that the season started with a number of firsts in the winner's circle at CarSafe Dragpalooza VIII.
Out of the nine event winners who celebrated at Royal Purple Raceway on Saturday, eight of them were first-time victors in their respective classes, adding an extra sense of excitement to what ended up as a splendid kick-off to the 2012 ADRL Tour.
Alex Hossler served as the veteran in the winner's circle, winning for the fourth time in Pro Extreme after he beat Von Smith in the finals.
After doing a burnout, Smith couldn't get the car in reverse to get back to the starting line, handing the win to Hossler, who qualified No. 1 in a Tim McAmis Race Cars Camaro. Hossler also delivered back-to-back runs in the 3.60s during the quarterfinal and semifinal rounds for the Al-Anabi Racing team, and his crew chief, the legendary Frank Manzo.
"What a huge credit to Frank. This was our first race with a torque converter, and it just says how versatile he is. To come and do this, it's just a great feeling," Hossler said. "We made a lot of good runs to get here and I hope we made (team owner) KH (Al-Thani) happy after a day like today."
The first-time winners list included Rickie Jones (Pro Nitrous), Alan Pittman (Mickey Thompson Extreme 10.5), Casey Stemper (Pro Extreme Motorcycle), John Pluchino (Extreme Pro Stock), Marco Abruzzi (Summit Racing Equipment Top Sportsman) and Mike Castellana, who won for the first time in the new Aeromotive Pro Modified class.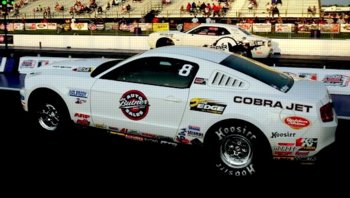 Bo Butner
Also picking up a historic victory was Bo Butner, who went 5.862 at 119.46 miles per hour to become the first winner in the revolutionary new SuperCar Showdown.
In an all-Ford final, Butner and his 2012 Mustang knocked off No. 1 qualifier Chris Holbrook to claim the victory.
"This was a pretty cool deal and it's always good to win," Butner said.
With a record Dragpalooza car count, it was a host of first-timers who stole the spotlight when it counted in front of a thoroughly entertained Royal Purple Raceway crowd and a huge online audience watching the live broadcast for free.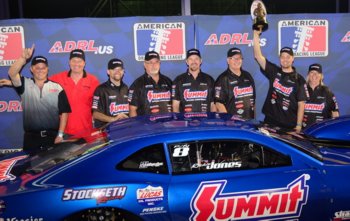 Rickie Jones Winner's Circle
Jones and his Summit Racing Equipment-sponsored 2012 RJ Race Cars Camaro delivered a series of potent performances, capping it off with a 3.836 at 195.79 mph to beat another first-time finalist in Bob Rahaim.
That came after beating the No. 1 qualifier, Castellana, with a 3.821 at 197 mph, and Jones thanked everyone from his parents to his team to his sponsors in the winner's circle.
"Summit Racing really stepped up and to get that first win for them, it's incredible," Jones said. "It's a great start to the season and it really takes everyone. I couldn't do it without all these people supporting me.
"Honestly, we struggled a lot in testing, but we showed up here and the car just took off," Jones said. "I really love racing the 1/8-mile in the ADRL."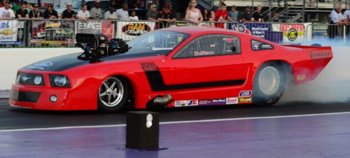 Alan Pittman
Pittman could bareley contain his excitement in Extreme 10.5 and for good reason. The team that also features Pro Extreme driver Terry Leggett only raced four times in Extreme 10.5 in 2011, but found their groove quickly on Saturday, going 4.045 at 192.88 to beat Dan Myers in another match-up of first-time finalists.
"This means the world to me. I can't even hardly explain it right now," Pittman said. "In the ADRL, you've got your work cut out over here. It's the fastest cars in the world and the best of the best. The names here just blow you away, so I just couldn't be happier."
Rick Thornton set a world speed record in the class earlier in the day, going 206.51 mph. Nobody, though, could contain Pittman, who qualified No. 2 and went as quick as 3.976 during eliminations.
"It's just amazing how much we've progressed," Pittman said. "Last year we came to qualify and maybe go a couple rounds, and now this. It's just amazing."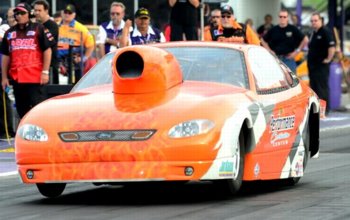 John Pluchino
Going to the winner's circle just as amazed was John Pluchino in Extreme Pro Stock. Pluchino was dynamite at the starting line, using a huge holeshot - thanks to a .013 reaction time - to hold off Brian Gahm in the finals with a 4.112 at 176 mph.
"The car ran good, but not great. It was consistent, though, and I drove pretty good," Pluchino said. "We left on everyone we raced. Brian's the man and I knew I had to do my job on the tree."
Pluchino also had reaction times of .012 and .004 during eliminations, earning one of the most fulfilling moments of his racing career.
"It's just an awesome feeling. To run with these guys in this class, it's just an honor. To beat them, it's just unheard of," Pluchino said. "Even after I went through the finish line, I couldn't believe it was happening."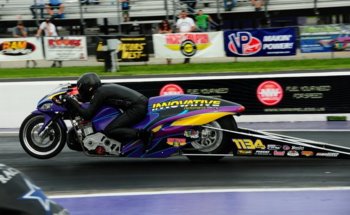 Casey Stemper
Casey Stemper took things to new levels in every round, saving his best for last with 4.084 to beat No. 1 qualifier Eric McKinney.
Stemper was overcome with emotion immediately upon seeing the win light, but the victory also shows the progress he's quickly made since last season.
"This is just unbelievable," Stemper said. "After I crossed the finish line, I was just screaming into my helmet I was so excited."
"After red-lighting in the finals at Ennis (last October), I came into this year knowing I would have to race smarter. We started leaning on the bike later in the day and it all worked out."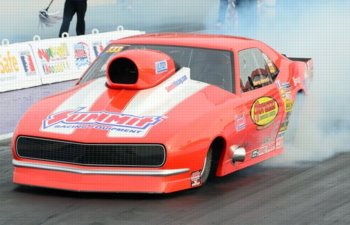 Marco Abruzzi
With a dial-in of 4.37, Marco Abruzzi went an impressive 4.379 to beat Randell Reid in the finals of Summit Racing Top Sportsman. Traveling a great distance, Abruzzi instantly threw his hat into the championship chase with the win.
"This is the furthest I've ever been for a race, but the ADRL is the place for Top Sportsman racing and I want to support it," Abruzzi said. "The first couple races, I wanted to see how I did, but now it's on. I want to go after that championship."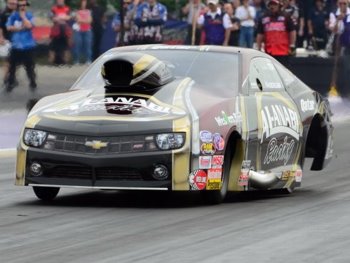 Mike Castellana (Pro Mod)
Castellana couldn't become the first driver in ADRL history to win two events at one race, but he still delivered in the Aeromotive Pro Modified class, beating Jeff Naiser in the finals with a 3.97 at 192.58 mph in his 2012 RJ Race Cars Camaro.
The Al-Anabi Racing driver went 3.852 in a superb side-by-side semifinal race against Rickie Smith, highlighting a day of consistent runs.
"It's a great start to the year. The crew did a great job of getting the car right," Castellana said. "You could tell it was making a lot of good runs."
In Pro Junior Dragster, Corey Tankersley was the wire-to-wire winner, knocking off Justin Hutto in the finals with a run of 7.925 at 82.63 mph. Tankersley was also the No. 1 qualifier, racking up a string of solid runs.
The ADRL returns to action on April 20-21 with the Spring Drags III in Bristol. It is the second of 10 stops on the 2012 ADRL Tour and marks the ADRL's first trip to historic Bristol Dragway.