Tue, 03 Jan 2012, 16:49 PM



Pace Returns to the Cockpit in Junior Fuel Dragster



Courtesy of Chris Graves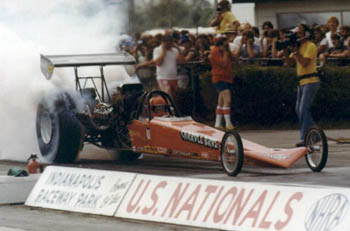 David Pace at 1981 U.S. Nationals
Photo by Les Welch
David Pace of Longview, Texas is eagerly awaiting the start of the 2012 racing season as he returns to the cockpit of a front engine dragster to compete in the Southwest Junior Fuel Association. Pace will slide in the cockpit of the 2011 S.W.J.F.A. Championship winning car owned by fellow Texan Darrell Walden. Walden's machine is a Neil & Parks built junior fueler that claimed five top qualifying positions and four wins in six races during the 2011 season, with Scott Parks behind the wheel.
Parks will focus his 2012 efforts on the father and son operated team out of Kansas, which puts Pace in the seat of the hottest car in the Southwest Junior Fuel series as Pace & Walden hope to continue to lead the pack. Pace is no newbie to the drivers seat with decades of experience driving dragsters of all types, from Pro Comp to Top Fuel.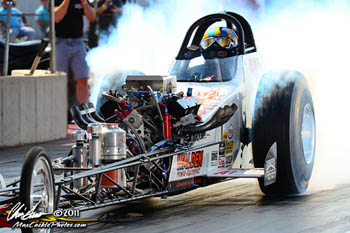 Darrell Walden
Pace's career highlights include a runner-up finish in Top Fuel at the 1981 U.S. Nationals and Top 10 finish in the NHRA Top Fuel points standings that season, behind the wheel of the Texas based Carroll Bros. "Texas Whips" Top Fueler. Pace set several top speed and elapsed time records and is a proud member of the NHRA 250 mph club. In 2003, Pace returned to action behind the wheel of several front engine Top Fuel dragsters and is looking forward to his 2012 campaign with Darrell Walden in the Southwest Junior Fuel Association.
"I was both surprised and honored when Darrell Walden asked me to join his championship winning team for next season. He and I go way back, racing together in east Texas in the 1970s, but we hadn't seen each other for over thirty years before meeting up again in 2011. I attended several of the SWJFA races this year, got a chance to watch Darrell, Frank Parks, and Scott Parks in action, and have seen what a first class operation Darrell runs. There will be a learning curve, as I'm more experienced driving with a Crowerglide type clutch and direct drive, so I'm expecting it to be a humbling experience for a while. Scott Parks is as good as they come and will be a very difficult act to follow, but I hope I can get up to speed fairly quickly. I'm looking forward to running with the SWFJA, since I'll get to race with several long-time friends who are in the group, and most of the races are more or less local and won't require lots of travel or time away from work," says Pace.




Drag News: 10 Most Recent Entries [ top ]

Apr 22- K&N Spring Fling Million Final Day Results
Apr 21- K&N Spring Fling Million Friday Results
Apr 20- K&N Spring Fling Million– Thursday Results
Apr 19- K&N Spring Fling Million- Wednesday Results
Apr 18- Buckeye S/SS @ National Trail April 28th
Apr 18- Don "the Snake" Prudhomme Returns To Baja Competition After 50 Years
Apr 18- K&N Spring Fling Million Tuesday Results
Apr 17- K&N Spring Fling Million Pre-Race
Apr 12- Summit Racing Equipment is Newest Sponsor of Midwest Junior Super Series
Apr 12- Summit Racing Named Official MWPMS Sponsor and Event Title Rights Holder