Mon, 19 Dec 2011, 19:07 PM



More Than 1000 Fans Celebrate Matt Hagan's 2011 Funny Car Championship in His Hometown



Courtesy of Judy Stropus


Photo credit: Barry Brooks Photography





CHRISTIANSBURG, Va. --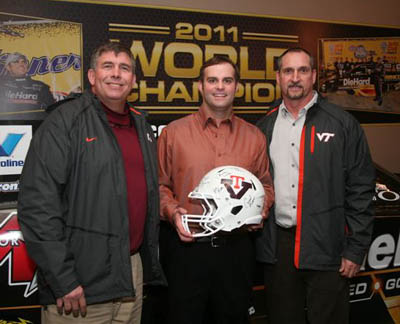 Charley Wiles, Hagan and Bud Foster
More than 1000 fans and friends celebrated Matt Hagan's 2011 NHRA Full Throttle Drag Racing Series Funny Car championship at the special event hosted by Shelor Motor Mile in his hometown of Christiansburg, Va., on Friday, Dec. 16.
Hagan, who raced the DieHard/Shelor Motor Mile Dodge Charger R/T for Don Schumacher Racing to his first series title, was awed by the large crowd that turned out in his honor. "It was huge to have all these folks come out and support us and have a good time," he said. "It blew me away to know there was that big of a fan following in Christiansburg and the surrounding areas. I had folks coming from Tennessee and even Maryland. It was truly special to be able to get together with them and celebrate."
Hagan signed autographs and posed for photos for well over six hours, next to the actual DieHard/Shelor Motor Mile Dodge Charger he drove to his national-record-setting 3.995-second lap and the championship. "I signed from 4 o'clock to 9 o'clock non-stop and it was wonderful," he added. "I didn't even get to eat until later. Luckily, there were still some leftovers. I was able to enjoy myself, did a lot of hand-shaking and posed for pictures."
One of the highlights of the evening was when Hagan was presented a signed Virginia Tech University football helmet by Bud Foster, Defensive Coordinator at Virginia Tech. "They gave me a helmet with all the head coaches' signatures on it. It was incredible. What a great honor," he said.
Hagan will be honored on Jan. 8 in Indianapolis for his selection to the First Team of the American Auto Racing Writers & Broadcasters Association (AARWBA) All-America Auto Racing Team in the Drag Racing category.
The 2012 NHRA Full Throttle Drag Racing Series season kicks off for Hagan Feb. 9-12 with the 52nd Annual NHRA Winternationals at Auto Club (Calif.) Raceway at Pomona.




NHRA: 10 Most Recent Entries [ top ]

Apr 18- Haney Headed for NHRA Pro Mod with Summit Racing on His Side
Apr 18- HOUSTON - Richie Crampton Enjoying Early-Season Success Heading to 31st Annual NHRA SpringNationals
Apr 18- 2018 Mustang Cobra Jet Celebrates 50th Anniversary of Racing Legend with Quickest
Apr 18- New Ford Mustang Funny Car Scheduled to Debut In 2019 NHRA Mello Yello Season Opener
Apr 16- HOUSTON - Fact Sheet
Apr 16- HOUSTON - After Early-Season Mishap Funny Car's Jonnie Lindberg Looks to Get On Track