Mon, 19 Dec 2011, 11:17 AM



Defending in Division 2



By Kelly Wade


Photo copyright 2011 BME Photography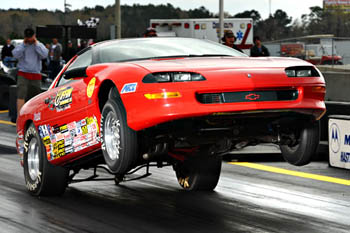 Jeff Strickland
Top Alcohol Dragster pilot Duane Shields successfully defended the region title this year, and there were a couple of other guys who managed the feat in the Southeast: veteran racer Jeff Strickland protected the crown that he earned last year in Super Stock, and multi-category competitor David Tatum III gathered more hardware as he continued to reign in Super Gas. Jeff Adkinson earned the Stock Eliminator title, Shane Carr scored in Super Comp and Dave Connolly picked up the Super Street title to round out the D2 champs.
Red Bay, Alabama-based Strickland launched into the season with an inkling of promise, driving his SS/JA '95 Camaro to the final round at Bradenton, where he came up a little short against fellow D2 driver and event winner Rick Twitchell but logged important marks that would give him the edge as the season wore on.
A week later - at the Gainesville points meet - Strickland made his way to the semifinals, and another semifinals finish was in store in Atlanta for the hotshot who has regularly finished in the division top 10. Strickland, the 2006 Super Comp division titlist, was chased by Anthony Bertozzi for the Super Stock title. Bertozzi traveled out of division to Las Vegas in early November to ultimately finish second by a 22 point deficit with a runner-up at South Georgia Motorsports Park highlighting his performance.
Gary Coccaro, of Panama City, Fla., threw his hat into the ring in Atlanta by sweeping the event and continued to compete through late summer and early fall, ending his quest 11 marks behind Bertozzi and one point ahead of Twitchell in third place. Mike Crutchfield rounded out the top five.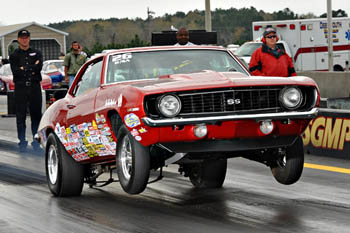 Jeff Adkinson
Adkinson, who tied Crutchfield for points in Super Stock and finished sixth, scored the division championship in Stock Eliminator by 42 marks over Merrill Schrimscher. The accomplishment this year was even richer as last season Adkinson had come right up to the Super Stock title but finished second to Strickland.
Schrimscher had the early lead after launching into the 2011 D2 season with a victory at Bradenton over red-lighting former champ Kevin Helms, and while the next two events were won by out-of-towners - Gainesville belonged to Canton, Ohio's Dick Kincaid and Division 1's Russell "Bubba" Linke won at South Georgia Motorsports Park - Adkinson, of Damascus, Ga., evened the score with Schrimscher by nabbing the gold in his home state at Atlanta Dragway.
B/SA '69 Camaro driver Adkinson went on to pick up a few more round wins in Belle Rose and then a couple in Columbus and more back in his home region at Charlotte, while Schrimscher was done going rounds after his semifinals appearance in Atlanta.
Robbie Shaw held steady all year in Stock, winning rounds at each points meet he attended and finishing in the final round at the event at Charlotte's zMax Dragway, and his end tally was just one mark behind Schrimscher. Jim Marshall, the runner-up in Cecil, was No. 4 at the end of the year, while Brenda Grubbs and Mary Meints each scored 235 total points (Grubbs was fifth on the tiebreaker).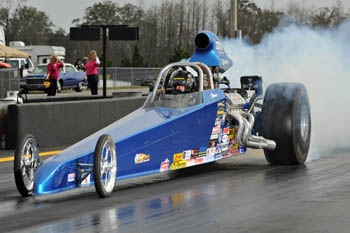 Shane Carr
If you want to know what it feels like to win, ask Carr; he did a bit of that this year. Carr plumped his national event scorecard with two wins in three final rounds (one victory in Super Stock and another in Super Comp), won Super Comp at the South Georgia Motorsports divisional, and doubled up with a trophy in Super Comp and Super Stock in Division 1 at Cecil County. A six-time national event winner across three categories, Carr parlayed his experience into a Super Comp title in D2, a top five finish in Super Stock in the Northeast, and a tie for second place in the Super Comp national standings driving for Tom Stalba.
The Pinellas Park, Fla., driver held off multi-time national and divisional champion Sherman Adcock Jr., along with Tyler Caheely, Deborah Bogle and Atlanta winner Lauren Freer who finished 3rd, 4th and 5th, respectively, for top honors. Ed Richardson was the winner of the opener at Bradenton Motorsports Park with Caheely coming up second, and in Gainesville the title was awarded to Michigan-based Division 2-claiming Steve Mikus over the Southeast's Stephen McCrory while Adcock went to the semifinals and Carr picked up a round win.
At South Georgia Motorsports Park, Carr got that first division win of the season over final-round opponent Bogle, and then he went north for a trip to the semifinals in Epping, N.H., and a couple of round wins at Atco Raceway. Back home in the division, Carr went out early and watched Adcock reel in a victory at zMax Dragway, but he got back on track with the double at Cecil County, and it was pretty much in the bag. Adcock went four rounds at Silver Dollar Raceway, but it wasn't enough to pass the points leader; Carr won the division by 45 points.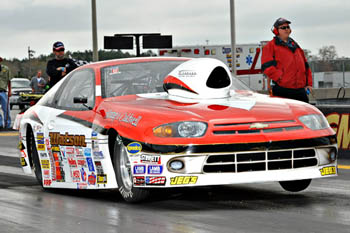 David Tatum
Southeast Super Gas titlist Tatum had another awesome year as he finished No. 5 in the national standings and brought home the big trophy in the region. Tatum was looking for perfection early in the season and achieved it at the first two events he competed in - he was the winner in Cecil as well as Atlanta.
A journey north to Columbus was uneventful for the 2010 national champion, but a pair of win lights in Stanton, Mich., added to his total. A quick trip over to Cordova for the Division 5 race padded his lead a little more with four more rounds in the bank in his '05 Cavalier, and by the closer in Reynolds, the Palmetto, Ga., resident was home free.
Adcock came out charging with a win in Charlotte - he finished fourth - and Tom Joseph steadily accumulated marks throughout the season to finish third, but it was Stalba who gave Tatum a serious scare. He pounced in Atco and turned out a triumph, and after a lull in Charlotte he went to back-to-back finals to close out the season and finish second by just 19 points.
Connolly, crew chief on Pro Stock driver Erica Enders' ZaZa Energy team, got his driving fix this season in the Lucas Oil ranks and scored the Super Street Division 2 title with a pair of wins bettering his competitors. After a slow start in Bradenton, Connolly cleared the board in Gainesville, putting the kibosh on a double-up for Super Comp winner Mikus and making it clear that Big D was in the house.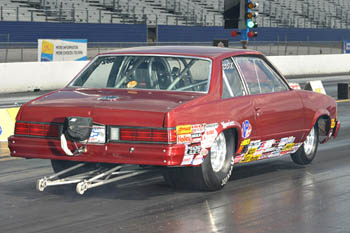 Dave Connolly
The guy who calls Elyria, Ohio, home wheeled his '81 Malibu to a quarterfinals finish in Belle Rose and then ended his season in August with a win in Charlotte. Ocala, Florida's Mike Griggs was a three-time finalist this season, making it to the money round in Bradenton, Atlanta and Silver Dollar Raceway. He finished second by 30 points, with Silver Dollar winner John Rollins in third and Cecil runner-up Brian Funderburk fourth. Matt Caheely steadily brought in round wins for a fifth place finish.

Division 2 Point Standings

Super Stock
1  Jeff Strickland
2  Anthony Bertozzi
3  Gary Coccaro
4  Patrick Twitchell
5t  Mike Crutchfield
5t  Jeff Adkinson
7  David Simmons
8t  James Wilson Jr.
8t  Jake Sealey
10 Merrill Schrimscher

Stock
1  Jeff Adkinson
2  Merrill Schrimscher
3  Robbie Shaw
4  Jim Marshall
5t  Brenda Grubbs
5t  Mary Meints
7t  McNeal Freeman
7t  Jimmy Parker
9  Russell Johnson
10 Bill Howell

Super Comp
1  Shane Carr
2  Sherman Adcock Jr.
3  Tyler Caheely
4  Deborah Bogle
5  Lauren Freer
6  Tom Stalba Jr.
7  Marcus Crews
8  Duane D Agostino
9  Ed Richardson
10 James Noel

Super Gas
1  David Tatum III
2  Tom Stalba Jr.
3  Tom Joseph
4  Sherman Adcock Jr.
5  Matt Cooke
6  Carl Freeman
7t Michael Corry
7t Bruce Duncan
7t David Watson
10 Richard Campbell Jr.

Super Street
1  Dave Connolly
2  Mike Griggs
3  John Rollins
4  Brian Funderburk
5  Matt Caheely
6t Mike DeSio
6t Steve Mikus
8  Ken Mac Nicol
9  Edward Arvonio
10 David Polichena





NHRA: 10 Most Recent Entries [ top ]

Apr 22- HOUSTON - Top Fuel Harley Round 1 Eliminations
Apr 22- HOUSTON - Pro Modified Round 1 Eliminations
Apr 22- HOUSTON - Pro Stock Round 1 Eliminations
Apr 22- HOUSTON - Funny Car Round 1 Eliminations
Apr 22- HOUSTON - Top Fuel Round 1 Eliminations
Apr 21- HOUSTON - Sunday Schedule
Apr 21- HOUSTON - Saturday Video
Apr 21- HOUSTON - Saturday Wrap Up
Apr 21- HOUSTON - Super Stock Class Eliminations Finals
Apr 21- HOUSTON - Funny Car Qualifying, Session #4 Bonus Points