Tue, 13 Dec 2011, 20:40 PM



Shawn Langdon Joins the Al-Anabi Racing Team



Courtesy of Rob Goodman


Photo copyright 2011 NHRA





BROWNSBURG, Ind. - -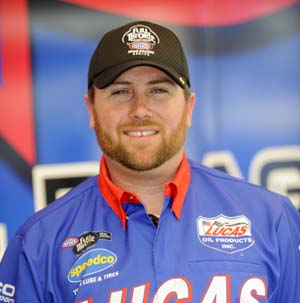 Shawn Langdon
Shawn Langdon has joined the Al-Anabi Racing team, it was announced today. Langdon replaces Larry Dixon who drove the last three seasons for the team. Langdon begins his Al-Anabi Racing employment immediately.
"This is probably one of the biggest moments of my life and the biggest moments of my racing career," Langdon said. "To get a phone call from Alan Johnson is probably one of the best phone calls you'll ever get, but it's a little intimidating, too. To get a call from the guy that runs such a high- caliber team, that's one of the best tuners in the sport and that's won 10 Top Fuel championships is a very big honor. I'll be proud to fly the maroon colors for the country of Qatar, and I want to thank Sheik Khalid(Al-Anabi Racing team owner Sheik Khalid al Thani), Alan Johnson and everyone at Al-Anabi Racing for the opportunity. Hopefully, we can keep that No. 1 on one of the Al-Anabi cars for years to come."
Langdon, 29, comes to Al-Anabi Racing from Morgan Lucas Racing where he drove the last three years beginning with his rookie season in 2009. In his 69 career NHRA Full Throttle Drag Racing Series starts, he has four runner-up finishes but has yet to win his first race. He finished ninth in the NHRA Full Throttle Top Fuel point standings this year, fifth in 2010 and ninth in 2009. He won the NHRA Lucas Oil Super Comp championship in 2007 and '08. The Mira Loma, Calif. native lives near Indianapolis.
"All of us at Al-Anabi Racing and Alan Johnson Racing are excited to welcome Shawn to our team," Alan Johnson Racing owner and Al-Anabi Racing team manager Alan Johnson said. "We look forward to sharing with Shawn the elements of our organization that have helped us win races and championships. Shawn's dedication to driving race cars at the highest level will be a great addition to the team of crew members that will prepare his car with that same enthusiasm. Shawn has yet to win a Top Fuel race, but we are confident if we provide him with a championship-caliber car he will find a way to win."
With driver Del Worsham's retirement on Nov. 21, Al-Anabi Racing still has one seat to fill as the team will field two Top Fuel cars for the 2012 NHRA Full Throttle Drag Racing season
Al-Anabi Racing operates out of multiple locations in both the United States and Qatar. In the United States, the Brownsburg, Ind.-based operation is a two-car NHRA Full Throttle Drag Racing Series team fielding entries in Top Fuel competition that is managed by Alan Johnson Racing. At the forefront of this team is His Highness Sheik Khalid Al Thani's goal to promote the domestic and international awareness of Motorsports in the nation of Qatar. Alan Johnson is a 14-time NHRA national champion. For additional information on the Al-Anabi Racing Team, please visit www.alanabiracing.com.




NHRA: 10 Most Recent Entries [ top ]

Mar 19- GAINESVILLE - Lucas Oil Drag Racing Series Wrap Up
Mar 19- GAINESVILLE - Top Fuel Harley Wrap Up
Mar 19- GAINESVILLE - Pro Mod Wrap Up
Mar 18- GAINESVILLE - Sunday Video
Mar 17- GAINESVILLE - Sunday Wrap Up
Mar 17- GAINESVILLE - Factory Stock Showdown Championship Points
Mar 17- GAINESVILLE - Mickey Thompson Top Fuel Harley Series Championship Points
Mar 17- GAINESVILLE - Bonus Points
Mar 17- GAINESVILLE - Pro Mod Championship Points
Mar 17- GAINESVILLE - Championship Points