Fri, 02 Dec 2011, 13:37 PM



Lets' Hear It For The Two-Time Champion



By Bob Frey


Photo copyright 2011 Auto Imagery, Inc.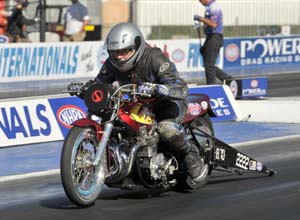 Tom Klemme at Pomona in 2008.
Over the course of the years there have been a lot of great motorcycle riders and champions on the NHRA tour. Ask any fan and the names of Dave Schultz, John Myers, Matt Hines and Angelle Sampey will come to mind. Newer fans will rattle off names like Eddie Krawiec, LE Tonglet, Andrew Hines and the Arana family. And if you go back a few years you'll come up with legends like Terry Vance, Elmer Trett, T.C. Christensen and so many more. Yes, the legends of drag racing in the two-wheel world really does read like a "Who's Who" of motorcycle stars. Now, to that list of motorcycle greats we have to add another name and that would be Tom Klemme. And just what did Tom do to be added to the list of top rated motorcycle racers? Well, for starters, he qualified for his second Summit Racing E/T Series national championships, and that in itself is quite an accomplishment. Then he went to Pomona and did what he did in 2008 and that is win the national championship. Two trips to California and two wins, yep, I think that qualifies Tom as one of the best motorcycle riders ever.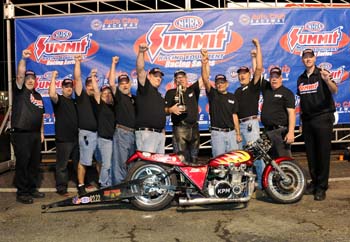 Tom Klemme and crew
celebrate win in 2011.
By way of quick review Tom, the 2011 Division 4 champ, beat his friend Chad Isley in the 2008 final round at Pomona to earn his first national crown. After the race he said what a nice experience it was and he echoed what so many other Summit E/T finalists have said and that is, "I'd love to get a chance to come back and do it again." Well, he did that when he won the Division 4 title this year in a race that was held at the Texas Motorplex. The interesting thing about that is the fact that in '08 he represented Division 5. "That's my home division," he said. "I went to the semi-finals there this year and when I didn't win I knew I had some unfinished business." That business was earning another trip to Pomona, and since he had also qualified for the Division 4 finals as part of the Tulsa team, it was off to Dallas where he won and put his plans in motion for a return to California.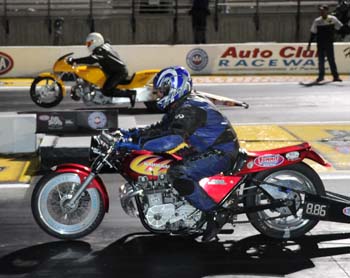 Klemme vs. David Primrose in the final.
After winning the Summit E/T Series national championship once you would think that a second trip there would be gravy and that there would be no pressure. Well, that may be the case for some racers but not for Tom. "This time there was a lot more pressure," he said. "The first time you're just glad to be there and winning was very nice. Now, when you go back, you're expected to win. Don't take that wrong, I'm not trying to sound like I'm the guy to beat, it's just that I knew what to expect and I expected to win. I put the pressure on myself. Let's just put it this way, I was on a mission to win it again." And win he did, and to make the win even sweeter he beat the same guy in the final round who eliminated him from the Division 5 race a few weeks earlier. "I really didn't know much about him before the Brainerd race," he said. "Then he beat me there and we end up racing in the finals at Pomona." Prior to their final round encounter the two hooked up in a time trail run at the Auto Club Finals. "That gave me a little idea of what he could do," Tom added. "And then when we raced in the finals I thought I knew where to let him go but I guessed wrong. Fortunately he broke out by a little more than I did and I won." After winning Tom says he felt relieved. "I'm not the kind of guy to pump his fist in the air on anything like that, but it was great to win even if I didn't show it on the outside."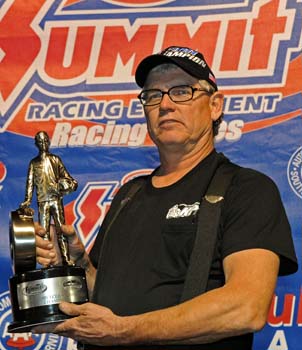 Tom Klemme
For Tom Klemme motorcycles are his life, and even though he does have a dragster in his garage he says that he didn't race it once this year. "I love the bikes and my sons, Steven and Michael like racing them too. That's what makes winning this race so special. There really aren't any national series left just for bikes, so this year I guess there are two motorcycle national champions, me and Eddie Krawiec." And let the record show that both are now two-time champions and both won their first championship in 2008 and their second this year.
The bike Tom took to Pomona is the same bike he rode to the championship in '08, but there is one major difference. "I didn't own the bike the last time I was here and I was riding it for someone else. This time I own it." The bike is a 1976 Kawasaki KZ-900 that has been bored out to 1428 cc's and it runs in the high eight-second bracket and that's what Tom dialed throughout eliminations. A look at the results from Pomona will show that Tom did a very good job of riding, especially in the first two rounds both on the track and on the starting line. That may have had something to do with the fact that he runs a lot of eighth-mile races during the year. "Actually I prefer the eighth-mile," he said. "It's a good race for someone who reacts quickly and can make quick decisions." In round one at Pomona he had a .012 reaction time and he followed that with a .021 in the second round, and an even better .008 helped him get the win in the final round. "My boys both race and I wish I were as good as my son Steven at the finish line. He's an animal. I'm not quite that good but I get the job done." Steven went with Tom to Pomona in 2008 and it was Michael's turn this year. "I'm really glad he got to experience the whole thing this time." Also making the return trip was the manager at Cedar Falls Raceway, "Dumpster" Dan Driscoll, Bill Homuth and Michael's father-in-law. "It was a nice ride out, about thirty-four hours if you don't count the stop in Las Vegas. When I asked how that little side trip went Tom just said, "Well, nobody got hurt." In Vegas that's a good thing.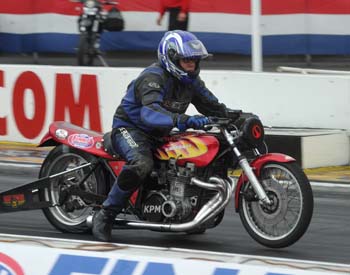 Tom Klemme
Tom has been running his own motorcycle shop for years, a shop where he builds race bikes for competitors in and around his hometown. "We do a lot of air-cooled stuff, but we've been doing more water-cooled bikes lately. We have a good clientele and business is ok, and obviously it slows down a bit at this time of year." But Tom doesn't show any signs of slowing down and he has his sights set on another trip to Pomona. "Let's face it, it's the ultimate prize for a guy like me. It's a great experience and I'd love to do it again." If history is any indication, I wouldn't bet against it. Now if only he could find out when Eddie Krawiec plans on winning his next championship it might make the planning a little easier for one of the best motorcycle racers in the country.




NHRA: 10 Most Recent Entries [ top ]

Apr 21- HOUSTON - Sunday Schedule
Apr 21- HOUSTON - Saturday Video
Apr 21- HOUSTON - Saturday Wrap Up
Apr 21- HOUSTON - Super Stock Class Eliminations Finals
Apr 21- HOUSTON - Funny Car Qualifying, Session #4 Bonus Points
Apr 21- HOUSTON - Total Qualifying Bonus Points
Apr 21- HOUSTON - Funny Car Eliminations Ladder
Apr 21- HOUSTON - Funny Car Final Qualifying, Session #4 Order
Apr 21- HOUSTON - Top Fuel Qualifying, Session #4 Bonus Points
Apr 21- HOUSTON - Pro Stock Qualifying, Session #4 Bonus Points