Thu, 15 Sep 2011, 12:06 PM



Getting There



By Kelly Wade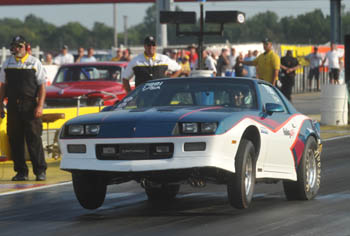 Chris Ashley at Indy
Photo copyright 2011 Auto Imagery, Inc.
The U.S. Nationals isn't just a race, it's a destination. It's a goal, and it's a dream for many that may or may not ever come true. For Stock Eliminator competitor Chris Ashley, it is now something that she can check off of the bucket list thanks to the support of friends and a whole lot of planning and determination.
"I'd never been, and I always wanted to go," said Ashley. "I'm very methodical, so finally it was like, what can I do to get there? That became my goal, to focus on what needed to be done to get the right motor combination and transmission for this. I started freshening everything after Bakersfield, and everybody who did parts for me knew I was trying to go to Indy. My engine builder, tranny guy, they all knew, and a few things fell back time wise, but everything was basically on schedule to get me here."
It is common knowledge that the big challenge at Indy begins with just qualifying for the field with so many cars vying for a spot. Ashley knew she had a pretty great chance, though. That Camaro is quick, and she already has 11 class trophies. Ashley held the P/SA record in 2008 at 1.626 under the index and knew she had the potential to go rounds - in Fontana earlier this year she drove all the way to the semifinals and lost by just a thousandth.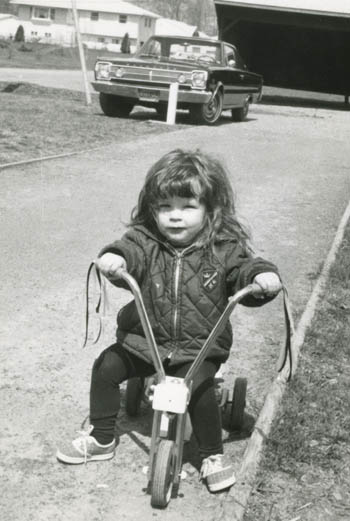 Ashley commanding her first set of wheels
with Car #1 - her first racecar - in the background.
Having a competitive engine and car was just part of the equation; the fiercely independent Ashley humbly realized that making a safe trek across the country would logically require company. Fellow Division 7 Stock Eliminator racer Toby Lang - just a friend, folks - stepped up with the offer to make the road trip with her and turn the wrenches at Lucas Oil Raceway Indianapolis.
Lang on her side as a hired crew chief was definitely in the plus column. A serious contender for the division championship this season and looking to finish at least in the top 10 nationally, Lang had been to the U.S. Nationals before -in 1997 and in 2005 - so he knew the ropes, and as a driver, Lang has had a bunch of experience and plenty of success in his recognizable whale of a Chevelle. At the national level, the Washington state native has accumulated 13 wins in 26 final rounds, and most recently, he won the category over former world champion Jimmy DeFrank at the 2011 SummitRacing.com NHRA Nationals in Las Vegas. Yeah, he kind of knows what he's doing.
Once settled in at Indy, Ashley qualified well in her Rick Watters Racing Engines-powered I/SA Camaro and looked to have a really good shot at winning class at the event where a class trophy is chased with more determination than probably anywhere else. But she doesn't race a lot of national events and had never before staged by way of the blue LED lights that were introduced at the national level of competition this year, and a paralytic reaction time put an immediate end to that part of the dream.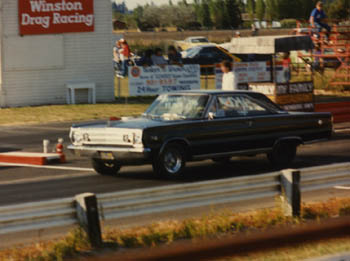 Racing the High School drags at
Woodburn Dragstrip in the 80s.
"To be honest with you, the pretty blue bulbs threw me off," she admitted. "I really think there should be consistency with the divisionals and bracket racing, because it's completely different. It didn't affect some people, but it did me - I daydreamed and lost focus. It's just something to get used to."
A red light in the first round of regular eliminations could not be blamed on the blue lights, but it was no less disheartening. When Ashley got on the 2-step something didn't sound right, and as soon as she heard a change in the engine she launched. Later, it was discovered that a plug wire had fallen off.
"I want to come back now, because I didn't do so well," she said. "But I've got the motivation to come back next year and do much better. This is the Super Bowl of Stock Eliminator racing, and I think everyone should experience it - with or without a car. I'm glad I got to do this."
Here's something else of interest about this newspaper advertising photographer from the Southwest: she certainly loves her racecar, but back home in the Phoenix area Ashley favors another very specific brand of wheels, the'66 Plymouth Satellite. To say that she "favors" the Satellite is actually a fairly large understatement, really, because she loves them so much that she currently owns six. SIX.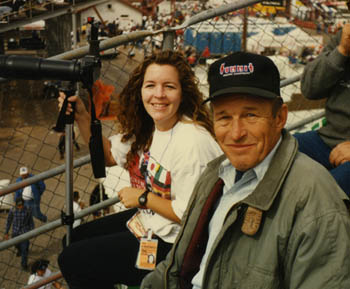 Photographing from the stands with
her dad at Firebird Raceway in the 90s.
According to Ashley, each of the cars has a name, but "with six of them, it's just best to call them by number," she said.
What started as a love for horses turned into a passion for horsepower, and when she turned 16 her dad put her in her first '66 Satellite. Recognizing the degree of difficulty it took for his daughter to drive at a reasonable speed, he took her to the racetrack and, as they say, that's all she wrote.
Ashley raced the High School class at the local track, moved up to Super Street, and then settled into Stock Eliminator. Although her beloved fleet of Mopars doesn't see the strip, she says that they're all competitive - it's just less expensive to race than the Chevy.
She isn't just a collector, Ashley also knows her way around the garage and is learning more and more all the time. She has plenty of support and encouragement.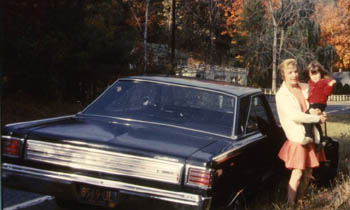 With her mom, who would have
preferred to see her daughter in
pink dresses and bows, with Car #1
"My mom educated me to be a lady while my dad showed me the world of automobiles," said Ashley. "My dad was a great influence on my love and passion for cars. He wanted me to fly an airplane but I got motion sickness, so into the cars I went. I received the best of both worlds from my parents, and I love them both dearly for making me who I am today."
Ashley thanked her parents and brother, Brad, as well as Toby Lang, Rusty and Kelly Hall, and Josh and Nicole Edwards. She also expressed gratitude towards Robin Lawrence at Holley EFI ("the Holley EFI system is just phenomenal, and they went over and beyond helping me," she said), Rick Watters (another above-and-beyonder) and his Rick Watters Racing Engines and Remac Transmissions.
"As a woman in this sport it can be challenging, but it's remarkable, the great people out there always willing to lend a hand to help," she said. "I'm very independent, though. All I want to do is race, and I will figure out a way to continue to do that. I believe if you truly want to do anything you can. As long as you set your mind to it, nothing is impossible."




NHRA: 10 Most Recent Entries [ top ]

Apr 24- CHARLOTTE 1 - Steve Torrence Enjoying Four-Wide Success Heading to NGK Spark Plugs NHRA Four-Wide Nationals
Apr 24- CHARLOTTE 1 - Fact Sheet
Apr 24- Kalitta Motorsports Welcomes NASCAR Stars to the SealMaster Track Walk in Charlotte
Apr 24- zMAX Dragway Celebrates 10th Anniversary
Apr 24- CHARLOTTE 1 - NGK Spark Plugs NHRA Four-Wide Nationals Brings 40,000 Horsepower Thrill Show to zMAX Dragway
Apr 23- HOUSTON - Lucas Oil Drag Racing Series Wrap Up The NHRA Lucas Oil Drag Racing Series Wrap Up
Apr 23- CHARLOTTE 1 - J.R. Todd Aiming for Two Four-Wide Racing Wins in 2018
Apr 23- Mid America Dragway Joins NHRA Member Track Network
Apr 23- HOUSTON - Special Awards
Apr 23- HOUSTON - Sunday Video