Thu, 31 Mar 2011, 05:00 AM



Roland Leong The Hawaiian Legacy



By Steve Reyes


Photo copyright 2011 Steve Reyes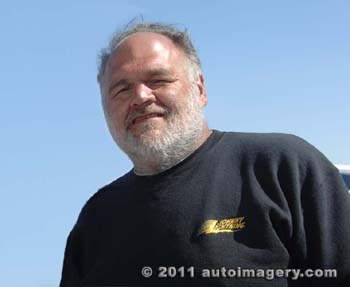 Steve Reyes
It was the spring of 1965 and I had just turned seventeen. Armed with my first 35mm camera I headed for Half Moon Bay and its California Championship Drag Races. As I wandered the pit area, a long blue metal flake object caught my eye. That was my first sighting of Roland Leong's the Hawaiian Top Fuel dragster. Of course, I had heard of Leong's Top Fueler with that Prudhomme guy driving. But here it was right there in front of me, all by its lonesome in the Half Moon Bay pit area. Quickly, I readied my trusty 35mm and clicked off a half a dozen color slides. Thus I started my 25+ year photo file of Roland Leong and his Hawaiian race cars. The Hawaiian won Top Fuel that long ago weekend at Half Moon Bay.
Next thing I read, Prudhomme was leaving the Hawaiian! Well, who was going to replace a guy like Prudhomme? Enter Mike Snively. the Hawaiian team never missed a beat with Snively at the controls. The Leong tuned KB Hemi took Snively and Leong to many a winners circle. However, there was a new class on the horizon that was exciting all the promoters and fans. The Funny Car shows and match races were indicating that this type of car was very popular with drag racing fans. Ever the business person, Leong made the switch to Funny Cars. So after racing dragsters for about six years, Roland debuted his funny car at the 1969 NHRA Winternationals in Pomona, California.
Veteran funny car driver Larry Reyes now filled the seat of the Hawaiian. Roland's debut in the Funny Car class was very memorable. On the car's second full pass it flew high in the sky and landed with a crunch. Reyes was unhurt in the flight but the funny car needed lots of TLC. Undaunted by the results of his first funny car debut, Leong would come back with a Hawaiian line of funny cars that would make Roland Leong one of the all-time drag racers ever to own and race in Top Fuel and Funny Car. If you don't believe me, just ask Roland. He'll tell ya!
Photographer Steve Reyes has published a number of books chronicling the rise of drag racing from the mid-1960's to the early 1980's including Quarter Mile Chaos, Funny Car Fever, Slingshot Spectacular, Fuel Altered's Forever, Blood, Sweat and Nitro (Ltd. Ed.) and Funny Car Follies: 1965-1970 (Ltd. Ed.). The books and photos by photographer Steve Reyes may be purchased by contacting Bethany Reyes at blrenterprise@cox.net.
There it was the Hawaiian all alone in the Half Moon Bay pit area in 1965. Here are my first pix of the legendary Top Fuel car owned by Roland Leong.
Prudhomme and the Hawaiian square off against local San Francisco favorites, Ted Gotelli and Denny Milani. Milani would red light and give the race to Prudhomme and Leong. The Hawaiian would win Top Fuel Eliminator that long ago day at Half Moon Bay.
Out went Prudhomme and Snively was in the seat of Leong's Hawaiian. Snively started out on a great note, winning the NHRA Winternationals at the start of the 1966 racing season. The Hawaiian didn't miss a beat.
Yes, Roland toured the Hawaiian Top Fuel car but he also would race local Southern California races. This one was at Irwindale, California in 1966. Snively lined up against James Warren in the Ridge Route Terrors AA/FD. Snively and Leong won Top Fuel that long ago evening.
Roland came to the Hot Rod Magazine 1967 race with his two car Hawaiian Top Fuel team. Snively drove the No. 1 car and Mike Sorokin was in the No. 2 car. A few weeks before this race, Snively won Bakersfield's March Meet and almost raced Sorokin in the final. This time the No. 1 car won all the marbles. Roland, Snively and Mama Leong were all smiles that day.
Late in 1967 Roland returned and won again at Half Moon Bay. This time Snively defeated Ted Gotelli's Top Fuel car with Kenny Safford at the controls.
This would be the view other Top Fuel drivers would see of Roland's Top Fuel car for most of '65,'66 and '67.
Larry Reyes put Roland's first funny car down then up in the air at the 1969 NHRA Winternationals at Pomona, California. Reyes was not injured, but the Hawaiian Funny Car needed quite a bit of TLC for it to return to racing.
Butch Maas put Roland Leong's Hawaiian Funny car into the NHRA Winternationals winner circle in 1971. That's Pennsoil's Bob Smith with Roland and Butch. Butch and Roland got to share quite a few winner's circles together.
Roland's funny cars mainly had Mopar bodies on them. But this Hawaiian funny car had a Chevy Monza body. The very capable Ron Colson drove for Leong the longest starting in 1976 until 1981. Colson claims his longevity was the result of going home to a real job and flying in on weekends to race. Those who spent all their time with Roland found that often tempers would flare.
Roland Leong had quite a few drivers sit in the famed Hawaiian funny car. They included the likes of Larry Reyes, Pat Foster, Butch Maas, Bobby Rowe, Leroy Chadderton, Gordie Bonin, Mike Van Sant, Denny Savage, Norm Wilcox, Larry Arnold, Mike Dunn, Ron Colson, Johnny West, Rick Johnson and Jim White.
Roland always had the "Big" sponsor and the right rig for the job. Roland Leong earned his way into those big sponsorship deals by winning and getting them lots of ink.
Of course, I have many more photos of Roland Leong's Hawaiian Funny cars. This one is with Jim Dunn's little boy Mike driving the Hawaiian vs. the Super Brut at Martin, Michigan. On this run Dunn beat the Super Brut and set the Funny Car national speed record. Wanna know what it was? Ask Roland, he'll tell ya!




NHRA: 10 Most Recent Entries [ top ]

Mar 22- LAS VEGAS 1 - Defending Funny Car Winner Tommy Johnson Jr. Excited for Four-Wide Racing
Mar 22- NHRA Northwest Nationals Tickets on Sale Now
Mar 21- LAS VEGAS 1 - Fact Sheet
Mar 21- LAS VEGAS 1 - Event Preview
Mar 20- Strong Stable of Contending Pro Stock Racers Vie for Final Starting Position for K&N Horsepower Challenge
Mar 20- GAINESVILLE - Special Awards
Mar 20- GAINESVILLE - Lucas Oil Drag Racing Series Wrap Up
Mar 19- GAINESVILLE - Sunday Video
Mar 18- GAINESVILLE - Pro Mod Sunday Wrap Up
Mar 18- GAINESVILLE - Sunday Wrap Up