Sat, 5 Mar 2011, 04:02 PM



What a Legacy



By Bob Frey


Photo copyright 2011 Auto Imagery, Inc.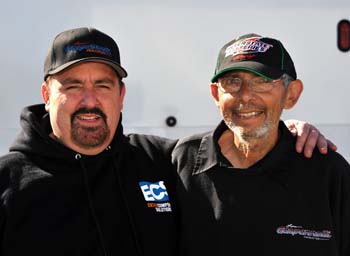 Steve and Lou Gasparrelli
Everyone wants to leave their mark in the world. We all strive to make it a better place to live, work and have fun, and all of us would like to be remembered for the good things that we do. In sports, legacies are made by the performances on the field of play. Home runs, touchdowns, points scored and things like that are all used to determine the best players or participants in any sport. The 600 home run club in baseball, the multiple Super Bowl Champions or the Stanley Cups that have been won all separate the champions from those who simply competed in the sport but never attained to true level of greatness. In our sport, we often measure greatness by how many national event wins a driver or a team has, or how many season titles they eventually won, but there's more to it than that. When you can mention a name and everyone in the sport immediately knows who you are talking about, that's greatness. When those same people talk about you in reverenced tones, that's greatness, and when you can be mentioned with the best drivers and teams in your class, that's greatness. In the end, when your peers can talk about you and have nothing but good things to say about you, that's greatness. All of those attributes can be applied to one father and son Top Alcohol Funny Car team, the tandem of Lou and Steve Gasparrelli.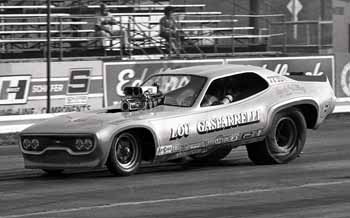 Lou at Irwindale in '73.
Steve Gasparrelli is the latest family member to be competing in the Top Alcohol Funny Car class. As good as he has been doing lately, and he has done well, he will always be known as the son of one of the greats in the history of the class, Lou Gasparrelli. "My dad started racing over thirty years ago," Steve said. "He began with a classic A/GS Anglia and he raced against some of the legends in the sport." In that "legends" group are K. S. Pittman, Stone, Woods and Cook and "Big" John Mazmanian. "Yeah, he was part of what they called the 'Gasser Wars' back then," Steve said. And when the gas class faded out Lou made the logical jump to the BB/FC class, and eventually to the Top Alcohol Funny Car category. There, the competition wasn't any easier because instead of K.S. and "Big" John he was now racing against Ken Veney, Brad Anderson and others. All the while, as Lou raced at the tracks that populated California in the late 1960's and early 1970's, Steve tagged along and his love for the sport took root. "I travelled with dad from the time I was just a little kid. It was a great time and that's when I knew what I wanted to do when I grew up." He wanted to drive, and with Lou as an example, he learned what to do and what not to do on the track. "I remember that I went to Bakersfield one year to try and drive the car," Steve said. "It was me, my Dad, Gary Scelzi, and Mike and Doug Gordon. I was trying to get my license because Mom and Dad said that it was just about my time to take over the driving chores." Well, dad may have said that, but when he continued to do well behind the wheel, Steve's turn was put on hold. "If I remember correctly, it was another eight years before I finally got my chance to drive. Dad was winning races, divisional championships and things like that and he just didn't want to get out of the seat."
Lou at the March Meet in '79.
Lou was hot, winning national events, divisional races and three division seven championships while also participating in the famous All Star program, but like he promised, he eventually turned the keys over to his son. "I began driving in 1998 and I have loved every minute of it," Steve said. That enthusiasm came through at the recent Winternationals when he debuted a new car that produced career best numbers both in elapsed time and speed. The new car, which was built by Bob Miner, is the latest in a long line of alky cars for Steve. "This one is really nice. I like to say that it's better, stronger and faster than any of my other cars." That's evident from the numbers that he turned at his home track in Pomona, a best of 5.553 at 260.71 mph. "That's the classic good news, bad news," he said. "We ran those numbers but still got beat." That's because his opponent, Tony Bartone, was making an incredible pass, a 5.460 at better than 264 mph run that would eventually serve as a backup for the national record. "I was really mad at myself after that run, not because we lost, but because I didn't tune it up the way I should have. I knew he was good, but I figured him for a '50' or a '51,' not a 5.46. I'm not saying that we would have beaten him but we could have made it a lot closer."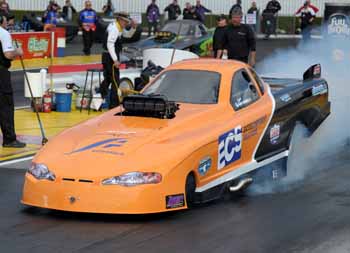 Steve at the 2011 Winters
While he came away with a semi-final finish, Steve will have another chance very soon to take on the new record holder and the other top west coast stars. "We'll be in Las Vegas and then go to Houston," he added. "And we'll run about nine or ten national races this year while competing in Division 6." There are two reasons that he'll be a D-6 driver this year despite the fact that he is the reigning Division 7 champion. First, the races are spaced a few weeks apart and that will make it easier for his father to accompany him. Second, the car is parked in Washington for most of the year. "Rick Gratzer, we call him 'Bones,' works on the car and he lives in Washington so it'll be easier, logistically, to race up there." But his dad is the real reason, and since he has had some health problems recently, Steve wants to do everything he can to make sure that Lou can go with him. "It's no secret that he has had prostate cancer and he has had a lot of complications from it. He was at the track for one day last week but then had to go to the hospital because of some bleeding. It's been tough on him and my mom. It's just so much nicer when he's with us at the races."
In addition to learning form his famous father, Steve says that he has also received help from a few other stars in the class. "Frank Manzo has always helped me, Bob Newberry always encouraged me, and Randy Anderson was really my tutor." He tells a story about Frank challenging him to be a better driver. "We were at a race and Frank said that he'd bet me $160 dollars, the amount of money I had in my pocket, that I couldn't drive out of tire shake. When I went up to the line and took off, the tires shook and I was able to drive out of it. When I came back to the pits Frank said, 'You're easy. All I had to do was bet you that you couldn't do it and you did it.' He then gave me $160." Steve also said that he learned a lot from his years working with Randy Anderson, son of Brad, the same guy that Lou used to race many years ago. "He was my crew chief for a few years, and since he has driven these cars he knew exactly what was going on with them. I couldn't fool him because he knew what happened on every run and then he'd tell me how to fix it."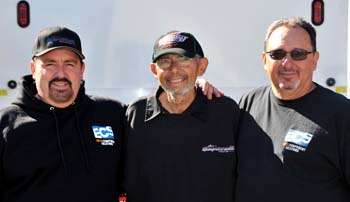 Steve, Lou and Michael
With a car that goes 5.55, you would think that Steve would be happy, and he is to an extent. Still, like every other racer he always wants to go faster. "We often get complacent when we're running well, but then someone like Frank or Tony comes along and runs in the '40's' and it motivates us to do better." Not that he needs any external motivation, because when you're Lou's son, you naturally want to do well. "I'm very fortunate to be where I am. I have a great wife, Janina, two wonderful kids, Jillian and Tobin, and a business that is doing very well. I enjoy the racing and the racing community and I intend to do this for many years to come." And everyone in the community will enjoy watching another generation of Gasparrelli's achieve greatness on the track.
Steve would like to thank his sponsors ECS, Oceanus, Lucas Oil, Midnight Impressions, Hoosier Tire, and CoColor for their support.
Steve also thanks his crew Bob Miner, Mike Gasparrelli, Rick Gratzer, Henry Montes, Greg Miner, Doug Swanstrom and Lou, especially Lou.




NHRA: 10 Most Recent Entries [ top ]

Mar 21- LAS VEGAS 1 - Fact Sheet
Mar 21- LAS VEGAS 1 - Event Preview
Mar 20- Strong Stable of Contending Pro Stock Racers Vie for Final Starting Position for K&N Horsepower Challenge
Mar 20- GAINESVILLE - Special Awards
Mar 20- GAINESVILLE - Lucas Oil Drag Racing Series Wrap Up
Mar 19- GAINESVILLE - Sunday Video
Mar 18- GAINESVILLE - Pro Mod Sunday Wrap Up
Mar 18- GAINESVILLE - Sunday Wrap Up
Mar 18- GAINESVILLE - Pro Mod Championship Points
Mar 18- GAINESVILLE - Bonus Points