Tue, 1 Mar 2011, 09:08 PM



The Good and Bad News



By Bob Frey


Photo copyright 2011 Auto Imagery, Inc.





If I remember correctly, last week I mentioned how neat it was to go to
Pomona
for the Winternationals. I said that one of the unique things about the event is the fact that the mountains in the background always added a special touch, especially when they are covered with snow and it's seventy or eighty degrees at the track. And while that's true, I didn't mean that snow at the track was a good thing. Ok, so it didn't actually snow at
Auto Club Raceway at Pomona
this past week, but it did get cold, very cold, and we did have hail at the track on Saturday. In fact, we had so much hail and it was so cold that at least two teams collected all the white stuff and made snowmen. Really!! Walking around the pits on Friday and Saturday I saw more hoods, heavy jackets and gloves than I had seen back home in New Jersey for the past few weeks, and it's winter here. Eventually we finished the race, the
Full Throttle
classes and the two alcohol classes were completed on Sunday with the rest of the
Lucas Oil
categories finishing on Monday. It sure wasn't the way anyone wanted to start the year, but the good news is that the race is over while the bad news is that it was tough on everyone, the teams, the fans and the NHRA. Oh well, now we can move forward and head to Gainesville for the Gatornationals, and regardless of what happens there, at least we know it won't snow. Or it better not.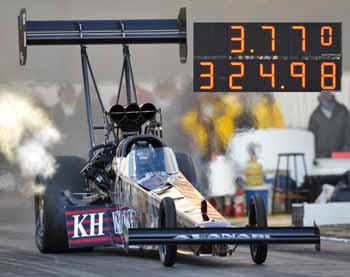 Dixon set the National E.T. record.
The race itself, run between moments of cold, windy and rainy weather, provided some very interesting moments including a pair of national records in the Top Fuel class.
Larry Dixon
and the
Al-Anabi
team ripped off a 3.770 that was good enough to break the existing Top Fuel mark of 3.771 that was set by
Tony Schumacher
in
Richmond
in 2008. Tony and his
Army
team then came back to record a stunning pass of 327.03 miles per hour and that was more than enough to break the old speed mark of 325.61 that he set in Las Vegas last year. Setting one record at an event is always note worthy, but setting two is almost unheard of.
Did you know
that the last time both ends of the Top Fuel record were set at one event was back in 2001? That's when
Kenny Bernstein
ran 4.477 to get the elapsed time record and
Mike Dunn
went 330.05 in the Yankees' dragster to set the speed mark. Both of those were set at the historic
Chicago
race, a race that went down in history as producing some of the quickest and fastest runs of all time.
Did you know
that, even though he set the record at that event, Mike Dunn didn't record top speed? Kenny did, but he couldn't back it up so Mike left the
Windy
City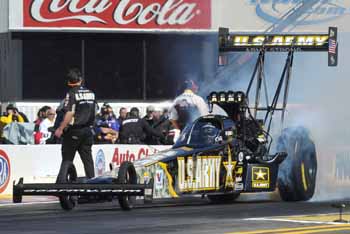 Schumacher set the National speed record.
with the record....As good as he has been in his career, Larry hasn't made a habit of breaking records. In fact,
did you know
that the last time he set the national elapsed time record was in 1999 when he went 4.486 in
Houston
? That 4.486 number would be a factor in
Pomona
, too, because that's exactly what Larry ran in round one when he smoked the tires and lost to
Terry McMillen
. As I often say, what are the odds..After leading qualifying with that 3.770, everyone expected Larry to waltz through the eliminations, but as we all know, what we expect and what happens at the drag strip are two entirely different things. Terry, in his
Amalie Oil / University of Northwestern Ohio
car, went 4.188 and that was good enough to beat the reigning champion..Larry isn't the first one, and he won't be the last, to not win the Winternationals after qualifying number one.
Did you know
that in the history of the race, which goes back to 1963 in the Top Fuel class, the number one qualifier has only won the race five times and nobody has done it since 1999? Even stranger, after
Mike Snively
won from the top spot in 1965, it was thirty years before the number one qualifier in the dragster class won again. Amazing, isn't it?....
Morgan Lucas,
who hadn't won a race in over a year, won in Pomona and that makes him the Full Throttle points leader in Top Fuel.
Did you know
that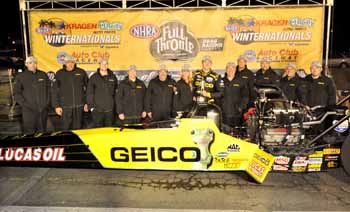 Lucas celebrates win with crew.
Morgan becomes the thirty-ninth driver to lead the points in the history of the class? Now, if he can say that he's the points leader after the next
Pomona
race he'll be really excited, won't he? Morgan, who qualified ninth in the field, joins a very select group of racers who have won in TF from the bottom half of the field.
Did you know
that he is just the third driver to win from the ninth spot and only the tenth overall to win after starting in the bottom half of the field at Pomona?...
Shawn Langdon
, Morgan's
Lucas Oil
teammate, was the runner-up and he will head to Florida still looking for that elusive, first ever national event win in Top Fuel. Besides that, he will head to
Florida
looking to beat Morgan for the first time.
Did you know
that those two have raced four times and Morgan has won all of them? Shawn has faced twenty-five racers in his TF career and there are only three that he hasn't beaten. Morgan,
Rod Fuller
(0-2) and
Spencer Massey
(0-3)..I always knew that Morgan and Shawn were good, close friends, but I never knew how far back they went until this week.
Did you know
that those two went to school together and they both graduated from the same high school in the same year? Yep, the two Top Fuel finalists were both proud members of the class of 2001 at
Jurupa Valley High School
in
Mira Loma, California
? I'll bet their teachers are very proud, and I know that
Forrest
and
Charlotte Lucas
are very excited, too.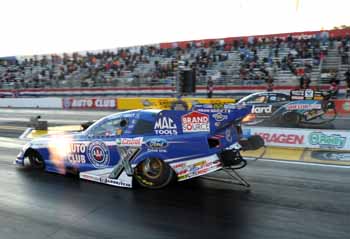 Hight vs. Hagan in the Funny Car final.
It was
Team Force
against
Team Schumacher
in the semi-finals and the finals in the Funny Car class and Team Force came out on top. Well, at least
Robert Hight
came out on top when he beat
Matt Hagan
in the final round, but before that it was Matt over
Mike Neff
and Robert over
Ron
Capps
. Something tells me it's not the last time those two teams will square off in a final round this year.. Matt won his half of the semi-finals when he beat Mike on a holeshot and then he lost the same way to Robert in the finals. I have a feeling that Pomona may not be Matt's favorite track since he lost on a holeshot to
Bob Tasca
there last fall and now dropped the final round even though he had a quicker elapsed time than Robert.
Did you know
that in the history of the Winternationals, and the Funny Car class goes back to 1969, this was just the fifth time that the Funny Car final has been won on a holeshot? Ironically, even with that small number, it's the second time in as many years that it happened, coming after
John Force
beat
Ron
Capps that way last year. John, by the way, is the only driver to win two finals at
Pomona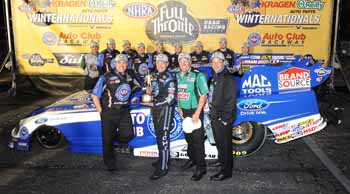 Hight and crew celebrate win.
on holeshots, the one last year and the other in 1993 when he beat
Del Worsham
....Even though he didn't win the race John did set another milestone. With his two rounds of competition John has now competed in 1501 rounds, and that is the most of any drag racer in history..Robert's win, which was the nineteenth of his career, moves him into the top twenty on the all-time winners in the nitro classes and he is now tied with
Gary Beck
on that list.
Did you know
that in both fuel classes there are only thirty-four drivers who have won ten or more races in their careers and only twenty who have won nineteen or more? That, therefore, is a very small and very select group that Robert has joined and he isn't done yet..
Jimmy Prock
, Robert's crew chief, continues to do amazing things with that team and he has to be listed among the top crew chiefs of all time. While Robert does a great job of driving he is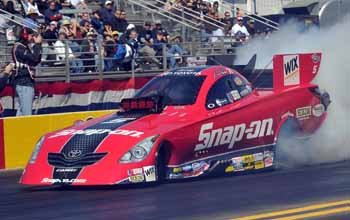 Cruz Pedregon qualified No. 1.
given a very good car, one that just seems to get better as the day goes on. In fact, Robert went quicker in every round on Sunday, beginning with a 4.121 win over Tasca before posting a 4.107 win over his boss, John Force. He followed that up with a 4.070 pass to beat
Ron
Capps and then went 4.056 in the final round, a time that was good enough to beat Matt's 4.023. I guess that's what they mean by a total team effort, isn't it? The car, the driver and the crew all did their jobs and that's why Robert is the Winternationals' champ and why he'll be a threat to win the championship this year....Jimmy is a second-generation drag racer, and even though his father, Tom, was a driver, it looks like Jimmy learned a lot from being with him in his early days.
Did you know
that
Tom Prock
competed at six Winternationals events and that he made it to the semi-finals twice? In 1976 he beat
Raymond Beadle
and
Gordie Bonin
before losing to
Don Prudhomme
in the semi-finals, and then in 1978 he beat
Ezra Boggs
and Gordie Bonin and then lost to
Tommy Ivo
in the semis..
Cruz Pedregon
looked great in qualifying when he ripped off a 4.015 to lead the field.
Did you know
that this was the 40
th
number one spot for Cruz and that's third best in the Funny Car class behind only Don Prudhomme and John Force? Cruz beat his brother, Tony, in round one before losing to Capps in round two. The round one meeting between the brothers was the fourteenth between them and it was only the third time that Cruz beat Tony in the first round.The Funny Car class looks wide open to me and it will be fun to watch the teams in Florida next week to see if the top performers from Pomona can repeat at the Gatornationals.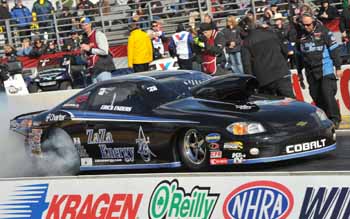 Erica Enders qualified No. 1.
Maybe one of the biggest surprises of the weekend was the fact that
Mike Edwards
did not qualify in Pro Stock. With only two sessions for the Pro Stock cars, Mike never got a handle on the cold track and he missed the field for the first time since the
Las Vegas
race in 2007. Never one to make excuses, Mike said that he had just as many chances as every other driver and he now had lane choice on the interstate on the way home. Nice that he could laugh about it, although I'm sure it's eating him up. Mike has a great car and team and I fully expect him to rebound next week....
Erica Enders
also made news when she grabbed the top spot in the field. After beating
Richard Freeman
in round one she seemed poised to make a run at the final round, but when she wasn't able to back up after the burnout in round two, her day was over. As frustrated as she was, it still was a good sign for her and her
Za Za Energy
team that the car ran well, and I stand by what I said earlier, and that is that she will win races, plural, this year..
Jason Line
did win the event and that's his first victory since Gainesville last year and it is the twenty-second win of his career.
Did you know
that ties Jason with
Dave Connolly
for tenth place on the all-time Pro Stock win list? Jason also did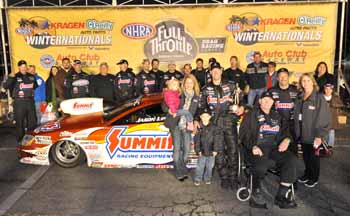 Line and crew celebrate win.
something that had only been done twice before in the history of the race. When he won from the ninth spot,
did you know
that he became just the third Pro Stock driver ever to win the Winternationals from the bottom half of the field?
George Marnell
did it when he won from the sixteenth spot in 2002, and before that the only other driver to win from the bottom half was
Bill Jenkins
in 1972. And Bill's job was even tougher because it was a thirty-two car field and he started the day in the seventeenth position, so he had to win five rounds to win the race. Other than Jason, George and Bill, the Pro Stock race has always been won by someone who qualified in the top half at Pomona..
Buddy Perkinson
made the field and that is a good sign for Ford fans,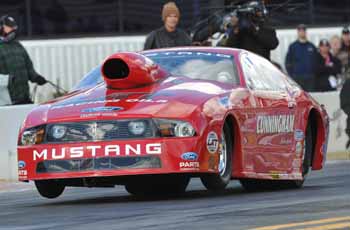 Buddy Perkinson quaified in his Ford.
because along with
Larry Morgan,
that means that there will be two competitive Fords this year and that spices up the entire class. Buddy, Richard Freeman and
Vincent Nobile
were three drivers who each made their first Pro Stock start when they qualified in Pomona and that's also a good sign for the class.
Greg Stanfield
looks like he's ready to pick up right where he left off last year, and that is, as one of the top challengers for the Pro Stock title this year. Driving the new look
Team Safety Sentry
Motorsports
car, Greg made it to the finals on a combination of good driving and a lot of power and he's going to be tough to beat this year.
Did you know
that he was first off the line in all four rounds on Sunday, and that included the final round against Jason?
For his career Greg has left the starting line first sixty-seven percent of the time and that's good in any class, especially Pro Stock. By comparison,
Jeg Coughlin
, generally acknowledged as one of the best, leaves the line first sixty-four percent of the time. Like I said, Greg is very good.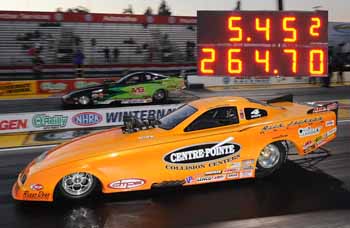 Tony Bartone set the E.T. National record
in the final against Doug Gordon.
There was a lot of exciting racing in the Lucas Oil classes and that included a win and a national record performance by
Tony Bartone
and the
Rick Jackson
Top Alcohol Funny Car team. Tony lowered the record to a 5.452, the time he used to beat
Doug Gordon
in the final round.
Did you know
that the old record, 5.454 which was held by
Frank Manzo
, has stood since the
Richmond
race in 2006? As good as he has been and for as many good cars as he has driven,
did you know
that this is only the second time that Tony has held the national elapsed time record? The other time came at Maple Grove in 2000...
Duane Shields
swept to victory in the alky dragster class and that gives him sixteen wins in the class and it ties him with
Jay
Payne
for sixth place in TAD history..
David Rampy
didn't win the race but he did make it to the finals and that extends one of the great streaks in drag racing history.
Did you know
that David has now been to at least one final round in each of the last twenty-three years? Now that's some record, isn't it?
The "Snake Pit," featuring a lot of Don Prudhomme's old cars along with dozens of other historic vehicles, was a big hit in
Pomona
and so was the "track walk" that "Snake" did on Sunday morning. Watch for more of these walks and lots of special displays at races throughout the year as we celebrate NHRA's 60
th
anniversary. I know there will be a great car display at
Gainesville
so make sure you check it out if you're at the race.




NHRA: 10 Most Recent Entries [ top ]

Apr 19- HOUSTON - Friday Schedule
Apr 19- Tige Boats Named Presenting Sponsor of E3 Spark Plugs NHRA Pro Mod Drag Racing Series Portion of NHRA SpringNationals
Apr 19- HOUSTON - Previous Success, Early Win has Funny Car's Courtney Force Excited
Apr 18- Haney Headed for NHRA Pro Mod with Summit Racing on His Side
Apr 18- HOUSTON - Richie Crampton Enjoying Early-Season Success Heading to 31st Annual NHRA SpringNationals
Apr 18- 2018 Mustang Cobra Jet Celebrates 50th Anniversary of Racing Legend with Quickest
Apr 18- New Ford Mustang Funny Car Scheduled to Debut In 2019 NHRA Mello Yello Season Opener
Apr 16- HOUSTON - Fact Sheet
Apr 16- HOUSTON - After Early-Season Mishap Funny Car's Jonnie Lindberg Looks to Get On Track