Sun, 2 Jan 2011, 01:26 PM



How Does He Do It?



By Kelly Wade


Photo copyright 2010 Auto Imagery, Inc.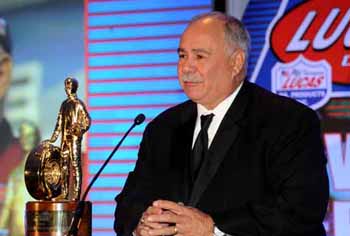 Frank Manzo
What exactly does it take to win a career 14th Lucas Oil Drag Racing Series championship title? Or how about raking in over 200 combined Lucas Oil Series divisional and national event victories? Well, it's simple if you ask the only guy who might know, 2010 Top Alcohol Funny Car world champion Frank Manzo.
"Honestly, a lot of people get mad when I say this, but I think I'm just a very lucky guy," said Manzo, who earned the title in his first season driving the Al-Anabi Racing Top Alcohol Funny Car. "I'm lucky that I can drive a car, tune it, and understand it. We work at it really hard, but there are a lot of great teams out there in alcohol Funny Car, and it seems like every year someone else is rising to the occasion."
Fair enough, but it is Manzo who keeps coming out on top. The humble yet dominating drag racer will admit that his consistency and the ability to get down the track nearly every single run can largely be attributed to experience; he has been piloting an alcohol Funny Car since 1974 and has made over 3,600 runs.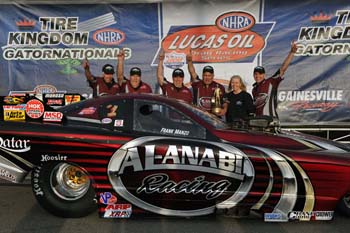 Manzo and crew
celebrate Gainesville win.
"Some of these tracks, I've been going to them every year since 1981," said Manzo. "The average guy has been down a particular track a hundred times, but I've been down it 500 times. I'm not saying I know everything, but I have an idea of what's really going to happen, how the air will change, how the track will react."
Experience and luck came into play all season long, but the whirlwind began when Manzo came out with guns blazing at the NHRA Gatornationals, as if anything less would be expected.
For the 75th time in his career, the Morganville, N.J., drag racer earned a start from the No. 1 position, this time on the basis of a 5.517 that was four-hundredths ahead of the pack and that he would later blow away during eliminations, clicking off three consecutive runs in the 5.40s -- including a low e.t. and top speed of the event 5.475 at 265.44 mph that beat Ryco Hydraulics campaigner Mickey Ferro's 5.498 at 262.44 in the final round.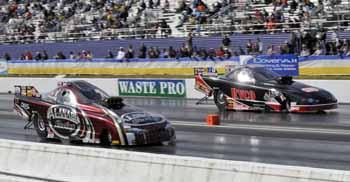 Manzo vs Ferro
in Gainesville fianl.
The exhilarating display followed Manzo's 500th round win in the semifinals, and it marked the first time in the history of the class that two Top Alcohol Funny Cars made side-by-side 5.4-second runs. The fact that it was Ferro in the other lane was the first indication of a major rivalry that would see either one or the other winning all but six of the national events on the schedule and the two meeting in the final round on four different occasions, each time with Manzo emerging trophy in hand.
While Manzo was perfect in final rounds, winning 10 of 10 (four divisional, six national), Ferro raced to the final at 14 of the 15 races he attended, scoring four trophies at the divisional level and four on the national circuit. Final tally of points: 808 Manzo, 787 Ferro.
Ferro was, by no means, the only competition this season. Early in the year, longtime rival Jay Payne had a serious shot at the title, driving to the final round at four consecutive events, winning the Mac Tools U.S. Nationals, and finishing the year with a respectable total of five wins in seven final rounds. Tony Bartone made himself at home in final rounds, marching to six and winning three, and then blasted to an unbelievable 5.449 at 266.00 mph during qualifying at the NHRA Finals in Pomona.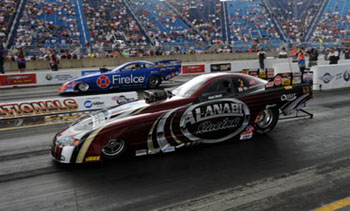 Mazo vs. Payne
at Joliet.
Steve Harker and Sean O'Bannon were each five-time finalists, and Todd Veney kept showing up to take jabs at Manzo in the Permatex/Follow A Dream entry, beating the champ in the semifinals en route to wins at both the Lebanon Valley and Atco points meets.
The only other driver to get past Manzo during the season was Paul Gill at the national event at Maple Grove Raceway in Reading. Manzo, a 12-time winner at Maple Grove who had taken home the trophy every year since 2000, struggled during qualifying and started from the No. 10 spot. It was just the third time that he had started from the bottom of the field at the historic facility, and his luck didn't improve much during eliminations. Gill knocked him out in the second round.
The presence of such worthy opponents might prove to generate a certain level of discomfort when they are scheduled to appear in the lane next to him, but Manzo genuinely abides by a rule of thumb that alleviates fluctuating levels of pressure.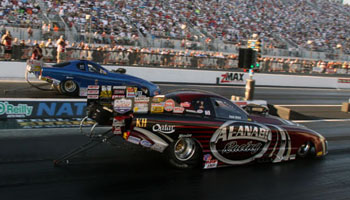 Manzo vs. Clint Thompson
in Charlotte 2 final.
"Every car I race is a great car with a chance of winning the race or the championship," said Manzo. "I race every one of them as if they were the top car in the country, no matter if I have two-tenths on them or two-thousandths, and those drivers are all my friends, so it's also a lot of fun running them."
Though there were many notable achievements over the course of the season for Manzo, they were tempered by the loss of his father, Dominic, just prior to the Mac Tools U.S. Nationals.
"I was with my father every day, and it was a tough thing," said Manzo. "I think a lot of people expected me, knowing Frank Manzo, to pull into Indy Saturday morning. And my father probably would have wanted me to go, but I just felt I wasn't ready, so I took a little time off before I went racing again."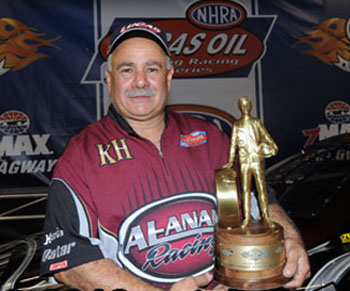 Manzo after winning Charlotte 2.
His love for racing paved the way for a smooth return to a successful season, and he was victorious in his next two events, the O'Reilly Auto Parts NHRA Nationals in Charlotte and the Lucas Oil event at Englishtown's Old Bridge Township Raceway Park.
Manzo is always one to give credit to his team and supporters. He thanked Sheik Khalid Al Thani, wife Michele, Lucas Oil, Hoosier Tire, JEGS, and crewmembers John Glade, Fred Bauer, Ed Hofmann, and Scott Siesing.
"When we race, me and my group, my guys, we have a plan," said Manzo. "A lot of times when we get to the final round, we have good data and good knowledge. I've been lucky in making some pretty good calls, and my car has been able to step it up when it has to. "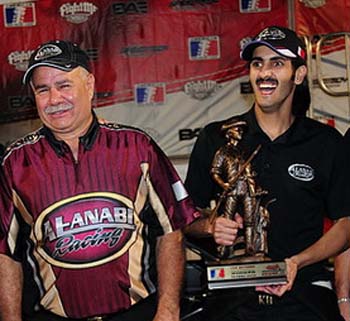 Manzo and Sheik Khalid Al Thani
after winning the rain-delayed
ADRL Hardee's Independence Drags IV.
Photo by Roger Richards
Manzo will return to Qatar after the first of the year to tune the car normally driven by His Highness Sheik Khalid Al Thani, though Sheik Khalid is not scheduled to be in the driver's seat until he recovers from a wrenched back.
Last year, Manzo had a full plate as he balanced crew chief duties for Shiek Khalid and also raced his Al-Anabi alcohol Funny Car, and this season will be more of the same. He will return from Qatar and get right back into the driver's seat in pursuit of a 15th championship, and Manzo is hoping to be able to do a bit of testing and attend a few more races.
"How do I keep up the intensity? I just don't think about what I've done; I think about what I have to do," said Manzo. "It's the truth. I work really hard on my car, and I love to race. I'm hoping I have a few more good years left in me, because someday I won't be racing and some other young guy will come along and all the records will be reset."
For now, Manzo is ready to seize the moment and defend, once more, a well-earned title.
"I've been saying that you better get a good seat because it's going to be a hell of a show next year," he said. "There are a great group of guys in alcohol Funny Car, and we're all pushing each other to strive for the best."




NHRA: 10 Most Recent Entries [ top ]

Apr 21- HOUSTON - Sunday Schedule
Apr 21- HOUSTON - Saturday Video
Apr 21- HOUSTON - Saturday Wrap Up
Apr 21- HOUSTON - Super Stock Class Eliminations Finals
Apr 21- HOUSTON - Funny Car Qualifying, Session #4 Bonus Points
Apr 21- HOUSTON - Total Qualifying Bonus Points
Apr 21- HOUSTON - Funny Car Eliminations Ladder
Apr 21- HOUSTON - Funny Car Final Qualifying, Session #4 Order
Apr 21- HOUSTON - Top Fuel Qualifying, Session #4 Bonus Points
Apr 21- HOUSTON - Pro Stock Qualifying, Session #4 Bonus Points