Wed, 29 Dec 2010, 10:34 AM



Jenkins will Take Good Fortune After Round Three Victory in Qatar



Courtesy of ADRL Communications



DOHA, QATAR --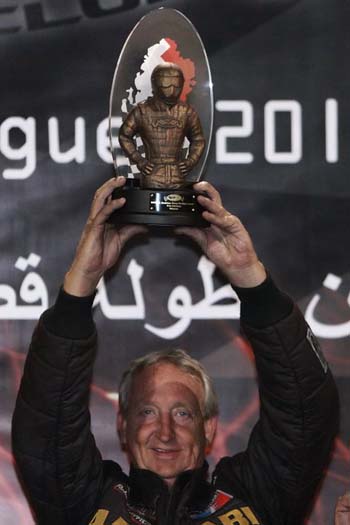 Shannon Jenkins
After what happened during the first two rounds, Shannon Jenkins would have gladly taken any good fortunes in Round Three of the Arabian Drag Racing League at Qatar Racing Club (QRC).
Plenty came his way on Friday and Jenkins returned to a familiar perch - back on top in Pro Nitrous.
Jenkins got plenty of luck, but he did his part and took advantage, winning Round Three in Qatar, returning home after the three-race stretch in December with much some much-needed momentum.
"It's great to finally get our first win of the season here at QRC," Jenkins said. "My guys have done an outstanding job, and I'm very proud of them for their hard work and dedication to our team. I also can't thank Sheikh Khalid bin Hamad Al Thani and the people of Qatar enough for allowing us to be a part of such a great team."
The American Drag Racing League (ADRL) PN standout had plenty of luck to get the win, but Jenkins likely felt like he was due for some.
In the opening round of eliminations, Jenkins defeated Khalid Mohammad from Bahrain Racing on a red light and he followed up with a semifinal win after Khalid Al-Balooshi was off his game.
That led to a rematch of the finals of the ADRL "Battle For The Belts," as Jenkins paired up with Al-Anabi Racing teammate and close friend Burton Auxier.
Both drivers had their hands full when they experienced problems with tire shake right off the line, but it was Jenkins crossing the stripe first, clinching his first win of the season in the Arabian Series.
Jenkins gladly took the win, but he is still disappointed with the car's performance and lack of consistency.
"We are still searching for that missing link that keeps upsetting this race car," Jenkins said. "During qualifying, we made some great runs in the 3.90 range, and felt pretty confident, so we didn't make any changes going into first round.
"Then, when the track began to cool off first round, we had our hands full, because this particular car refuses to go down this race track when it gets cool."
The problem continues to confound Jenkins and his talented team, which meant there were no typical "Iceman" performances during eliminations.
That meant only one thing.
"Luck, luck, luck. That's all I can say," Jenkins said. "The numbers were by far not what we were looking for, but we did get the win, and that's our main goal."
Jenkins and his crew will depart from Qatar on Monday to spend the holidays with their families.
Although frustration remains with the "Iceman" and his team due to the car's performance, a win, a runner-up and two No. 1 qualifying spots, will certainly make their break a little more enjoyable.
"We look forward to spending the holidays with our families, and this win will certainly make our break more enjoyable," Jenkins. Said. "However, we will be back at the shop, hard at work, trying to find new combinations to make this car happy.
"The last five races will be tough, no doubt, but we are going to do everything we can to find the right set up, so we can remain on top."
Round Four of the eight-race series begins with qualifying on January 6 at QRC in Qatar.