Wed, 22 Dec 2010, 12:26 PM



Magnificent Mark Sanders Joins Prostalgia Championship Chase Against the Best in the



Courtesy of IHRA Communications



Most Exciting Man in Drag Racing Joins Nitro Jam Tour



NORWALK, Ohio --
Business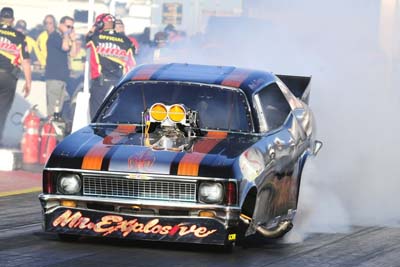 Sanders took Nitro Jam by storm last season,
winning twice at Salt Lake City.
In the world of nostalgia drag racing, car nicknames are often times a common place among the competitors.
>From "Jungle Jim" to "Bullet Bob" and everything in between, car names can be anything from a reflection of the cars capabilities on the track to a random and sometimes off the wall nickname that stuck. But for some, a car nickname can be a direct reflection of the man sitting behind the wheel.
And that is where "Mr. Explosive" Mark Sanders comes in.
A relatively new face to the drag racing scene, Sanders has made quite a name for himself over the past few years as one of the most exciting men in drag racing. Drawing dozens of comparisons to famous straight-line racers such as John Force, Sanders has already taken the nostalgia scene by storm.
And now, after two years earning his stripes, Sanders is ready to take his talents to the next level by joining the hottest new funny car show in drag racing with Nitro Jam's Prostalgia Nitro Funny Car circuit in 2011.
"Nitro Jam races rock. I love the nitro warm-ups, the television interviews, seeing all the fans having a good time - it is all a lot of fun," Sanders said. "We only like to go where the best in the business are going to be. It makes you work three times harder and there is only one thing better than putting the boys in the box one at a time, but we will come back to that at the end of 2011 when we are holding the big trophy."
Beginning his racing career in Mud Drags and Blown Alcohol Sand Drags, Sanders has roared down the strip in dozens of different machines and on multiple drag racing surfaces. But over the latter part of the decade Sanders decided to move in a new direction with the help of his son Jake.
Looking for a project during his senior year of high school, Jake worked with his dad to create a Nitro Funny Car from scratch and amazingly, just two years later, Jake had his dad winning races and running for championships behind the wheel of the appropriately named "Mr. Explosive" machine.
"Our car we have now was approximately a two year project. Everyone around was telling me I should get into a Nitro Funny Car and about that time our then 18-year-old son asked for suggestions for a senior project. That got the whole thing started," Sanders said. "Jake went on his entire senior year building this car and then helping me test it and now, in 2010, we posted four victories, a couple of runner-ups and dozens of five second runs. It was quite an experience."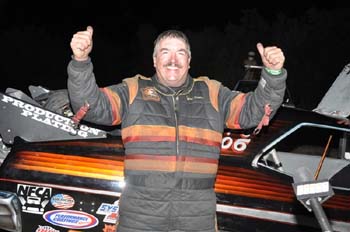 Sanders has been called by some the
most exciting nostalgia racer in the game today
and he will try to prove that on
the Nitro Jam tour in 2011.
As a part of his standout season Sanders gave the Nitro Jam tour a test run in 2010 with a pair of races at Salt Lake City and Edmonton and immediately made his presence known by sweeping the new class at Rocky Mountain Raceways in Utah. Sanders defeated Tim Boychuk and local favorite Jack Harris in his impressive debut behind the wheel of the "Mr. Explosive" 1970 Chevy Nova.
In addition to collecting the wins, Sanders also debuted his over-the-top personality in the Salt Lake winner's circle with one of the more memorable victory lane celebrations of the year and if all goes as planned in 2011, Sanders hopes to spend even more time hoisting Ironman trophies in the winner's circle this season.
"The 2011 season will be our busiest one yet. We are looking forward to being a part of the Nitro Jam tour next season and visiting a lot of new places," Sanders said. "We can't wait to get the new year underway."
Known for his endless energy and youthful enthusiasm, Sanders instantly earned his status as a fan-favorite last year and looks forward to growing the "Mr. Explosive" legend even more this season. But it certainly won't be easy.
Sanders will be up against one of the toughest fields yet as defending Prostalgia NFC champion Steve Nichols returns to the show, along with championship runner-up and seven-time event winner Peter Gallen. Sanders will also square off with Mike McIntire, Greg Jacobsmeyer and Richard Hartman while a full contingent of west coast racers will join the tour at stops in Texas, Arizona, Utah and Alberta, Canada. There will also be a few surprise faces joining the tour throughout the season.
And it all gets underway January 28-29 at Palm Beach International Raceway's Palm Beach Nitro Jam as Sanders kicks off his championship hunt on the beaches of south Florida.




IHRA: 10 Most Recent Entries [ top ]

Apr 24- Racers Receive Prizes at IHRA Summit Sportsman Spectacular Opener
Apr 24- Comeaux, Hughes Make History at IHRA Summit Sportsman Spectacular
Mar 21- 2018 IHRA Summit Sportsman Spectacular Series on April 20-22
Feb 26- Weather-Related Construction Delays Postpone IHRA Xtreme Raceway Park Opener
Feb 16- IHRA Summit Sportsman Spectacular Schedule Announced
Feb 15- New York Track Finds Value for Racers with IHRA Agreement
Feb 15- IHRA Summit Sportsman Spectacular Debut Only One Month Away Now is the Time to Pre-Enter
Feb 15- Summit Texas Location is a Racers' Paradise
Feb 15- Canadian Track Makes Large Commitment to IHRA Drag Racing
Jan 27- Mid-Michigan Destination Joins IHRA Family