Fri, 17 Dec 2010, 01:32 PM



Hinbest Racing Team Donates in Unique "Round Win for Charity Program"



Courtesy of Tim Miller



Quick 32 Sportsman Series Top Dragster Team and Sponsor Give Back to Charity After Wins on



ORANGEVILLE, ONTARIO --
Dragstrip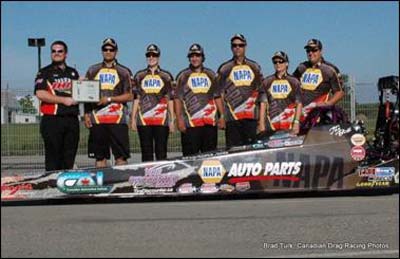 Hinbest Racing
The Hinbest Racing team certainly enjoys racing its Top Dragster in the Quick 32 Sportsman Series presented by NAPA Auto Parts, but the team also gave to charity through its racing this year.
In a coordinated program with sponsor Ideal Supply, the team donated $50 to charity for every round win on the dragstrip during regular competition in 2010, and Ideal matched the team's contribution.
"This was something we decided to do earlier," said team driver Mike Hinbest. "The goal was to help raise money for charity while adding an extra incentive for me to win."
With six round wins, Hinbest Racing and Ideal Supply contributed $600 this season to the Canadian Cancer Society.
"We are proud to be associated with Hinbest Racing," said John MacDonald of Ideal Supply. "The Round Win for Charity Program is another feather in their cap and a true display of character."
Ideal Supply is one of the team's major sponsors along with NAPA Auto Parts, The Canadian Automotive Institute and the Tire Discounter Group.
The Hinbest charity drive will continue for next season, said Mike Hinbest, adding the team is not only looking at other charities, it is planning on getting more sponsors to sign up.
And for the ultimate challenge, Hinbest has thrown down the gloves for other teams in the Quick 32 Sportsman Series.
"I think we should challenge the other teams in the Series," he said. "Let's get more involved in giving back to those less fortunate."
Hinbest Racing,
www.hinbestracing.com
, will be entering its third year of Quick 32 Sportsman Series competition with the Mike Bos Top Dragster entry and Mike Hinbest as driver. Powered by an ERD (Engine Research & Development) - prepared 540-cubic inch supercharged Big Chief engine, the team placed 10th in the Championship Point Award Series and was the Marydel Homes quickest qualifier at five out of six events in the Top Dragster division for 2010.




Drag News: 10 Most Recent Entries [ top ]

Apr 22- K&N Spring Fling Million Final Day Results
Apr 21- K&N Spring Fling Million Friday Results
Apr 20- K&N Spring Fling Million– Thursday Results
Apr 19- K&N Spring Fling Million- Wednesday Results
Apr 18- Buckeye S/SS @ National Trail April 28th
Apr 18- Don "the Snake" Prudhomme Returns To Baja Competition After 50 Years
Apr 18- K&N Spring Fling Million Tuesday Results
Apr 17- K&N Spring Fling Million Pre-Race
Apr 12- Summit Racing Equipment is Newest Sponsor of Midwest Junior Super Series
Apr 12- Summit Racing Named Official MWPMS Sponsor and Event Title Rights Holder