Mon, 6 Dec 2010, 05:04 PM



Summit Racing Equipment Retains Status as Official High-Performance Source of ADRL



Courtesy of ADRL Communications



O'FALLON, Mo. --
The American Drag Racing League (ADRL) is pleased to announce that Summit Racing Equipment will continue to be the official high-performance source for the ADRL in 2011. Summit Racing Equipment Motorsports and Events Manager Jim Greenleaf is excited about the 2011 partnership.
"We're looking forward to it," Greenleaf said. "There are a lot of positives for both the ADRL and Summit Racing."
Summit Racing Equipment will also be the major sponsor for Pete Berner's Extreme Pro Stock car.
"We are proud to be a part Pete's team, he is a great representative for Summit Racing," Greenleaf said "We are looking forward to celebrating his first ADRL victory, and I know he wants that first Minuteman Trophy as bad as we do."
Summit Racing will also continue its sponsorship of the Summit Racing Equipment Ohio Drags national event. The action-packed event returned to the beautiful Summit Motorsports Park in Norwalk, Ohio in 2010, drawing a strong crowd and an excellent competitor turnout.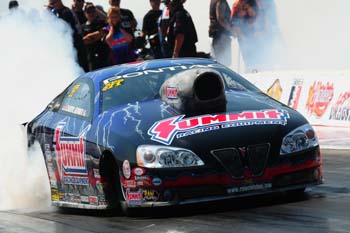 Pete Berner
"Partnerships like the one ADRL has with Summit Racing are key to making the ADRL successful," ADRL Executive Vice President Jeff Fortune said. "Summit Racing has exceptional knowledge and experience in marketing to our fans and has been so generous with its support and resources. We are very fortunate to have Summit Racing back for 2011 and hope to keep it as a partner for years to come."
Greenleaf predicted even bigger things for the race in 2011 as a result of Summit Racing's growing relationship with the ADRL.
"I feel there's more opportunity to make that event one of the biggest on the schedule," Greenleaf said. "It's a great event and we expect it to get even better. I've always wanted to get that race back to Summit Motorsports Park. It gives our employees a chance to see what the ADRL is all about and we just felt that's where the race needs to be. The ADRL racers deserve to race at excellent tracks like Summit Motorsports Park and the racers were excited to get back there.
"The ADRL puts on a great show with great racers and we love the atmosphere at its event. We see continued growth. We look forward to maintaining our official status and we're excited about the direction of the ADRL. There's definitely a lot of excitement among racers and fans and we're excited to be a part of it."