Sun, 28 Nov 2010, 12:14 PM



Morrell Becomes First Female Champion in ADRL History With PXM Victory



Courtesy of ADRL Communications


Photo copyright 2010 Roger Richards





O'FALLON, Mo. --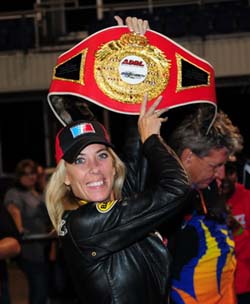 Kim Morrell
Kim Morrell wouldn't chalk it up to fate or destiny, but she knew her moment to shine was coming.
After months of tremendous improvement and coming oh-so-close to her first American Drag Racing League (ADRL) event win, the fastest female on two wheels enjoyed her moment on the ADRL's biggest stage.
On a thrilling and unforgettable day, Morrell shocked nearly everyone, beating Ashley Owens in the Pro Extreme Motorcycle finals of the Speedtech "Battle For The Belts" at the LenMar Motorsports ADRL World Finals VI at Texas Motorplex, becoming the first female to win a "Battle For The Belts" world title in the ADRL.
"This was coming and now I'm a World Champion," Morrell said with a beaming smile. "I believe in that kind of stuff. I knew we had it in the bike and I knew I had it in me. I just did what I had to do."
Something certainly appeared to be on Morrell's side in Ennis, Texas, as she enjoyed a charmed ride for each of her three "Battle For the Belts" round victories, including the championship race against Owens, who entered the event with an unprecedented eight wins in 10 events in 2010.
But it was Morrell's day in every sense of the word.
She had a red-light win against Ronald Procopio in the first round and then gladly accepted a bye into the finals when both of her could-be semifinal competitors fouled in their first round race, eliminating both from the championship chase.
That put Morrell up against Owens, who had just made the quickest pass in PXM history at 4.021 seconds at more than 175 miles per hour.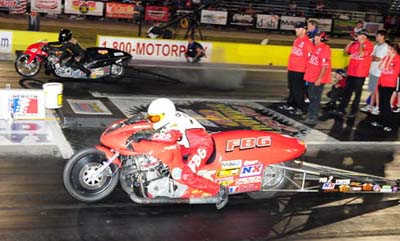 Owens vs. Morrell
But an oil drip caused Owens to break early in his run and while Morrell was having her own engine troubles, she coasted to the win in 4.49 seconds.
What immediately ensued after Morrell's win light came on was a whirlwind of emotions.
"I was just screaming when the light came on and I just put my head down," Morrell said. "I'm just so pumped. I can't believe this. "I'll probably wake up tomorrow and just cry."
Morrell advanced to her first two ADRL event finals late in the year, but she lost both times to Owens, who was in the midst of becoming the first ADRL competitor to win five straight races.
But the Fort Lauderdale native continued to press forward, and her confidence and drive never wavered.
When she faced Owens one more time, she felt things would be different.
Morrell was spot on, handing Owens just his second loss in an otherwise dominating season.
"Everybody has their day and Ashley has had it all year," Morrell said. "I look up to him, but this is just unbelievable."
As much as Morrell looked up to Owens, she also wanted to beat him in the worst way.
That much was evident as her team worked tirelessly to improve leading up to the "Battle For The Belts" at Texas Motorplex.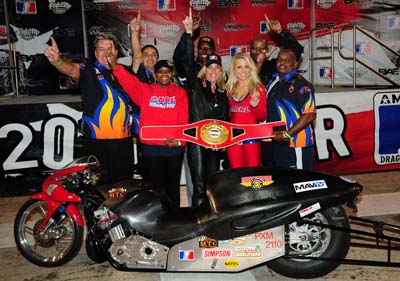 Morrell and crew celebrate win.
She went 4.024 in qualifying earlier last Friday, just missing the world E.T. record and setting the tone for her magical day.
In fact, it's been an awe-inspiring year for Morrell, who has made dramatic strides as a rider.
She also found a team that believed in her and the combination has pushed Morrell to new heights.
Of course, it all culminated with a championship that puts her permanently in the record books.
"The list goes on and on of the people that have supported me this year," Morrell said. "It's just amazing to think about all the people that have helped and supported me this season. I can't say enough about my team and the people around me."