Mon, 4 Oct 2010, 11:04 AM



Up She Goes



By Kelly Wade


Photo copyright 2010 Auto Imagery, Inc.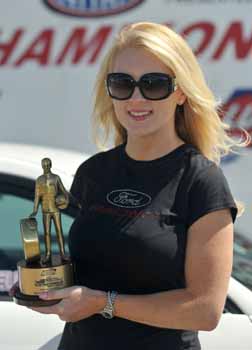 Grace Howell
Once a driver is tucked into their racecar neither gender nor looks are a factor; all that matters is how well they can get from point A to point B. Book smarts and day jobs also fall into the matter-not category until the car crosses the finish line and the driver is transported back to reality. Grace Howell possesses a college education and an affinity for business, and she's young and beautiful to boot, but for the 24-year-old from Aiken, S.C., these facts are neatly set aside a handful of seconds at a time as she takes on the role of dedicated Stock and Super Stock racer in the NHRA's Lucas Oil Series.
Howell was a racetrack kid, tagging along with mom Janice, who also raced until Grace came into their lives, and pop Bill, a two-time national event winner in the Stock category and three-time Southeast Division titlist. Bill also earned the IHRA national championship in 1990.
"I followed in my dad's footsteps," said Howell. "I don't think there was ever a doubt in my mind that I wanted to do this, and honestly, it's all that I've ever known. It's a lifestyle I've always wanted, and I couldn't wait until I was old enough to drive a car."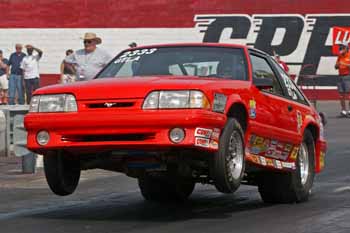 In her GT/LA '93 Mustang
at the 2003 Gatornationals.
The waiting didn't take long, and Howell got her wish at the age of 8, when she began racing in the Jr. Drag Racing League. Her successful stint in the junior ranks reached a high point in 1996 when at 10 years old she won the NHRA national championship. A few years later, when she was just 16, she traded in the little rail for a big girl car - a '93 Mustang Super Stocker.
The young woman is a drag racing enthusiast for certain, but her ambitions have extended beyond quarter-mile competition. After high school, Howell attended USC Aiken and shortly thereafter opened her own clothing boutique while also working in the family's commercial printing business. She recently made the decision to close the boutique and focus on her contributions to the expansion of Howell Printing Company, an institution that has been in her family for more than 150 years.
"I'm very fortunate that both of my parents have helped me with anything I wanted to do, and they have never really pushed me into anything," said Howell.
Graduating from a Jr. dragster to a Super Stock car is quite a leap, but with the encouragement of her parents, Howell barely batted an eye at the challenge.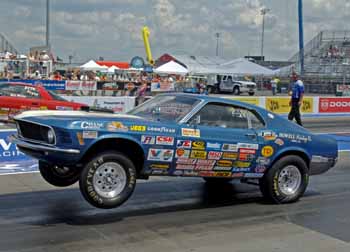 Going rounds in the Stock
'70 Mustang in St. Louis 2006.
"I really love Super Stock and the big wheelstanding cars; they've always excited me. It really was kind of a shock, though," admitted Howell of the transition. "I didn't race a street car or anything down the track between the Jr. dragster and the Super Stocker, which probably would have been a smart move because it was a completely different experience. It was a big adjustment, but I loved it from the start."
In her first year racing in the Super doorslammer category, Howell proved her worth and raced to the final round of competition at the Division 7 event in Tucson at Southwestern Int'l Raceway. The next season, the aspiring competitor increased her efforts by two when she began racing in Stock as well, driving a '70 Mustang in the B/SA class in Sonoma. Howell began to make a name for herself on the national event circuit that same year by picking up a few Super Stock round wins at the Gatornationals in Gainesville, and for the next few seasons she continued chipping away at the competition and refining her driving skills.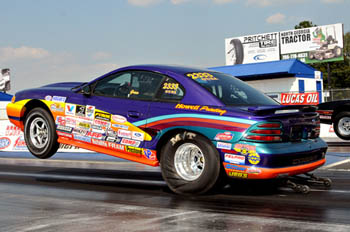 Howell at the
Atlanta Division 2 race in '08.
Photo by BME Photography
By the time 2008 rolled around, Howell, who finished 7th in the Super Stock standings for Division 2 in 2007, was ready for another growth spurt, and established Sport Compact racer Marty Ladwig stepped in with a tremendous opportunity.
"Marty somehow became interested in Super Stock and Stock, and he saw me racing," recalled Howell. "He had raced with General Motors for a few years, and he approached me [about a two-car team.] It worked out to be a great fit, and I got to race a factory Sport Compact car for General Motors in 2008 and 2009 in the NOPI/NHRA Xplod Pro Stock category. Oh, it was a blast."
The 2008 season emerged to be Howell's most successful yet, and she was runner-up in her debut and then picked up a win in Salt Lake City later in the season in her GM-backed Sport Compact entry. In NHRA competition, Howell triumphed in Columbus at a divisional event, taking home the Wally just a week after her Sport Compact victory.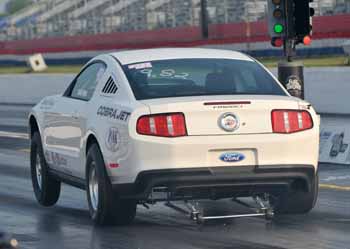 Wheeling the Cobra Jet
Mustang Stocker in Atlanta.
"That was a really exciting couple of weeks, getting back-to-back wins like that," said Howell. "Marty still helps us, even with my Super Stock racing. He's been a big mentor for me."
In addition to Ladwig's guidance, Howell is grateful for the support of her parents as well as Mike Whittle, who is a tremendous help at the track. Further gratitude is offered for engine builder Mike Saye of Carolina Machine Engines, Mickey Thompson, and Ford Racing, who have recently become a very important part of Howell's career.
"I just got a '10 Cobra Jet Mustang that Ford only made 50 of as a factory race car, and I am racing that in AA/SA, and I've really enjoyed it," said Howell. "It's been a great car, and Ford has really helped us out. I won class at Indy, and I was really excited about that because there is always such tough competition there."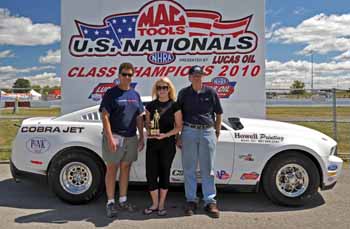 After winning the AA/SA class trophy
at the 2010 U.S. Nationals.
The class win wasn't the first for Howell, but the Mac Tools U.S. Nationals are tough to even qualify for, making a class trophy at the esteemed event an incredible symbol of achievement and one that contributes to Howell's thoughts of even greater prospects in the sport.
While she has traded up in Stock, she has also taken another big step in Super Stock, acquiring the SS/AM '05 Cavalier previously owned by ace competitor Brad Plourd.
Howell plans to continue racing Stock and Super Stock for the time being, but she also hopes to take a turn in Competition Eliminator eventually, and beyond that, the ambitious driver dreams that a Pro Stocker will someday carry her name on the window.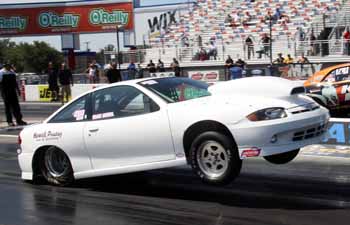 In the new SS/AM Cavalier
at the fall event in Charlotte.
"I love the classes where it's not only about horsepower but also about driving skill," said Howell. "In Pro Stock it's back to the basics; it's a driver's class but you also have to strenuously work on horsepower, and it's about who can do the best within the rules.
"As a racer, I always want to do as well as I can. From weekend to weekend, there are different challenges, but there are also new rewards. Every season I'm trying to further myself and become a little bit better. I love the competition, and I love winning races as much as anyone does. Believe me, it's wonderful. And the experience of being able to share this with friends and family, that makes it even better."




NHRA: 10 Most Recent Entries [ top ]

Apr 22- HOUSTON - Sunday Pro Mod Wrap Up