Sat, 2 Jan 2010, 10:38 AM



Stability Is A Good Thing



By Bob Frey


Photo copyright 2009 Auto Imagery, Inc.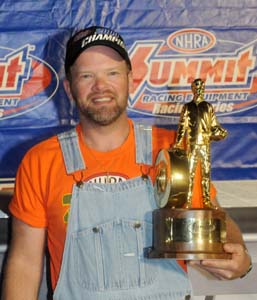 Tracy Crutcher
In the world of sports today there are very few things that remain the same, and if they are the same, they aren't that way for long. Free agency in baseball, lucrative contracts in basketball and big salaries in football always seem to lure a player or a coach away after a few seasons, if that. I'm a Philadelphia Phillies' fan and we had Cliff Lee for a couple of weeks at the end of the season and now he's gone. The coach at the University of Cincinnati went undefeated and then left the team for another job even before they played in their bowl game. And so it goes. Well if anyone wants to find the picture of consistency and a guy who likes stability, and if they want to model themselves after someone may I suggest the 2009 Summit Racing Series Sportsman Champion, Tracy Crutcher?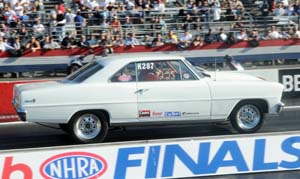 Tracy Crutcher
Tracy and his brother, Bill, traveled over 2,000 miles from their home in Pleasant View, Tennessee to Pomona, California in order to compete in the Summit Series national championship. "That sure was a long ride," Tracy said. "But I have to admit that the ride home was a lot easier because we won. I feel badly for those guys who came as far as we did and didn't win." One of the reasons that Tracy won might be the car that he has raced, which is in fact the only car that he has ever raced. "I've had this car since I was sixteen," he said. "It's very consistent and I know what it will do in almost every type of condition." Tracy has his mom and dad to thank for the car since they gave him the 1966 Chevrolet Nova when he turned sixteen. "My brother has a car that is almost like mine except his is a '67," Tracy said. "And he got that from mom and dad, too." Not only did Bill accompany his brother to Pomona but he was at most of the races that Tracy attended during the year. "We're pretty close, and where ever you see one of us racing you'll probably see the other." Not only has Tracy had his car (and his brother) for a long while, but he has also had the engine in it for a good period of time. "It's a 350-Chevy crate motor and I've had it in the car for over seven years." He admits to making over three thousand passes on the car and over five hundred this year alone. "I have to say that Chevy makes a great engine, because all I did all year long was change the oil and I haven't had any problems at all." Now that's a way to make some money from your racing operation, keep the same car for over two decades and keep the same engine in good running order for seven years. "Except for the fact that it has a 4:56 gear in it I could almost drive it on the street."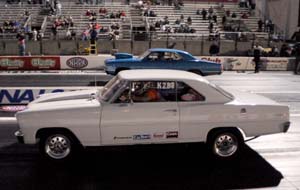 Crutcher vs. Darrel Goheen
Not only does Tracy have stability in his race operation he also has it in his daily life. "I work at Dixie Graphics and I've been here since three days after I graduated high school twenty-one years ago. The people here really treat me well and they were all excited when I came back with the trophy." In fact, after looking at his runs in California, about the only thing that wasn't stable about Tracy were his dial-ins, where he went from a 12.25 in round one to a 12.20 in round two and an even quicker 12.19 in the final round. "The weather conditions changed almost every time we ran. We had some time trials early in the day when it was cool and the next one was later in the day in the heat so it wasn't easy to pick a dial-in." His brother helped by watching the weather and by keeping an eye on his opponents. "He wrote down what every guy ran on every run and that came in handy once we got to eliminations," Tracy said. His slowest dial-in of the day was in that first round, a round he won on a double-breakout against the Division 6 champion, Martin Jackman. After consulting with Bill he then changed the dial-in to a 12.20 in round two, and he won that round when he put a 12.22 on the board against Jason Kizlinski from Division 4. "That round was tough because of the way the sun was and it made it really hard to see the lights on the tree. It just looked like a black shadow so I had to concentrate on the lights to get a good reaction time." In the final round, when it got darker and cooler, he dialed the 12.19 and ran 12.22 against Darrell Goheen, the D-5 champ. "The car was on a '15' pass so I backed into him a bit at the end. I had a good light and that helped a lot." In fact, he had pretty good reaction times in all three rounds, culminating with a best of .011 in the final round.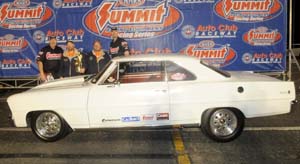 Crutcher celebrates win.
For Tracy, racing at a national event was a relatively new thing, and for his brother it was a first time experience. "When you race as much as we do, which is almost every week, you don't have a lot of time to go to other races. Bill had never been to a national event so he enjoyed seeing the pros and the fuel cars run." Tracy races in two classes, Pro and Sportsman, at Music City Raceway and at Bowling Green and this year he represented Division 3 in his championship run. Over the course of his career Tracy has won seven track championships including two this year in the Sportsman class at Beech Bend and Music City. He also won the Pro Race of Champions at the Division 2 Finals at South Georgia Motorsports Park in 2009. "I've been very lucky in my racing career, but this was the first time I qualified for the nationals. After I won the division title Bill and I went to the Division 2 finals and we were hoping that he could do well there and go to Pomona, too." But that didn't happen and Bill went out early but he was still a big part of Tracy's success. One other thing about Tracy is the fact that he hadn't raced at the quarter-mile distance all year until he went to the division finals. "We race at all eighth-mile tracks," he said. And when asked what the difference is for him and his trusty Nova when he goes to 1,320 feet he simply said, "It's twice as long." Now see, isn't life simple?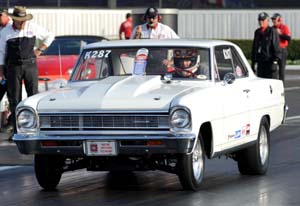 In a world where most things are constantly changing, it's nice to see someone who has the same job, the same car and the same engine for a long time. "I love the car and it's been very good to me. I can't wait to get back to the track and start racing again in 2010." That will come in March when the tracks open again, and for the first time ever, Tracy will bring his Chevy to the track with something different, because this year, for the first time, he'll have the number one on it. "I don't know how all that Gold Card stuff works," he said, "but I can't wait to find out."
You can't win as many races as Tracy has without a lot of help and support and he would like to thank his sponsors including Coan Engineering, Moser Engineering, Summit Racing and Calvert Racing. "I have to say that John Calvert went above and beyond what a contingency sponsor is supposed to do," Tracy said. "So a special thanks to him and his entire team." He went on to thank Dale Whitaker of Whitaker Racing Engines and Transmissions as well as all the racers and staff at Beech Bend Raceway and Music City Raceway for all of their support. "But most of all," he added, "I would like to thank my family."




NHRA: 10 Most Recent Entries [ top ]

Mar 22- LAS VEGAS 1 - Defending Funny Car Winner Tommy Johnson Jr. Excited for Four-Wide Racing
Mar 22- NHRA Northwest Nationals Tickets on Sale Now
Mar 21- LAS VEGAS 1 - Fact Sheet
Mar 21- LAS VEGAS 1 - Event Preview
Mar 20- Strong Stable of Contending Pro Stock Racers Vie for Final Starting Position for K&N Horsepower Challenge
Mar 20- GAINESVILLE - Special Awards
Mar 20- GAINESVILLE - Lucas Oil Drag Racing Series Wrap Up
Mar 19- GAINESVILLE - Sunday Video
Mar 18- GAINESVILLE - Pro Mod Sunday Wrap Up
Mar 18- GAINESVILLE - Sunday Wrap Up