Tue, 22 Dec 2009, 12:58 PM



Foster and Hanna Team Up to Claim D-3 TAFC Championship



Courtesy of Tim Charlet



DAVENPORT, Ia. --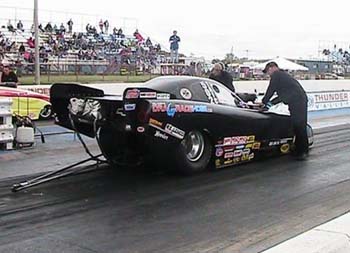 Chris Foster
For NHRA Division 3 Top Alcohol Funny Car driver, Chris Foster and his crew chief Will Hanna, the 2009 NHRA Lucas Oil Drag Racing Series will go down as one for the ages. After capturing three divisional event victories in Chicago, Ill., Columbus, Ohio and Noble, OK., the Davenport, Iowa based driver captured his first division championship in NHRA D-3 by a mere 10 points over second place finisher Andy Bohl. The team also finished the season 7th in the NHRA National point standings.
"Foster Racing's 2009 season was a make or break year," stated Foster while attending the PRI show in Orlando, Fla. "We decided we were going to make the car run competitively or park it. With a new engine combination, fuel system and the knowledge of newly acquired Crew Chief Will Hanna, we were able to achieve three wins, two runner-ups, and two semifinal finishes. We were able to win the Division 3 Championship and finish 7th nationally. To say we met our goals would be an understatement."
In order to clinch the D-3 championship, Foster needed to capture an event victory at the team's final opportunity to claim points, the Division 4 finale in Noble, Ok. The team qualified in the number 3 position and advanced to the final round after defeating defeat Burl Brown in the opening frame. In a huge semifinal bout with three-time Division 4 Champion Steve Harker, the D-4 kingpin triggered the red light with a -0.007 second reaction time, while Foster was clean and green with a 0.027 light. Foster eventually beat Lance Van Hauen to capture the event victory and the Division 3 TAFC Championship.
"Our back was definitely against the wall going into Noble," Hanna stated. "We took a risk and made the switch to the new NRE X-1 Cylinder Heads. We thought they would be worth a 'little' more power. They ended up being worth quite a bit, and it took us a few races to get a handle on it. We finally got a handle on the monster in Noble. Noble was such a clutch performance by the whole team. Chris and the guys never let the pressure get to them, even going into the final. I'm proud to just be associated with the feat."
"We wouldn't have been able to do it without the support of our sponsors, DragRaceHose.com, Ken Juszczyk of Motorsports Unlimited, Larry Goldbeck of Tracktamer Engines, JR at RBS Superchargers and Derek Dahl at Victory Valves," added Foster. "Behind the scenes we had a year of zero mistakes by the crew, which is a big part of our success. My dad John, My step dad Dwight Baxter, Dewayne "Cooter" Scott, Bruce Meyer, Kevin Felske, Rick Hanna and Bryan Brown did a superb job this year. Of course, my mom Jean and my wife Deanna made sure everyone was fed all year. It truly was a team effort, and we look forward to 2010."




Drag News: 10 Most Recent Entries [ top ]

Apr 22- K&N Spring Fling Million Final Day Results
Apr 21- K&N Spring Fling Million Friday Results
Apr 20- K&N Spring Fling Million– Thursday Results
Apr 19- K&N Spring Fling Million- Wednesday Results
Apr 18- Buckeye S/SS @ National Trail April 28th
Apr 18- Don "the Snake" Prudhomme Returns To Baja Competition After 50 Years
Apr 18- K&N Spring Fling Million Tuesday Results
Apr 17- K&N Spring Fling Million Pre-Race
Apr 12- Summit Racing Equipment is Newest Sponsor of Midwest Junior Super Series
Apr 12- Summit Racing Named Official MWPMS Sponsor and Event Title Rights Holder