Tue, 22 Dec 2009, 12:58 PM



Excitement Building for History Making Nitro Jam at Palm Beach



Courtesy of IHRA Communications



NORWALK, Ohio --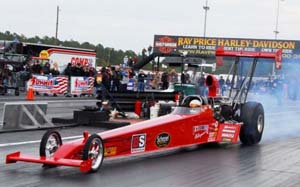 Jeff Veale
With the first Nitro Jam of the New Year approaching in a hurry members of the IHRA are hard at work preparing for what could be one of the biggest events in International Hot Rod Association history.
With 20 nitro dragsters and funny cars, the first ever IHRA showdown between jet trucks, wheelstanders, hundreds of sportsman racers and more fireworks than the Fourth of July, next month's nitro extravaganza at Palm Beach International Raceway is shaping up to be one of the biggest events of the year.
And at the center of it all is a new streamlined format that has everyone buzzing.
"I truly believe in our new format because it will give fans exactly what they want. We have always had plenty to see and do at our Nitro Jam events, the only difference is that this year we are adding even more excitement to the show while requiring less time to be spent at the track," said Aaron Polburn, IHRA President. "Actually, with the new format, all of our fans will be able to find something they like. Want to watch sportsman racing? Spend the entire day watching some of the best sportsman in the business uninterrupted by scheduling delays. Want to just enjoy a good show? Come in the evening and interact with the drivers followed by the most exciting three hours of your life. Want to see both? Buy one ticket at our lowest price in years and watch over 12 hours of drag racing action.
"We didn't reinvent the wheel here. We are just making our events more efficient and more exciting than ever before. I can't wait to show the world what we can accomplish starting next month in Florida."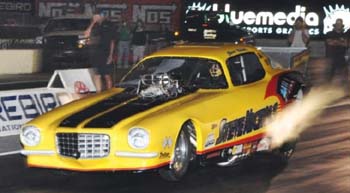 Steve Nichols
Next month's Palm Beach Nitro Jam is scheduled for January 29-30 at the beautiful Palm Beach International Raceway. Along with debuting the new format, the IHRA will also be making its debut at the brand new Florida facility which signed with the IHRA earlier this year.
In just a few short months the world-class facility just outside of Palm Beach, Fla. has garnered the praise and attention of just about everyone in the motorsports industry. In fact just a few days ago PBIR was at the center of the drag racing world as dozens of race teams from across North American traveled to south Florida for testing.
And in just a few weeks Palm Beach will once again be at the center of the racing universe when IHRA hosts the first major motorsports event of 2010.
Don't miss a chance to be a part of history when IHRA unveils two brand new classes in Pro Fuel and Prostalgia Nitro Funny Car, a drag racing first as two jet semis producing 60,000 combined horsepower go head-to-head and a brand new format all at one of motorsports most talked about new venues.




IHRA: 10 Most Recent Entries [ top ]

May 15- IHRA Summit SuperSeries Championship is Underway at Member Tracks
May 15- Xtreme Raceway Park Ready to Host IHRA Summit Sportsman Spectacular
May 15- Cordova International Raceway Summit SuperSeries Champions Honored
May 15- Saskatchewan International Raceway Joins IHRA
May 15- IRG Sports + Entertainment Expands Leadership Team
Apr 24- Racers Receive Prizes at IHRA Summit Sportsman Spectacular Opener
Apr 24- Comeaux, Hughes Make History at IHRA Summit Sportsman Spectacular
Mar 21- 2018 IHRA Summit Sportsman Spectacular Series on April 20-22
Feb 26- Weather-Related Construction Delays Postpone IHRA Xtreme Raceway Park Opener
Feb 16- IHRA Summit Sportsman Spectacular Schedule Announced