Mon, 21 Dec 2009, 08:16 PM



Pro Modified Racing Association's Top Five for 2009- Mark Nielsen Second Place



Courtesy of Tim Miller


Photo Credit: Bill Mehlenbacher Photography and Mike Goodwin





BRANTFORD, ONTARIO --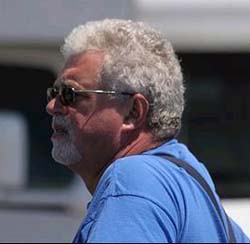 Mark Nielsen
Even though he placed second in the 2009 Pro Modified Racing Association Championship Point Award Series, Mark Nielsen is looking for bigger and better next season in Pro Modified competition.
"I know we finished second," said Nielsen, of Brantford. "But I don't think we did that great ourselves. We didn't get enough clear runs."
Driving the G-Force Race Cars 1969 Yenko Camaro Pro Modified, Nielsen's best showings in the six-race series was a runner-up at the June 14 running of the PMRA Challenge at Cayuga Dragway, and a runner-up for the final September 20 event, also at Cayuga.
Nielsen also qualified the Camaro number one at this last PMRA race with a 6.148-second posting at 233.03 mph, but lost in the final.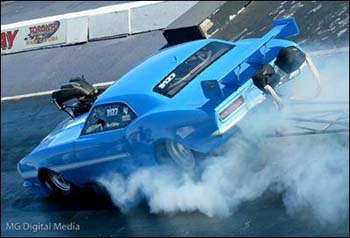 Mark Nielsen
"We're looking to improve next year," Nielsen stated. "We plan to make changes to the car. I think we have to be more consistent."
One way the crew thinks they can improve their consistency is with a Bruno automatic drive to replace the present Lenco clutch setup in the car, but that is still in the thinking process.
Powered by a ERD (Engine Research & Development) 526-cubic inch Brad Anderson (BAE) Supercharged Hemi with a PSI/ERD Stage One supercharger and ERD fuel system, the Camaro is staffed by Randy Gronlund, Richard Ruysseveldt, Les Mellows, Dave Ross, Natalia Kalivodova and Rachel Ross and will travel to selected IHRA and other sanctioned events around the PMRA schedule.
Nielsen presently holds the quarter-mile speed record in PMRA competition with a 237.30-mph run in 2008, and won the 2006 PMRA Challenge at Cayuga Dragway. But for 2010, he believes more stability is needed.
"Bruce (Boland, 2009 PMRA Champion) was always able to be there," Nielsen remarked about Boland winning races. "He won on consistency, and that's the name of the game."




Drag News: 10 Most Recent Entries [ top ]

Apr 24- NHRA Heritage Series Heads To Wild Horse Pass
Apr 22- K&N Spring Fling Million Final Day Results
Apr 21- K&N Spring Fling Million Friday Results
Apr 20- K&N Spring Fling Million– Thursday Results
Apr 19- K&N Spring Fling Million- Wednesday Results
Apr 18- Buckeye S/SS @ National Trail April 28th
Apr 18- Don "the Snake" Prudhomme Returns To Baja Competition After 50 Years
Apr 18- K&N Spring Fling Million Tuesday Results
Apr 17- K&N Spring Fling Million Pre-Race
Apr 12- Summit Racing Equipment is Newest Sponsor of Midwest Junior Super Series