Thu, 17 Dec 2009, 01:50 PM



Pro Modified Racing Association's Top Five for 2009- Jeff Roth Third Place



Courtesy of Tim Miller


Photo Credit: Bill Mehlenbacher Photography & Brad Turk





KITCHENER, ONTARIO --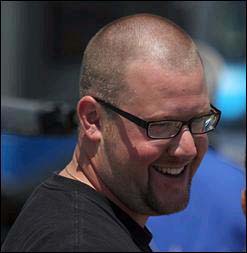 Jeff Roth
Hard work and perseverance paid off for the Roth Racing Team in 2009, as the team debuted a new car in the Pro Modified Racing Association tour this year, and finished third in the PMRA Championship Point Award Series.
"It was an up and down season," commented Jeff Roth, driver of the 1941 Willys Pro Modified. "But we learned a lot. We were running a whole new combination."
Roth drove the Willys to an event win during the PMRA's Labor Day Weekend PMRA Challenge race at the Grand Bend Motorplex, the team's best showing in the six-race series.
Although the team qualified for most events, it had problems getting the car down the track. Powered by an Alan Johnson 526-cubic inch Atchison Racing supercharged engine, the highlight of the season for the Lowdown Hot Rods-built car was winning at Grand Bend.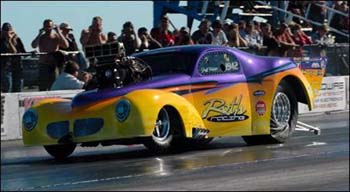 Jeff Roth
Roth qualified the car number two in the field with a 6.264-second, 231.83-mph pass, and was able to beat 2009 PMRA champion Bruce Boland of Hamilton, Ontario in the final with a 6.208, 226.30 lap over Boland's 6.212, 226.30.
"Considering we were running a new car with a new screw blower and a new transmission, we were pleased with our results this year," said car owner Jim Roth.
Others on the team with Crew Chief Dave Bankes include Larry Summerfield, Marc McCrae and Ashley Medeiros. The car is sponsored by Oak Grove Cheese, NGK Spark Plugs and Fire Core 50.
A PSI screw blower and Bruno Converter Drive/Lenco three-speed transmission were installed in the new Willys this year.
"Certainly the high this year was winning at Grand Bend," said Jeff Roth. "We suffered from a lot of tire shake this year and breaking parts, that were the lows.
"But at Grand Bend, with a little luck, we got it from A to B and won."




Drag News: 10 Most Recent Entries [ top ]

Apr 22- K&N Spring Fling Million Final Day Results
Apr 21- K&N Spring Fling Million Friday Results
Apr 20- K&N Spring Fling Million– Thursday Results
Apr 19- K&N Spring Fling Million- Wednesday Results
Apr 18- Buckeye S/SS @ National Trail April 28th
Apr 18- Don "the Snake" Prudhomme Returns To Baja Competition After 50 Years
Apr 18- K&N Spring Fling Million Tuesday Results
Apr 17- K&N Spring Fling Million Pre-Race
Apr 12- Summit Racing Equipment is Newest Sponsor of Midwest Junior Super Series
Apr 12- Summit Racing Named Official MWPMS Sponsor and Event Title Rights Holder