Thu, 17 Dec 2009, 12:38 PM



Quick 32 Sportsman Series Top Five for 2009- Kevin Wicke Champion



Courtesy of Tim Miller



STRATFORD, ONTARIO --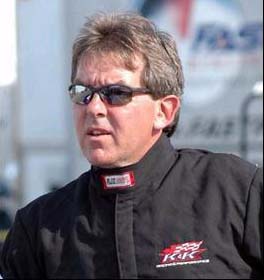 Kevin Wicke
There was a fair bit of thrashing with a new car, and some mechanical gremlins, but Kevin Wicke and his K&K Racing Dodge Stratus came out on top, winning the 2009 NAPA Quick 32 Sportsman Series Point Award Championship.
"We won rounds when we needed to," explained Wicke, driver of the 604-cubic inch with B1 Heads - 2 stage NOS system-powered Stratus. "This was a new car for us, and we spent a lot of late nights with it."
Wicke did not outright win any of the six Quick 32 Sportsman Series races this season, but always made the elimination rounds, and was the runner-up in the Top Sportsman class for the September 19 event at the Cayuga Dragway at TMP, the team's best showing.
The Quick 32 Sportsman Series is comprised on Top Dragster, and Top Sportsman, cars. The two classes of cars race within their class, and then the winner of each class is paired for the event final, with that winner declared the event champion.
"We got the car to come around the last few races," he said. "We had some mechanical woes, and we broke some little stuff which gave us lots of grief. But we figured out the tune-up."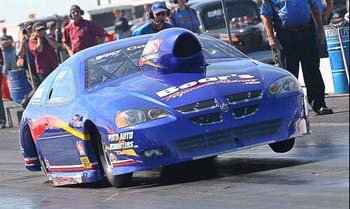 Kevin Wicke
The RJ Race Cars Stratus, a former Pro Stock car, employs a Hutchinson Two-speed Powerglide/Coan Converter transmission and a Magna Fuel System setup. Kevin Zimmer crew chiefs with the team, and other members include Dan Culliton, Dennis Culliton, Kody Wicke, and Kayden Wicke. The team is sponsored by Fram Canada, Perth Auto Dismantlers, Skully Bros. Metal Fabrication, Bear's Performance Products, Ron's Precision Machine, Fraser Asphalt Paving, Hutchinson's Transmission and CVR Inc.
"I really want to thank my crew," mentioned Wicke. "I had tremendous dedication from the team. And I couldn't have done any of this without Zim (Zimmer).
"I also want to thank Larry at Bear's (Performance)," he went on. "He was a big help in many aspects and a big thanks to him."
Wicke also had good things to say about the new series.
"I loved the deal," he said. "It was impressive. My crew and I really enjoyed it."




Drag News: 10 Most Recent Entries [ top ]

Apr 22- K&N Spring Fling Million Final Day Results
Apr 21- K&N Spring Fling Million Friday Results
Apr 20- K&N Spring Fling Million– Thursday Results
Apr 19- K&N Spring Fling Million- Wednesday Results
Apr 18- Buckeye S/SS @ National Trail April 28th
Apr 18- Don "the Snake" Prudhomme Returns To Baja Competition After 50 Years
Apr 18- K&N Spring Fling Million Tuesday Results
Apr 17- K&N Spring Fling Million Pre-Race
Apr 12- Summit Racing Equipment is Newest Sponsor of Midwest Junior Super Series
Apr 12- Summit Racing Named Official MWPMS Sponsor and Event Title Rights Holder