Sat, 12 Dec 2009, 11:42 AM



National Guard ADRL Welcomes Simpson Performance Products



Courtesy of ADRL Communications



O'FALLON, Mo. --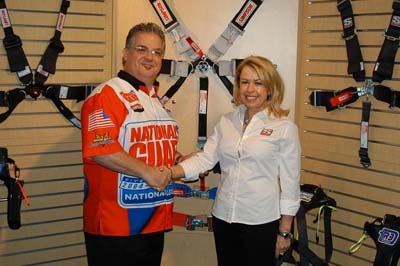 Brian Evans and Debbie Bishop
The National Guard American Drag Racing League (ADRL) is pleased to announce Simpson Performance Products will join its manufacturer's midway at all 10 events on the 2010 National Guard ADRL Tour.
"We're looking forward to supporting the entire ADRL family next year with head-to-toe safety products, including helmets, head and neck restraints, driving suits, gloves and racing shoes. We'll also have seat belts and other car-related safety products on hand, too," Simpson Vice President of Marketing Debbie Bishop said.
"Our number-one priority at every race is keeping our racers safe and having an industry leader like Simpson on site is going to be a great bonus to them," National Guard ADRL VP of Sales and Marketing Brian Evans added. "Simpson has a lot of neat products for fans, too, such as backpacks, tote bags and even a custom baby seat for the back seat."
Bishop said she is "especially excited" about Simpson's new relationship with the National Guard ADRL considering the tremendous growth the all-eighth-mile drag racing series has seen in just five years.
"The ADRL is obviously made up of a smart group of folks who realize the connection between the racers and the fans," she said. "I'm looking forward to attending my first ADRL event and experiencing that for myself."
Simpson Performance Products will begin displaying at National Guard ADRL events at Safety-Kleen Dragpalooza VI, next March at Houston Raceway Park.