Fri, 4 Dec 2009, 04:40 PM



Old School Racer Captures SCEDA Championship



Courtesy of Tim Charlet



FONTANA, Calif. --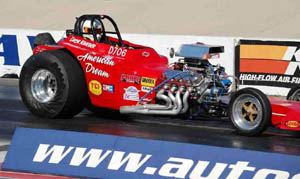 Dick Krieger
The Southern California Drag Racing Association (SCEDA) is proud to announce Dick Krieger as their 2009 Mickey Thompson Performance Tires and Wheels non-electronics series champion. For the 69-year young Krieger, who lives in Henderson, Nev., the SCEDA championship is another feather in the cap of what has become a very successful racing career.
Krieger began drag racing in 1964 at Niagara Falls Drag Strip located in upstate New York behind the wheel of a 1957 hard-top, two-door Chevrolet. After winning many races with the car he moved from New York to San Diego in 1968 and started building an "ECONO" dragster as they were know at the time. It was a former junior fuel car that he purchased with a 118-inch wheelbase, powered by a small block Chevy with Chevy 2 headers turned upside down and a one-gallon gas can for the carburetor scoop. Krieger captured the 1974 NHRA Sportsnationals in Competition Eliminator and was also track champion at Orange County International Raceway in 'bracket-one' defeating (current NHRA and Southern California track announcer) Mike English for the coveted title.
Krieger took a sabbatical from drag racing in 1975 until he caught the racing bug again in 2002. He purchased a new Chevy SS Camaro and started racing at his home track, 'The Strip' at Las Vegas Motor Speedway in Vegas. In late 2004 he purchased a 23-T Altered, has put 768 runs on it with the same engine build by Jim Horne and never has taken it apart. The powerglide transmission was built by Steve White of S& W Transmission in Huntington Beach and he is grateful to him as well for building such a great transmission. He has captured event wins with SCEDA and PSCA. Krieger also runs the altered in the nostalgia series, he has run 4 NHRA Super Comp events where he was number one qualifier twice and won one event, all without any electronics. His biggest dollar win to date occurred at the Thanksgiving Las Vegas bracket race in 2008 where he won $5,000 in 9 rounds of bracket racing.
Krieger is the definition of old school. He races for the fun of it and is having a blast competing with SCEDA racers. Krieger would like to thank his crew chief, his son-in-law Pete Pinto for all his help and he looks forward to the 2010 season.




Drag News: 10 Most Recent Entries [ top ]

Apr 21- K&N Spring Fling Million Friday Results
Apr 20- K&N Spring Fling Million– Thursday Results
Apr 19- K&N Spring Fling Million- Wednesday Results
Apr 18- Buckeye S/SS @ National Trail April 28th
Apr 18- Don "the Snake" Prudhomme Returns To Baja Competition After 50 Years
Apr 18- K&N Spring Fling Million Tuesday Results
Apr 17- K&N Spring Fling Million Pre-Race
Apr 12- Summit Racing Equipment is Newest Sponsor of Midwest Junior Super Series
Apr 12- Summit Racing Named Official MWPMS Sponsor and Event Title Rights Holder
Apr 11- NMCA All-Star Nationals Chevrolet Performance Challenge Series Final Results