Mon, 30 Nov 2009, 10:34 AM



A Couple Of Final Thoughts



By Bob Frey


Photo copyright 2009 Auto Imagery, Inc.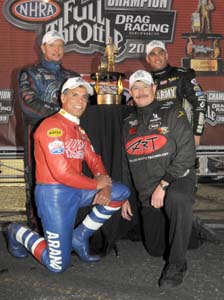 Standing: Hight and Schumacher
Kneeling: Arana and Edwards
What a year. It all started out with a lot of rain in
Pomona
and it ended up with a lot of sunshine in
Pomona
. In between there was a lot of rain, some great racing, some stunning upsets, some wild runs and three new professional champions. I would like to see how many of those who picked champions at the start of the season picked any of the 2009 champs. Some, although not many, may have picked
Tony Schumacher
, but I doubt that there were many who thought that
Robert Hight, Mike Edwards
or
Hector Arana
would be the champs. In the interest of fair reporting I have to admit that I didn't. Of course, over the past several years (like about twenty!), I don't think I've had a very good record for selecting the champs. Maybe that's because I often pick the drivers who end up winning the most races but not the championship.
Did you know
that only one of the eventual champions won the most races in their class, and even he tied with the champion? Tony won the championship with five wins while
Antron Brown
had six. Robert Hight won the championship with just three wins while
Ron
Capps
had five. In Pro Stock, Mike won the championship with five wins compared to
Jeg Coughlin's
seven, while in the bike class
Eddie Krawiec
won five races and that's the same amount as the champ. (EVER HAPPEN BEFORE?)....Of course, even under the old championship points system there were drivers who won the championship without winning the most races, as in the case of
Rob Bruins
in 1979, who won the championship without winning even a single race.
Or Eddie Krawiec last year.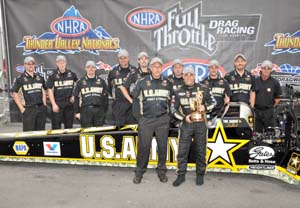 Schumacher and crew.
There were certainly a lot of good stories this year but none seem to be as interesting as the Tony Schumacher story. Coming into the year, on the heels of losing his crew chief,
Alan Johnson
, the obvious question wasn't could he win the championship but could he win a race? But as we have seen over the years,
Don Schumacher
makes a lot of really good decisions and choices, and the one to get
Mike Green
as the crew chief has to go down as one of his best. Mike has been around this sport for a long while and he certainly knows his way around a fuel motor and he didn't seem to miss a beat when he joined the team. As Tony said this past weekend, "the first time I went down to
Florida
and met the team, we couldn't even get the car started the first time we tried." Apparently that was only a temporary setback because they started it a lot this year and won the championship in dramatic fashion....again. Tony also has to get a lot of credit for what he has done as a driver because he has now won the Top Fuel championship with three different crew chiefs and that's very impressive....
Larry Dixon
didn't win the championship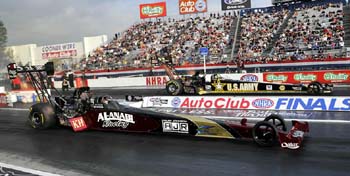 Dixon vs. Schumacher
Photo by Bob Johnson
but he did have a good year. Of course he came into 2009 with high expectations and that could be why anything short of a championship probably seems like a letdown for the
Al-Anabi
team. I know that if you talk to
Alan Johnson
, he will certainly tell you that it was a "good year, but not a great year." That's because he always goes out to win, not just races, but championships. It should be fun when these two teams, and the others, go at it again in 2010. Larry did win a total of forty-seven rounds this year and, coincidentally, that's the exact same amount of rounds won by the champ, Tony Schumacher. Of course, they were tied for second place behind Antron's fifty-one round wins. Larry's complete season gave him a total of 819 rounds for his career and that moves him past Bob Glidden and into fifth place on the all-time list. Ahead of him are
John Force, Warren Johnson, Kenny Bernstein
and
Kurt Johnson
.
Did you know
that John, Warren and Kenny are the only pros in the history of the sport to have competed in over 1,000 rounds of racing?...Larry did set the Top Fuel speed record at Pomona at 321.58 mph and that's the fourth time in his career that he has held at least one end of the national record...Antron Brown, who had a good year even if he did slump a little in the playoffs, won at Pomona when
Spencer Massey
fouled out in the final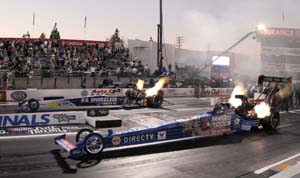 Brown vs. Massey
round. This was Antron's eighth Top Fuel win and that ties him with another Brown,
Kelly Brown,
on the Top Fuel win list.
Did you know
that Kelly won his eight races in just twenty-eight national events? Now that's very good. Antron's win also gave him wins at the Auto Club Finals in two different pro classes.
Did you know
that AB becomes just the second driver to win the final race of the season in two different pro classes? Kenny Bernstein won in Top Fuel and Funny Car and he's the only other driver to win in two pro classes at this race. Nice company for Antron to be in, isn't it?...And Kenny got a horse for his thirty years with
Budweiser
, now how cool is that? Those folks don't give away Clydesdales every day, in fact they hardly ever do it, but they thought so much of the "King" that they gave him one. For the record,
the beautiful horse that they presented to Kenny at
Pomona
isn't the one he will eventually get. He'll get to go to the farm and pick a young one and then watch it grow up, and they do grow up in a hurry. Nice going, Kenny and Budweiser...
Robert Hight's championship really is a tale of two seasons. For the first eighteen races of the year he could hardly win a round, let alone a race, and then he makes the "Countdown" at Indy and just about runs the table in the last six races. The fact that he came from the tenth and final spot in the "Countdown" to win the championship is proof that, "if you're in you can win." Did you know that Robert won a total of thirty rounds for the year and that exactly half of them came in the six races in the "Countdown?" And of his thirty round wins nine of them came against members of Team Force. He beat Ashley four times and John five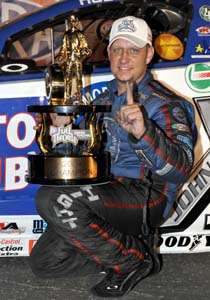 Robert Hight
times, and surprisingly, he didn't face
Mike Neff
all year long. Robert has now been on both of sides of the "Countdown," winning it this year after just getting in and losing in 2006 after seemingly having the championship locked up, or close to it. Robert gave a very nice speech at the awards ceremony and he will make a great champion. He's a nice guy, a good family man and an excellent driver and I'm sure he'll be a credit to his team and his sponsors. If you happened to read
USA Today
last Friday you saw the beautiful, full-color add that the
Auto Club
, and other Team Force sponsors ran, congratulating Robert and his team. Speaking of that, the folks at the Auto Club are taking a New Year's Eve cruise with all of the Team Force members and, from what I hear, there's still time to make a reservation. Hey, it should be better than what you did last New Year's Eve. Now admittedly I don't know what you did last year, but a couple of
days on a really neat ship with John and his team sounds like a great way for a fan to usher in the new year. Or you could do what I did and spend the night in Times Square in New York, but believe me, it will be a bit colder in the "Big Apple" then it will be on that cruise....
Did you know
that nine of the drivers who finished in the top ten this year in the Funny Car class all won at least one race? The only one who didn't win was
John Force
, and for John not to win a race was really one of the notable parts of the season since he had won at least once every year since 1987....
Did you know
that
Jeff Arend
won a race this year and he was the only driver who finished outside of the top ten this year to win a race...
Leah Pruitt-LeDuc
made her NHRA debut at Pomona, and while she didn't qualify it will be interesting to see what lies ahead for her.
Mike Edwards won the Pro Stock championship with what was, arguably, the best car in the class this year, but like the other pro classes, he didn't win the most races. Mike won five times this year, the same amount as Jason Line, while Jeg Coughlin won the most with seven national event wins. Did you know that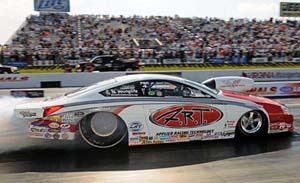 Mike Edwards
Mike won fifty-three rounds this year and
Greg Anderson
, who finished in second place, won forty-three, while both Jason and Jeg won fifty rounds each?...There were four drivers who made the top ten but didn't win a race this year, including
Greg Stanfield, Kurt Johnson, Johnny Gray
and
Rickie Jones
. Of that group Greg Stanfield had the best year finishing fourth in the standings, which was his best finish in any class since he finished third in Comp Eliminator in 1996. I don't know about you, but Greg and his team impressed me with what they did this year. They certainly worked with a smaller budget than a lot of the other teams but they were almost always competitive, and to finish fourth without winning a race was very good....Like John Force,
Kurt Johnson
failed to win a race this year and that ended his streak of fourteen years in a row with at least one win. Unlike John, Kurt did make a couple of final rounds this year and that means that he has been to at least one final round every year since 1995, a period of fifteen consecutive years.
Did you know
that 1994 is the only year in his career that KJ didn't win a race or make a final round?
Did you know
that Kurt's eighth place finish is his lowest since he finished ninth in 2001? Even with that he has now been in the top ten every year of his career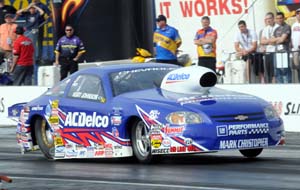 Kurt Johnson
and that's quite an accomplishment. Now if he could just secure a sponsor before the start of the 2010 season that would assure us that he will be racing next year.....With Kurt's fate up in the air the obvious question is what is the status of his father,
Warren Johnson
? I spoke with WJ at the
SEMA
show and he seemed to indicate that he may return, although if you know
Warren
, you know that he hardly ever gives you a truly straight answer to any question. Will be return? Yes. Will it be as a driver? I don't know.
If anyone ever had a great turn around from one year to the next it would have to be Hector Arana. Did you know that Hector, who had won fifty-nine rounds coming into the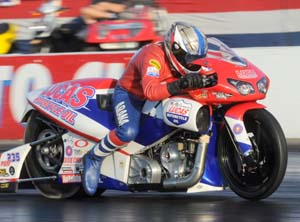 Hector Arana
2009 season won thirty-four this year? It's obvious that 2009 was a great year for Hector, but to show you just how good it was,
did you know
that this is only the second year in his career that he has won as many as ten rounds of racing? In 1997 he won thirteen rounds and, other than that, he had never been in double figures in the number of rounds won in a single season. If he isn't the "Most Improved" professional racer this year I don't
know who is. After speaking with
Forrest Lucas
at the awards ceremony, it was clear that he has great respect and admiration for Hector. "I saw something in him a long time ago that I liked and he hasn't disappointed me," he said. To the best of my knowledge, Hector has been carrying the
Lucas Oil
name for more years than anyone else in drag racing, and maybe more years than anyone in any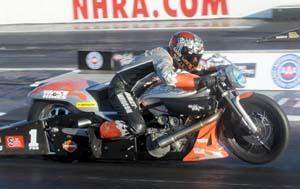 Eddie Krawiec
form of racing....Eddie Krawiec now knows what it feels like to be on the other side of the math. By that I mean that, in 2008, he won the championship and didn't win a race, while in 2009 he tied for the most wins and won, by far, the most rounds in the class and still he finished second.
Did you know
that Eddie won forty-six rounds this year and that's a dozen more than Hector? And
did you know
that, in the seventeen Pro Stock Motorcycle races this year, Eddie went to the final round eleven times? I wonder what he would say if you asked him which year was a better year for him, 2008 or 2009? Of course he'd say the championship year but '09 wasn't too bad, either...Once they got into the "Countdown" both Hector and Eddie were good, very good.
Did you know
that they both won fourteen rounds in the playoffs? It was a great season for the bikes and it was a lot of fun to watch, although I'm not sure how much fun it was for the competitors, since the drama at Indy trying to make the top ten and the battle for the top spot at
Pomona
had to be very stressful on all of them. I know it was for me and I was just watching.
In the upcoming weeks we'll take a look at the champions, both pro and sportsman, but for now, just sit back, relax and enjoy the off-season. Oh yeah, and have a Happy Thanksgiving.




NHRA: 10 Most Recent Entries [ top ]

Apr 24- CHARLOTTE 1 - Fact Sheet
Apr 24- Kalitta Motorsports Welcomes NASCAR Stars to the SealMaster Track Walk in Charlotte
Apr 24- zMAX Dragway Celebrates 10th Anniversary
Apr 24- CHARLOTTE 1 - NGK Spark Plugs NHRA Four-Wide Nationals Brings 40,000 Horsepower Thrill Show to zMAX Dragway
Apr 23- HOUSTON - Lucas Oil Drag Racing Series Wrap Up The NHRA Lucas Oil Drag Racing Series Wrap Up
Apr 23- CHARLOTTE 1 - J.R. Todd Aiming for Two Four-Wide Racing Wins in 2018
Apr 23- Mid America Dragway Joins NHRA Member Track Network
Apr 23- HOUSTON - Special Awards
Apr 23- HOUSTON - Sunday Video
Apr 22- HOUSTON - Sunday Pro Mod Wrap Up