Mon, 5 Jan 2009, 10:16 AM



David Surmatchewski Learns Persistence Pays Off Finishes Third in 2008 TNT Super Series



Courtesy of Lewis Robinson


Photo copyright 2008 Canadain Drag Racing Photos





Season Finished with Strong Momentum



OAKLAND, ONTARIO --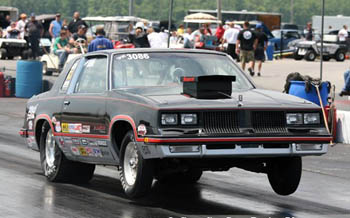 David Surmatchewski
Being a high school teacher in southern Ontario has its ups and downs. But David Surmatchewski from Oakland ON has fun on the blacktop as well as the blackboard. In the 2008 Joe's Transmission TNT Hot Rod Super Series, Dave finished in 3rd place out of 45 competitors. "Yeah, we would've won the whole thing if it wasn't for six thousandths of a second in the final of that last race of the year," said Dave.
A shop teacher for 15 years, Dave put together his 1983 Cutlass from scratch - everything from building the engine and installing the roll cage to applying the popular Hurst-Olds paint scheme. A serious bracket racer since 1997, Dave has been running in the TNT Series since its inception. In fact, he won the first ever TNT event on Canadian soil at Toronto Motorsports Park (TMP) back in late 2006. "That was the first race using the throttle stop and I've been hooked on Hot Rod ever since!" said Dave. He decided at the tail end of last season that the racing focus would be to run TNT and put an effort forward to make every race for this season. "Turned out I made all of them and the times that I couldn't make were the rain out days! Good luck eh?" he added.
Dave likes the TNT Series because it offers the same Hot Rod class index format and high level of competition experienced at IHRA events - And he says it's also good practice for the IHRA events.
After the 2007 season, Dave threw out the GM based engine block and replaced it with a DART piece. This greatly increased the reliability of the car. "The GM block hated the stop, it kept leaking around the deck when hot lapping during index racing." The car became very consistent and easy to set the timer for fairly precise ET's right off the trailer every time.
Dave's success in 2008 didn't come easy though. The season started off well with a semi-final finish on opening day at Dunn Tire Raceway Park (DTRP). After that outing the rounds didn't come as easy. Dave had a bit of a drought for a while. He even endured four days of rain at the Mopar Canadian Nationals only to lose first round late Sunday evening running dead-on with a four (10.904) to Steve McCarrick.
But then the Grand Bend IHRA Pro Am event came around and Dave ventured out on Sunday August 24th. Well didn't he make it to the finals and score a runner-up in his first-ever final round in IHRA competition.
Then everything changed on October 3rd at DTRP. It was one of those race days where everything went wrong. And he was double-entered to boot. His battery charger gave up and his weather station went south. Ten rounds of competition later and with some time slips only nine minutes apart, Dave scored a runner up in TNT Hot Rod (to Jason Vitez) and a semi-final finish in Top ET.
Couple this with yet another final round appearance on October 19th at TMP and Dave concluded a tight points battle in third spot. A solid qualifier, Dave qualified in the top ten at each of the NINE events in 2008 - The only TNT driver to be able to make that claim.
Dave was quick to thank Alex Schut from Insta Insulation for his support, Brady Kelly and the former Tri-Line Auto Parts and Danny & Don Douglas from Douglas Engines of Brantford Ontario for all their support over the years. "Last but not least I would like to thank my family Alyson, Marissa and Madison for their support all season long," added Dave. "Next year, the plan is to go out early with the TNT Series and see what happens."
The schedule for the 2009 Joe's Transmission TNT Hot Rod Super Series is currently being finalized. Discussions are underway with various tracks in the southern Ontario / western New York area. Monitor www.tntsuperseries.com at least once a week for updates.

Top 10 Standings for 2008 
1st place - 471 points - Ted Barnes 
2nd place - 460 points - Paul Young 
3rd place - 450 points - David Surmatchewski
4th place - 445 points - Gary Stowell 
5th place - 434 points - Jon Jablonski 
6th place - 430 points - Bill Elekes 
7th place - 391 points - Wayne Sipos 
8th place - 382 points - Jamie Stoneman 
9th place - 375 points - Gary Kerl 
10th place - 335 points - Joe Passero 





Drag News: 10 Most Recent Entries [ top ]

Apr 24- NHRA Heritage Series Heads To Wild Horse Pass
Apr 22- K&N Spring Fling Million Final Day Results
Apr 21- K&N Spring Fling Million Friday Results
Apr 20- K&N Spring Fling Million– Thursday Results
Apr 19- K&N Spring Fling Million- Wednesday Results
Apr 18- Buckeye S/SS @ National Trail April 28th
Apr 18- Don "the Snake" Prudhomme Returns To Baja Competition After 50 Years
Apr 18- K&N Spring Fling Million Tuesday Results
Apr 17- K&N Spring Fling Million Pre-Race
Apr 12- Summit Racing Equipment is Newest Sponsor of Midwest Junior Super Series