Thu, 1 Jan 2009, 02:26 PM



Everybody Got What They Wanted!!



By Bob Frey


Photo copyright 2008 Auto Imagery, Inc.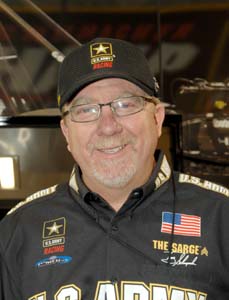 Alan Johnson
It's no surprise right now that two of the biggest stories in the sport are the upcoming debut of the new
Alan Johnson
teams and the concern over the number of fuel cars that we will see at the first race (and subsequent races) in 2009. I have been involved with this sport for a long time and I can't remember seeing a season that, apparently, will start with such pessimism. Of course, the financial situation that is affecting the drag racing teams isn't limited to our sport, but it is being felt in all forms of sports and business in general. Just today there were several announcements of companies in this country who will be laying off employees who have never done that before. Even major franchises in other professional sports are having problems, so for those who think it is something that is unique to drag racing, it isn't. From a wider perspective, it might be better for everyone in the country if it were just drag racing that was having problems, but it's not. It will be an interesting year and everyone, sanctioning bodies, teams, sponsors and even fans will have to take a look at how they do business and how they spend their money. Stay tuned..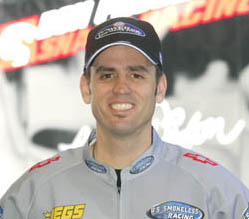 Larry Dixon
The long-awaited announcement of the driver for Alan Johnson's Top Fuel team came a few days ago and it is, to almost no one's surprise,
Larry Dixon
. There were a lot of rumors going around about who may get the job and some, and I have no idea where they got this information, even reported that Alan, himself, would drive the car. All anyone had to do was ask Alan about that to know that it was never going to happen. I told Alan the other day that I had a better chance of driving the car than he did, to which he responded, "Well, you've got the right build for a driver." I reminded him that what I didn't have was skill, experience, ability, aptitude and courage, and I believe all of those things are needed in a driver. Still, after reviewing Alan's stint as a driver in the family's alky car years ago (many years ago), maybe those things aren't as necessary as I thought. Oh well, let's move on....Coming off a season when he just led the
Army
team to another
POWERade
World Championship and a record setting season, it will be interesting to see how Alan's new team does right from the beginning. We could get an indication early in the year because they will, like several other fuel teams, be in
Florida
in a few days to test at the all new
Palm Beach International Raceway
. With its all-concrete surface (it's actually concrete from the burnout area to the last turn off), the track has already earned rave reviews from those who have been there. Granted, the test sessions have been done mostly by Pro Stock teams but they all praised the facility. It's flat, smooth, even on both sides and one of the nicer racing surfaces in the country, according to those to whom I have spoken. Plus it's warm down there and that's a real plus, especially if you want to be able to make as many runs as you want. I met several of the people from the track at the recent PRI show in
Orlando
and they said that, in addition to the weather, they have another thing in their favor and that is they don't have any noise restrictions or curfews. I guess when you're right near a jet engine plant, noise isn't really a consideration.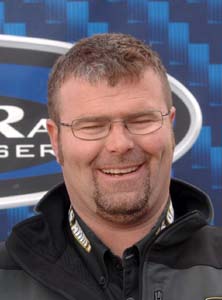 Jason McCulloch
Getting back to Alan and his team, I saw a quote from Larry Dixon on NHRA.com where he talked about his new gig and his new crew chief,
Jason McCulloch
. Larry said, "To think that I started my career at the same place and time as Jason, and now we're working together as driver and crew chief is really amazing." That got me thinking.just where did they work together many years ago? Well, the answer is that in 1986, when
Larry Minor
was campaigning a Top Fuel and a Funny Car, Larry was on the team and so was Jason. Well, they were both just barely on the team. "I was beyond the lowest man on the team," Larry said with a laugh. "I didn't even get to work on the race car much, but I was still part of the team." By way of a little background, Larry initially got involved with the Minor team after his dad drove for Larry in the late 1970's. "He raced with Larry for a while and that included running national and divisional races," Larry said. And Jason's dad, Ed, was driving the Funny Car for Mr. Minor, so he would often be at the races, too. "Jason was still in high school at the time but he would get to come to the races on the weekends and that's when we worked together," Larry said. And the times when Larry Minor didn't race his car, both Larry and Jason would get to hang out and work in the Funny Car pit area. "Now it's Jason's turn to be a crew chief, a position he has definitely earned and I'm looking forward to being on the same team with him," Larry said..Between working on the Larry Minor team and driving for
Don Prudhomme
, Larry also spent some time driving for
Jack Mitchell's
Top Alcohol Dragster. "We raced at a few national events and some of the divisional races and I had a good time doing that." He joined Don's team in 1988 and, if you're really good, you can catch a glimpse of a young Larry Dixon in the winner's circle with "Snake,"
Mike Kloeber
and the rest of the
Skoal
team at the 1988 Sanair race, Larry's first winning race as part of Don's team...Larry added that he is looking forward to the 2009 season and hasn't really set any expectations or goals for the year. "This season is so unusual because I think every one of the top ten teams from 2008 has had some movement, whether it's sponsors, drivers, crew chiefs or crew members, and that should make for a very interesting season." Yes it should.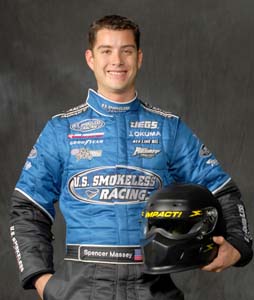 Spencer Massey
The entire process of Larry going from the Don Prudhomme team to Alan Johnson's was something that we haven't seen in our sport before, that is, a driver actually buying out his contract so that he could go with another team. I guess "free agent" might be the phrase that comes to mind. "I worked real hard on getting this done," Larry said. "In the end I think it worked out well for everyone. I'm where I want to be and I'm sure that Spencer (Massey) is where he wants to be. I guess it worked out great for everyone." Time will tell how it really worked out, but I'm sure Larry is right. He is now with a team that will enter the season with extremely high expectations while Spencer will begin his NHRA Top Fuel career driving for one of the real legends in the sport, Don Prudhomme. "Since I was four years old all I wanted to do was drive a Top Fuel car," Spencer said. "I guess you could say that I'm living my dream." Not bad for a twenty-six year old, is it? Spencer said that he got to meet the team last week at the annual office party and they even put him to work on the CNC machines. "I felt kind of funny just walking around and hanging out," he said. "So I was glad when they gave me something to do." Spencer is not new to working on machines, since he did work on the clutch and he did a lot of the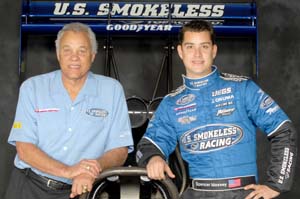 Don Prudhomme and Massey
machine work while driving for
Gene Snow
and
Mitch King
this past year. "I would mix the fuel and do the chutes and things like that at the races with the Top Fuel car," he said. "And I did a lot of work on the A/F car with Gene." Spencer won the IHRA Top Fuel championship this year and he has to be considered the early favorite in the Rookie of the Year chase on the NHRA tour in 2009. He did compete at one NHRA race in TF in 2008 when he made the field in
Dallas
before losing to
JR Todd
in the first round.
Getting a chance to drive a Top Fuel car is one thing, getting the chance to drive for a legend is something else. "I had never really met Don or talked to him until the Topeka race earlier this year. We met and talked for a little while, and then in Brainerd we spoke again and he said there might be a chance to add another car to his team in 2010." After that Spencer was hired by Don and he thought that his ride would come about in 2010, but instead, it happened a year earlier. "I've got some huge shoes to fill but I think I can do it. To have Don place his confidence in me really means a lot. I just can't wait to stand on the gas." He'll get a chance to do that at the first Las Vegas test session and then, again, in Phoenix before racing for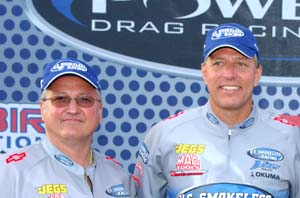 Donnie Bender and Todd Smith
real at
Pomona
and the Winternationals. "Right now I'm looking for a place up in the Brownsburg area so I can be near the team and the shop. In fact, I'm going up there later this week." Spencer said that he had a chance to meet
Donnie Bender, Todd Smith
and most of the crew and they all seem really excited about the new season. "It's a great opportunity and I thank Don for it," he said. During his time in Indy Spencer also had an opportunity to meet some of the folks from
U.S. Smokeless Tobacco Company
, the primary sponsor on the car. "They've been with 'Snake' for over twenty years and they're great folks and a wonderful sponsor. I look forward to working with them and representing the company."...It's a shame that Larry and Spencer are both such nice guys because, with all that went on during this transition period, we could have had a pretty good rivalry shaping up between them.
Speaking of JR Todd, he'll be joining
Morgan Lucas, Bob Vandergriff
and
Jeg Coughlin
at the big bobsled competition this week in
Lake Placid, New York
.
Geoff Bodine
, who runs the show up there, had asked me if I wanted to come and drive one of the sleds but I told him I was holding out for the Alan Johnson gig. Just my luck that Larry got that job and now it's too late to go to
New York
. Oh well, maybe next year.




NHRA: 10 Most Recent Entries [ top ]

Apr 23- Mid America Dragway Joins NHRA Member Track Network
Apr 23- HOUSTON - Special Awards
Apr 23- HOUSTON - Sunday Video
Apr 22- HOUSTON - Sunday Pro Mod Wrap Up