Wed, 24 Dec 2008, 10:32 AM



Gary Stowell Hones His Skills to Finish 4th in the 2008 TNT Hot Rod Super Series



Courtesy of Lewis Robinson



Qualifying was Key to His Success



MACEDON, N.Y. --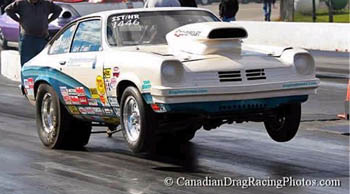 Gary Stowell
Gary Stowell from Macedon, New York has been racing Hot Rod since 2001. In his first year chasing points in the Joe's Transmission TNT Super Series, Gary landed fourth out of the forty-five racers in the chase. "We're extremely pleased with our finish this year. We weren't even sure we could make enough events to contend for the title and here we are in the top five," said Gary. Sure, he was in some late rounds and even a runner-up finish - but this guy knows his EngineHones.com sponsored 1971 Vega like the back of his hand. His worst qualifying position in seven events was sixth - and two of those were #1 spots, dead on with a zero!
Gary was a contender for the 2008 TNT points championship right up to the final event where he fell to Paul Young in an extremely tight 6.999 to 7.002 battle with almost identical reaction times.
A Rochester area native, Gary attends as many races as he can. Although with his daughter Lindsay on a national softball team, Gary finds himself trying to be in two places at the same time. "With the few IHRA races we run, the TNT schedule fits in well for us," said Gary. "And the data we gather running so many events in all sorts of different conditions is really helpful when we go to the big meets."
See it all started back in 1984 with a 1968 Impala and some 'coaching' from Steve McCarrick (who is still a close friend and racing partner). A year later, Gary bought a Z28, built it up and then finished 3rd in his second time out at Motor City Raceway (now New York International). Followed that up with a 2nd place at Spencer Speedway and you could say he was hooked! It took four years for Gary to get his first win but he still has the plastic trophy.
In 1995, he had the opportunity to purchase the current ride - a 1971 Vega - from his good friend, the late Dave Wood. This car would hook anywhere. In 1997, he won a remarkable 24 rounds in a row and captured 7 wins in the first few months at Spencer speedway. He won the track championship that year and repeated again in 1999.
But like a lot of bracket racers, after a while Gary was looking for a different challenge. So in 2001, he decided to travel the IHRA tour in Hot Rod eliminator. In his first outing, he was in the quarterfinals in Grand Bend. In 2003 and 2004, runner-up finishes. Two years later, Gary put his racing on a limited schedule as he was having too much fun following his daughter's softball successes.
Plans are to return to the IHRA circuit in 2010 with a goal to gather points and be a player once again.
The season highlight for Gary this year however has little to do with the TNT Series. At the August 8th TNT event at Dunn Tire Raceway Park, Gary lost in 3rd round. But his son Collin wheeled their F-350 diesel pickup to victory in street eliminator in only his second time out. Next year, Collin will drive the Vega at some bracket events in the area.
"The TNT Super Series will be our mainstay for years to come as it is a perfect venue to hone in on my throttle stop mathematics. Jumping from the 1/4 mile to the 1/8 mile with the weather we endure in the northeast is a fun challenge. The competition in the series is unbelievable; you need to earn every round. I wish to thank Russ & Arlene Parker and the Barnes Family for their valuable time in running a grade A series. The TNT team with their excellent communication, fast updates, honorable sponsors and a series manager concerned for fairness/safety is why this series will continue to grow," added Gary.
Sponsor Highlights: EngineHones.com has lowest prices on the internet for ball type Flex-Hones. Enginehones.com carries hones for engines and cylinder heads, master cylinders and calipers. They stock honing oil and cylinder wash brushes. Enginehones.com even carries special hones for today's Nikasil coated engines.
The schedule for the 2009 Joe's Transmission TNT Hot Rod Super Series is currently being finalized. Discussions are underway with various tracks in the southern Ontario / western New York area. Monitor www.tntsuperseries.com at least once a week for updates.
 
Top 10 Standings for 2008 
1st place - 471 points - Ted Barnes 
2nd place - 460 points - Paul Young 
3rd place - 450 points - David Surmatchewski
4th place - 445 points - Gary Stowell 
5th place - 434 points - Jon Jablonski 
6th place - 430 points - Bill Elekes 
7th place - 391 points - Wayne Sipos 
8th place - 382 points - Jamie Stoneman 
9th place - 375 points - Gary Kerl 
10th place - 335 points - Joe Passero 





Drag News: 10 Most Recent Entries [ top ]

Apr 22- K&N Spring Fling Million Final Day Results
Apr 21- K&N Spring Fling Million Friday Results
Apr 20- K&N Spring Fling Million– Thursday Results
Apr 19- K&N Spring Fling Million- Wednesday Results
Apr 18- Buckeye S/SS @ National Trail April 28th
Apr 18- Don "the Snake" Prudhomme Returns To Baja Competition After 50 Years
Apr 18- K&N Spring Fling Million Tuesday Results
Apr 17- K&N Spring Fling Million Pre-Race
Apr 12- Summit Racing Equipment is Newest Sponsor of Midwest Junior Super Series
Apr 12- Summit Racing Named Official MWPMS Sponsor and Event Title Rights Holder