Sat, 20 Dec 2008, 08:10 AM



Jon Jablonski Finishes Fifth in the 2008 TNT Super Series Points Chase



Courtesy of Lewis Robinson



Pushes Car Owner Out of the Top 5 in the Process



CANFIELD, ONTARIO --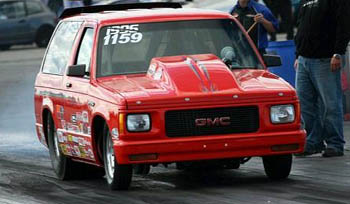 Jon Jablonski
Ask anyone in the western New York / southern Ontario area and they'll tell you Jon Jablonski of West Seneca, New York is a contender any day of the week. That point was demonstrated very clearly in the 2008 Joe's Transmission TNT Hot Rod Super Series points chase. For most of the 2008 season, Jon was either in or near the highly-coveted top 5 points positions. On a good run the last race of the year, Jon made it to the semi-finals where he fell in a tight round to David Surmatchewski (Oakland ON).
Jon finished 5th out of 45 competitors in the series. Scoring a win at Dunn Tire Raceway Park on August 8th along with many late-round appearances solidified his position in the top 5. And (because qualifying means points in the TNT Series) Jon qualified in the top 10 at five of seven events he attended in 2008 - And one of those was a #1 qualifying effort. In fact, Jablonski was in contention for the series title right up until the semi-final round at the last race of the season.
Jablonski has been driving the 1991 Jimmy owned by Bill Elekes for the entire 2008 season. In fact, Jon pushed Bill out of the top 5 in his run for the title. Rumour has it Jon has a new machine coming for 2009.
JJ wants to thank Bill Elekes, his daughter Stephanie and family for their continuous assistance. "I really want to thank my mother for all her support," said Jon. He also appreciates the efforts of Jeff Gregoire, Jason Vitez and Steve Sell.
The schedule for the 2009 Joe's Transmission TNT Hot Rod Super Series is currently being finalized. Discussions are underway with various tracks in the southern Ontario / western New York area. Monitor www.tntsuperseries.com at least once a week for updates.
 
Top 10 Standings for 2008
1st place - 471 points - Ted Barnes 
2nd place - 460 points - Paul Young 
3rd place - 450 points - David Surmatchewski 
4th place - 445 points - Gary Stowell 
5th place - 434 points - Jon Jablonski 
6th place - 430 points - Bill Elekes 
7th place - 391 points - Wayne Sipos 
8th place - 382 points - Jamie Stoneman 
9th place - 375 points - Gary Kerl 
10th place - 335 points - Joe Passero





Drag News: 10 Most Recent Entries [ top ]

Apr 22- K&N Spring Fling Million Final Day Results
Apr 21- K&N Spring Fling Million Friday Results
Apr 20- K&N Spring Fling Million– Thursday Results
Apr 19- K&N Spring Fling Million- Wednesday Results
Apr 18- Buckeye S/SS @ National Trail April 28th
Apr 18- Don "the Snake" Prudhomme Returns To Baja Competition After 50 Years
Apr 18- K&N Spring Fling Million Tuesday Results
Apr 17- K&N Spring Fling Million Pre-Race
Apr 12- Summit Racing Equipment is Newest Sponsor of Midwest Junior Super Series
Apr 12- Summit Racing Named Official MWPMS Sponsor and Event Title Rights Holder