Fri, 19 Dec 2008, 04:54 PM



Pro Stock Motorcycle Rider Matt Smith Joins DSR for 2009 NHRA Full Throttle Series



Courtesy of Judy Stropus


Photo copyright 2008 NHRA





BROWNSBURG, Ind. --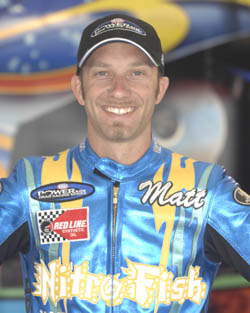 Matt Smith
Don Schumacher confirmed today that Pro Stock Motorcycle rider Matt Smith will join Don Schumacher Racing to ride a DSR TL-1000 Suzuki sponsored by Nitro Fish Ultimate Gear and XXX Racing Fuels in the 2009 NHRA Full Throttle Drag Racing Series. Schumacher also confirmed that he has released riders Chip Ellis and Craig Treble, who rode to two national event victories under the DSR banner in 2008.
The DSR Hayabusa engine development program, a joint effort entered into between DSR and Suzuki in 2008, continues, with introduction of the new engine slated for the 2009 season. A second motorcycle may be entered in the PSM class during the season as a test vehicle, while longtime DSR motorcycle tuner Steve Tartaglia will be the crew chief.
Smith, 36, of King, N.C., is the 2007 Pro Stock Motorcycle champion, claiming four wins in nine national rounds that year. He came close to claiming his second straight PSM crown in 2008 after leading the standings for the last six of seven events in the NHRA Countdown to the Championship playoffs. A mechanical problem in the final event of the season dropped him to a third-place finish for the year. He is the son of NHRA Pro Stock racer Rickie Smith, has 10 career national-event wins in 20 final rounds, and was low qualifier 14 times since joining the class on a limited basis in 2003. He became a full-time competitor in the class in 2005.
"We are privileged to add Matt Smith to our DSR family for 2009," said team owner Schumacher. "He has proven to be an outstanding talent in the highly-competitive PSM class. His technical knowledge and the on-track performance he has demonstrated in his short professional career are definite assets to our team as we continue to work with Suzuki to develop the Hayabusa engine. We also welcome a new partnership with Kenny Koretsky and Nitro Fish Ultimate Gear, and look forward to our continuing association with XXX Racing Fuels."
Smith competed on Suzuki motorcycles earlier in his career, having won championships on the AMA/Prostar Drag Racing circuit. He rode a Suzuki in select NHRA PSM events in 2003 and 2004, earning one runner-up finish in those two seasons. He has competed in the PSM class as an independent team owner the last three years.
"This is a great opportunity," said Smith, who campaigned a Buell motorcycle from 2005-2008, capturing four national-event victories in '08 in six final rounds. "I think the biggest thing I want to do is ride just like I rode the last couple of years and have good green lights and put round wins in the win column. The ultimate goal for me, Don and Steve Tartaglia is to win a championship.
"Don has a very good team," continued Smith. "I'm going to do my best to be a rider, but I think I can help with input of what the bike is doing down the track and add to what the computer doesn't show. I'm also glad to have Kenny Koretsky and Nitro Fish Ultimate Gear continue to support my efforts.
"I'm looking forward to this season because I would like to be the first person who wins a championship on two different makes. That would be pretty awesome."
Said Kenny Koretsky, president and CEO of Nitro Fish Ultimate Gear, who has backed Smith since 2007: "I am honored to have Nitro Fish Ultimate Gear associated with Matt Smith for another year to run for the championship and also to be involved with Don Schumacher Racing. I think DSR is an unbelievable organization. Don and I have become friendly over the years at the races and we both saw this connection as a unique opportunity to benefit both of our companies.
"It brings the Nitro Fish line of edgy youthful clothing to another level, by providing added exposure as we embark on a plan to market the line to customers in other forms of sporting competition. DSR also has an outstanding hospitality program at the races, which will help in entertaining potential new customers.
"For the Pro Stock Motorcycle team, this association puts more resources on the table for Matt to pull from because he is not only a great rider and a great competitor, he's also a good tuner," said Koretsky. "He can give a lot of feedback to the crew chief."
In the 2009 NHRA Full Throttle Drag Racing Series, Don Schumacher Racing will campaign six teams: two Top Fuel dragsters (Tony Schumacher in the U.S. Army entry and Cory McClenathan in the FRAM dragster), Ron Capps in the NAPA AUTO PARTS Funny Car, Jack Beckman in the Valvoline/Mail Terminal Services Funny Car, Matt Hagan in the BrakeSafe Rear End Collision Avoidance System Funny Car, and Matt Smith in the Nitro Fish/XXX Racing Fuels Pro Stock Motorcycle.
The 17-event 2009 NHRA Pro Stock Motorcycle season opens March 13-15 at Gainesville (Fla.) Raceway.




NHRA: 10 Most Recent Entries [ top ]

Apr 24- CHARLOTTE 1 - Steve Torrence Enjoying Four-Wide Success Heading to NGK Spark Plugs NHRA Four-Wide Nationals
Apr 24- CHARLOTTE 1 - Fact Sheet
Apr 24- Kalitta Motorsports Welcomes NASCAR Stars to the SealMaster Track Walk in Charlotte
Apr 24- zMAX Dragway Celebrates 10th Anniversary
Apr 24- CHARLOTTE 1 - NGK Spark Plugs NHRA Four-Wide Nationals Brings 40,000 Horsepower Thrill Show to zMAX Dragway
Apr 23- HOUSTON - Lucas Oil Drag Racing Series Wrap Up The NHRA Lucas Oil Drag Racing Series Wrap Up
Apr 23- CHARLOTTE 1 - J.R. Todd Aiming for Two Four-Wide Racing Wins in 2018
Apr 23- Mid America Dragway Joins NHRA Member Track Network
Apr 23- HOUSTON - Special Awards
Apr 23- HOUSTON - Sunday Video