Mon, 8 Dec 2008, 10:06 PM



Rustin Mayse Claims NHRA Division 4 Super Gas Title



Courtesy of Luke Bogacki


Photo courtesy of Robert Grice





MANSFIELD, Texas --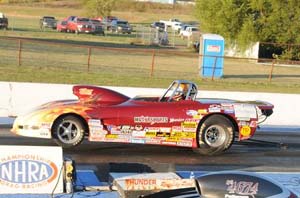 Rustin Mayse
20-year-old Rustin Mayse added another major accomplishment to what is quickly becoming a very lengthy racing resume last month when he clinched his first NHRA Super Gas division title. Mayse, a very accomplished bracket racer, made a name for himself as a teenager by winning the DragRaceResults.com Bracket Series championship in 2006 (which earned him a complete turn-key dragster), and backing up that season championship the following spring with a $50,000 triumph at the Big Bucks Bonanza in Farmington, NC.
In 2007, Mayse and his father Robbie, also an accomplished bracket racer, ventured into NHRA competition, and the success the team is accustomed to quickly followed. Rustin began the 2008 campaign with a Suncoast Corvette Roadster, then made the switch to an updated Don Davis Corvette Roadster in May. He began his title run with a semi-final showing at the Lucas Oil Division Series event at the Texas Motorplex. A month later, he advanced to the fourth round of competition at the Houston Raceway Park LODRS. The summer months brought a pair of third round losses, at Memphis Motorsports Park and Beech Bend Raceway (Bowling Green, KY) respectively, setting the stage for Mayse's dramatic Division 4 season closing win at the Thunder Valley Raceway Park (Noble, OK) LODRS.
That win skyrocketed Mayse past a strong contingent of Division 4 competitors, and into the division lead. At the final two events on the Lucas Oil Divisional schedule (in Reynolds, GA and Las Vegas, NV), Mayse was able to hold off those contenders to claim his first NHRA division title with 351 points. Butch Thibodaux finished in second position, over two rounds behind Mayse with 330. Heidi Robison, who Mayse defeated in the Thunder Valley finale, was third with 308 points. Robison was followed by a trio of established and successful division four competitors: Roger Warren, Jimmy Lewis, and Tommy Phillips, each of whom have hoisted the championship trophy in the past.
"Winning the Division 4 Super Gas title is an honor and a huge accomplishment," expressed Mayse. "For years, the South Central Division has been a hotbed of 9.90 competition. To have my name added the list of champions alongside racers like Tommy Phillips, Gary Risk, Frank Kohutek, Jimmy Lewis, Damon Dabbs, Clark Mundt, the late John Wood, and more is remarkable."
Mayse wished to thank his family for their constant support of his efforts, in addition to a growing list of quality manufacturers that support the Mayse team. Those marketing partners include Reeder Dis tributors, Kendall Oil, American Race Cars, Brodix Cylinder Heads, TCI Automotive, Comp Cams, Milodon, Auto Meter, Holley Performance, AFCO Racing, Hoosier Tires, and Advanced Product Design.




Drag News: 10 Most Recent Entries [ top ]

Apr 24- NHRA Heritage Series Heads To Wild Horse Pass
Apr 22- K&N Spring Fling Million Final Day Results
Apr 21- K&N Spring Fling Million Friday Results
Apr 20- K&N Spring Fling Million– Thursday Results
Apr 19- K&N Spring Fling Million- Wednesday Results
Apr 18- Buckeye S/SS @ National Trail April 28th
Apr 18- Don "the Snake" Prudhomme Returns To Baja Competition After 50 Years
Apr 18- K&N Spring Fling Million Tuesday Results
Apr 17- K&N Spring Fling Million Pre-Race
Apr 12- Summit Racing Equipment is Newest Sponsor of Midwest Junior Super Series